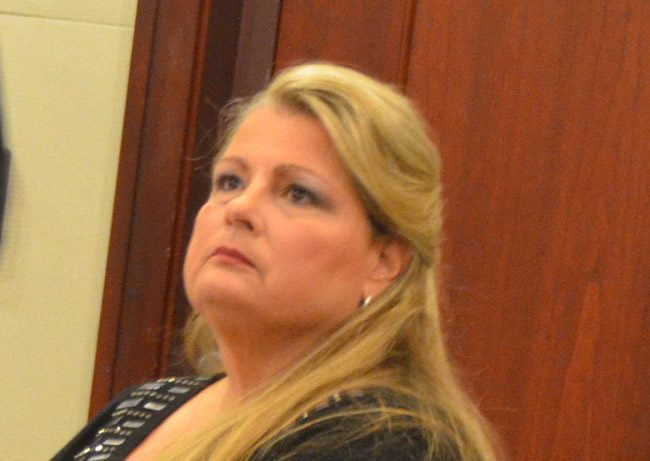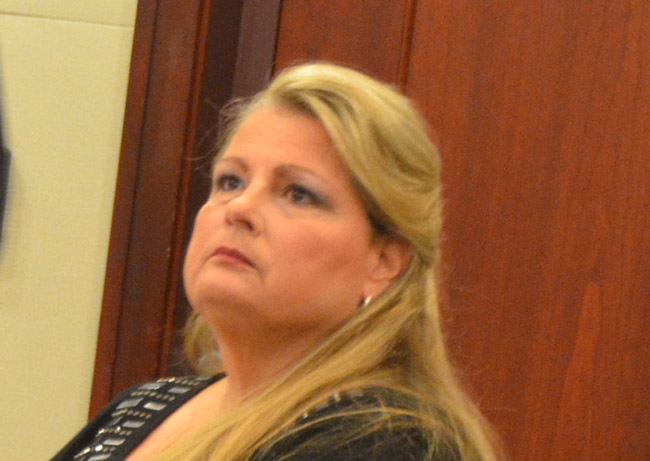 Former Flagler County Elections Supervisor Kimberle Weeks has already rejected a plea deal in the two-year-old case against her: she had originally faced 12 felony counts of allegedly illegally recording or transmitting conversations with public officials and others. That's now down to five counts, as her lawyers successfully argued to dismiss the rest.
Just in case she changes her mind, Weeks faces a Tuesday deadline to accept a plea offer from the prosecution. Otherwise, the case heads for trial in December.
The substance of the deal is not known, but it's reportedly an offer of probation on one of the counts, no prison time, though that would also entail Weeks admitting to wrongdoing and possibly abjuring her pension. Under Florida law, convicted felons forfeit benefits accrued through the Florida Retirement System. That may be the reason Weeks is holding out for a trial, costly as her legal bills must be, though she may be getting help with those, too: her court case has been closely followed by members of what was formerly known as the Ronald Reagan Republican Assemblies, among them Dennis McDonald and John Ruffalo. Weeks' hiring of the latest in a series of lawyers also indicates that she is placing herself in position to go to trial. She hired Kevin Kulik, a trial specialist.
Absent a plea agreement, both sides in the case told Circuit Judge Margaret Hudson in a written, joint status report filed two weeks ago that that they'd be ready for trial on four of the five counts on Dec. 4, and on one remaining count the following week. Each trial, the lawyers said, would take about a week.
None of the remaining counts against Weeks are directly related to what triggered the case almost three years ago: a conversation between County Attorney Al Hadeed and County Commissioner Charlie Ericksen that Weeks had been recording, without their knowledge, as they spoke in a conference room at the supervisor's office. A canvassing board meeting had been ongoing, but it had moved to an adjoining room. Weeks subsequently played segments of the conversation at a canvassing board meeting, alleging that it referred to a past wrongdoing. The county administration claimed the recording had been done illegally. The charge was among the original 12 counts, but was eventually dismissed when Hudson found that Hadeed and Ericksen had no reasonable expectation of privacy in that conference room.
The remaining counts involve a phone recording of a Weeks conversation with Virginia Smith, the Palm Coast city clerk, a recording of her conversation with Secretary of State Ken Detzner and his staffers even though Detzner had asked not to be recorded, a recording of Gerry Hammond, an assistant state attorney, and the transmission of her recording of one of the conversations. All counts are third-degree felonies. A fifth count relate to a Weeks recording of Shannon brown, who is not a public official. That recording took place in Weeks's front yard. That case would be tried separately.
So far, however, Weeks's lawyers–she's had four–have successfully pared down the case by probing its weaknesses. Kulik is continuing the strategy.
Two weeks ago he filed a motion to suppress the original warrant that led the Florida Department of Law Enforcement to search Weeks's office and and seize equipment, including computers and her cell phone.
Hudson had already heard a motion to suppress the warrant, from a previous lawyer. But in that motion, the lawyer had argued that the search warrant was obtained based on an affidavit that contained "material omissions or misstatements," without which a judge would have found no probable cause and therefore not issued a warrant. The warrant was prepared by FDLE's Philip Lindley. But Hudson denied the motion, finding the omissions and misstatements minor and not materially relevant as to whether the warrant was issued.
Now, Kulik is arguing in this new motion to suppress that "the search warrant was overbroad." He is relying on relatively recent law that recognizes that searching computers is not the same as searching for drugs: a search for drugs is specific as the search of computer files cannot be, because illicit drugs can easily be detected as the difference between a legal and an illegal computer file cannot. Yet FDLE agents used a warrant to search all of Weeks's computer files. "The search warrant gave law enforcement discretion to seize data that was not immediately recognizable as illegal or contraband on its face," Kulik wrote.
Kulik also argues that even as agents found what had initially been thought to be incriminating evidence–the conversation between Hadeed and Ericksen–they continued to look for other materials, and included those in the batch of evidence that led to the broader indictment against Weeks. And, as it turned out, it was that additional evidence that has remained as valid counts against her, with the original evidence and the counts it generated having now been dismissed.
Kulik now argues that "the evidence and corresponding charges constitute fruit of the poisoness [sic.] tree and must be suppressed," as he wrote in his motion. The argument has validity–strengthened as it is by the fact that Hudson has dismissed more than half the charges, including the charge that had constituted the tree's trunk. Over time, Weeks and her lawyers have shown that the case against her was much weaker than it initially appeared, and they have continued to erode what apparent strengths it maintained by building on each success, giving Weeks less incentive to settle for a plea agreement.
If the motion to suppress is granted, the case against Weeks essentially collapses. If it is not granted, the question becomes: would the state again offer Weeks a plea? Weeks during her tenure as elections supervisor followed a set pattern. She got herself ensnarled in controversy after controversy. She rode high on self-righteousness, no matter how many officials or lawyers told her she was wrong. But if she improbably maintained her stance, she would eventually, when all avenues had run out, back down. She could be following the same pattern in this case, exhausting all possible avenues to exonerate herself before agreeing to a plea–assuming the state's case doesn't wither first. Her stubbornness, in other words, has not necessarily been as irrational as the reasons she courted controversy.
No hearing has been set in response to Kulik's motion–nor would one necessarily have to be set, nor has any additional pre-trial hearing been set: Hudson may rule on it on her own. She may be waiting for the Tuesday deadline to pass. Contacted Monday regarding the status of the plea agreement, the State Attorney's office said that it could not comment on a pending case.
Weeks's attorney's latest motion is below.

Motion to Suppress the Search Warrant (2017)