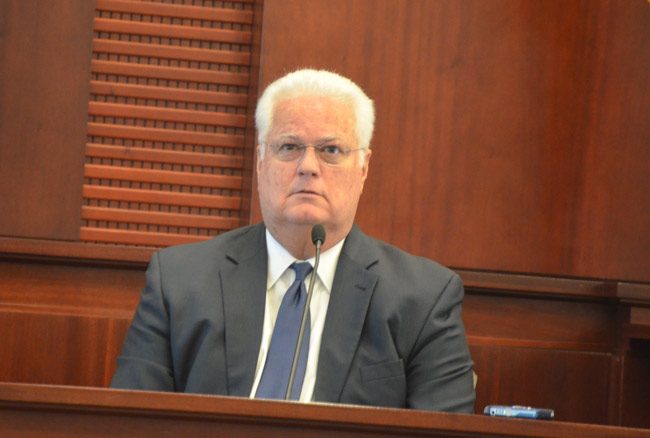 As with all things Kim Weeks, sound and fury overwhelm almost all else. That was the case during her tumultuous six years as Flagler County's elections supervisor, a tenure she ended in January 2015 by resigning weeks before being criminally charged.
It was also the case in the first full day of her trial Tuesday on seven felony charges, when the jury heard Weeks–in a conversation with two unidentified people she had recorded–call the Florida Secretary of State an "ignorant bastard" and a "lying bastard," call a senior attorney at the secretary of state's office a "dumb piece of shit" (twice), and call her own attorney at the time, Ron Labasky of the Florida Association of Election Supervisors, a "son of a bitch" (a slur she also applied to then-Palm Coast Mayor Jon Netts).
All while Ken Detzner, the secretary of state himself, sat in the witness box in a Flagler County courtroom today, listening uncomfortably as the prosecution played a recording of Weeks's vulgar tirade against him. The affable smile that had accompanied the first part of his testimony as he was answering the prosecutor's question had disappeared, replaced by an expression straining to be neutral.
Weeks had made the recording in 2014. It was one of a series of recordings she made that are now at the center of the criminal case against her: that she recorded others, and disseminated at least one of those conversations without the knowledge or permission of those being recorded.
Weeks's vulgarity was never a secret. But it had never been heard as explicitly and as unfiltered as it was today, least of all regarding officials whose help she'd been soliciting. Nor has a secretary of state of Florida been known to have been so publicly vilified while the person insulting him sat just a few feet from him, chewing pink gum.
Assistant State Attorney Jason Lewis played the entirety of a 25-minute phone conversation Weeks recorded four years ago between her, Detzner, Gary Holland and Drew Atkinson (attorneys at the secretary of state's office), and Ron Labasky, the attorney representing the state association of supervisors of election. Weeks had asked Detzner at the beginning of the conference call if she could record it.
"I'm not comfortable with that," Detzner said. "I don't think that's necessary, Kimberle, I'm calling you as a courtesy." He added: "No, let's just have an informal conversation," to which Weeks said "OK," then recorded the conversation anyway: she'd been recording all along.
Notably, and as the recording proved, even Weeks knew that recording the phone conference was not legal, in the sense that it was not a public meeting: otherwise she would not have asked Detzner for permission at the beginning of the conversation (or said afterward, in the second recorded conversation, that she herself didn't know if what she'd done was legal or not). Permission is not necessary at public meetings. It is necessary outside of public meetings, as Weeks knew, and knew to ask.
The content of the call past the first minute and a half is not relevant to the court case. It was about Weeks's months-long battle with Palm Coast government over the handling of the city's 2014 election. Both sides would eventually back down (the city scrapped plans to charge the supervisor's office for early voting hours and Weeks accepted to use a smaller room than she wanted) but not before Weeks felt upbraided by Detzner in a letter he wrote her days before the phone call she requested.
Given its substance, there was no reason to play the entire recording past the point where Detzner made clear he did not want to be recorded. But Lewis was being tactical. By playing it, the prosecutor was inviting the jury into the weeds of Weeks's prickly personality. The tape put it on full display: that mixture of sanctimony and messiah complex that enabled her to feel more legally competent than a run of attorneys who tried to convince her otherwise (she was on the phone with three attorneys after all, one of them a retired military judge), a sense of infallibility that made her portray every issue as a me-against-the-world battle she claimed was for the public good, though her repeated allusions in that same conversation to the "beating" she was getting in the media gave the lie to her claim about doing the public's business: she'd been publicly bruised, and she was insisting that Detzner write a letter to rehabilitate her image.
---
Video: Weeks Listens to Audio of Detzner's Refusal To Be Taped
She repeatedly hectored and criticized Detzner, questioning his motives for writing her the original letter. She sounded increasingly abrasive, even aggressive, as the call wore on. The 25 minutes were like an abbreviated oral history of of the more distasteful and alienating chapters of Weeks's reign, in Weeks's own words, though nothing about Weeks's stream-of-consciousness fury ever sounds abbreviated. It was the most effective way for the prosecution to put her in the witness box without having her testify: she was hanging on her own rope. At least that was Lewis's hope.
And that was not even the call in which she spoke insultingly of the secretary of state and the two attorneys, one of whom—Gary Holland, the retired military judge—took the stand after Detzner, another effective tactic that showed Weeks up against individuals whose legal credentials, at least, were beyond doubt. Lewis played that five-minute recording later, so the jury would hear Weeks "disseminating" the conversation with the secretary of state to others. Weeks is never heard playing that recorded conversation, and the two other people heard in the recording are not identified. But they have clearly heard the recorded conversation with Detzner and the others. Lewis had made his point.
The two calls played today could weigh heavily against Weeks to the extent of making her less likable to the jury, an elusive element not supposed to play into a jury's decision on the merits of the case, but an element every attorney knows plays a disproportionate role in juries' decisions: biases always do, especially when backed up by evidence. On the other hand, the calls could also have the opposite effect: "You're a very good communicator and you're passionate" Detzner is heard telling her in the first recording, a line that could just as easily be played to transfigure her vulgarity into populist crusading: vulgarity at the top is in vogue these days, especially when invoked in the name of the people, and a Flagler County jury is not a South Florida jury.
The populist crusader: That's how Weeks liked to portray herself as she alienated one government agency after another through her years in office, and that's how her attorneys–Kevin Kulik and Ashley Kay–are framing her defense against the state: as a former elected official who, while in office, was doing the public's business, as do all elected officials, and as one who was ostensibly doing it openly. "Their business is our business because they're talking about how things work in the county, in the state, for our elections, for us," defense attorney Ashley Kay told the jury during opening arguments. "These are the people we vote for, that we put in office, that we're allowed to criticize, that we're allowed to vote out of office. Kimberle Weeks, she ran for public government—she ran for public office, Kimberle Weeks became our supervisor of elections because she wanted to serve the public. She lived in Flagler County for about 38 years, and for the first time in 2008 she decided she wanted to help make Flagler County better. She wanted to help make it easier for all of us to vote. She wanted to keep–"
The prosecution at that point objected, calling it "argumentative," or in the lay person's vocabulary, irrelevant: the portrait Kay was painting of Weeks had nothing to do with the charges, otherwise it would imply that any official's ideals and Ms-Weeks-Goes-to-Bunnell ideals exonerates her legally questionable actions. (Weeks's tenure was notorious for lacking in openness, but that, too, is not an issue in play in this trial.)
The objection was one of too many to count, on both sides: most of the morning was taken up by arguments outside the jury's hearing as one issue after another prompted objections that required the judge's ruling, including at one point in mid-morning a motion by Kulik for a mistrial. It was prompted by the first witness testifying to the fact that Weeks had asked for a lawyer. The witness, Phil Lindley, now a retired Florida Department of Law Enforcement official, had served the search warrant on Weeks that produced the trove of recordings that led to the charges. Kulik had sought in various ways to show that Lindley was biased against Weeks from the start, an approach Lindley—himself an attorney who'd spent untold hours in witness boxes—easily parried. Lindley's mention of Weeks invoking her right to an attorney could have been prejudicial to the jury, but Circuit Judge Margaret Hudson ruled against the motion for mistrial.
So it went for most of the day as the prosecution put on its case, starting with Lindley (who said Weeks turned over only three of five public records when initially asked, before the warrant), FDLE forensic investigator Chris Hendry, who examined the haul of hardware from Weeks's office, then Detzner, Holland, Darlene Walker (a former Weeks colleague) and Whitney Anderson. Anderson took consumer complaints for the Attorney General's office and listened to a long, discursive complaint by Weeks (about Palm Coast)—that Weeks recorded without Anderson's permission.
Finer points of law aside, the prosecution's witnesses did not fail it today, at least not to the extent that any tripped or gifted the defense unexpected interpretations. Each proved in turn credible and convincing: Lindley aside, they all said they'd been recorded without permission, as in this exchange between Lewis and Holland, who said he'd objected to being recorded.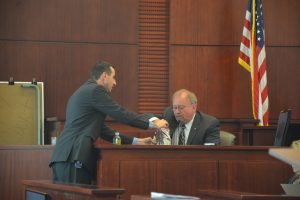 "I did especially when Ms. Weeks said OK, once she said OK, I thought there was going to be no recording," Holland said.
"So you expected no recording was going to be made at that point is that, correct, sir?" Lewis asked.
"Correct."
"Did you ever consent to the recording?"
"I did not."
Even Walker–who as a Weeks acolyte, chief deputy and campaign ally in years past, might have been expected to give Weeks some hope–proved effective as a prosecution witness: she had been with Weeks when Weeks recorded Detzner and the others. Walker's presence had never been announced to the officials in Tallahassee. Today, Walker corroborated the claim that she heard Detzner say no to the recording, and that Weeks ignored him. "Did she stop the recording or shut it off at all?" the prosecutor asked her.
"No," Walker said. (Walker said she left the supervisor's office: she was in fact fired on Feb. 16, 2015, by Weeks's successor, Kaiti Lenhart. Walker sued in federal court. The case was settled four months later.)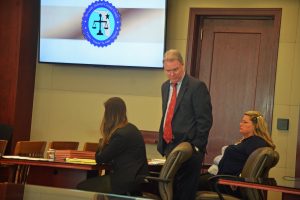 Kulik's strategy is not to dispute the obvious–the recordings were made, Weeks did not get her interlocutors' permission—but to argue what amounts to uniquely expansive interpretation of what amounts to a public meeting: every government act that involves the public's business does. Not only are government records public, but telephone conversations involving public officials are the public's business, therefore are public "documents," in essence, that may be recorded whether all parties involved know it or not. So Kulik and Kay asked the witnesses whether anything they'd talked about with Weeks was in any way "secret," whether anything did not involve the public's business, whether they were "ashamed" that any of it would be known. They all said No, of course, even as all said they had an expectation of privacy during those conversations.
Kulik and Kay are banking not on the jury's knowledge of the law but on what they hope is its instinctive—and fallacious—equivalence between "public business" and any telephone conversation involving public business. If that approach wins the day, then Florida law regarding the expectation of privacy with certain recordings could be thrown out, replaced by what amounts to equating public-business conversations with public records. No existing law would support that interpretation. But a jury might, especially when muddled by the anxieties of reasonable doubt.
Still, it was a strong day for the prosecution, an unconvincing day for the defense.
"I can't wait 'till this shit is over," Weeks is heard saying in one of the tapes played today, just before she yawns audibly, langorously. She was still yawning today.