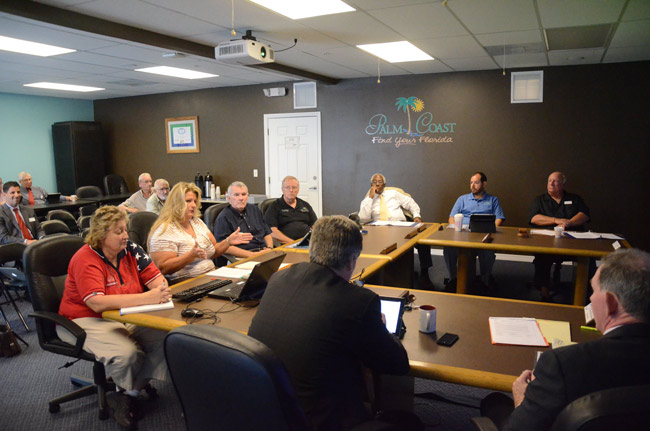 Asking the Palm Coast City Council not to be "insensitive" to 80 percent of voters in the county, and not to "force" her to do something she would rather not do, Flagler County Supervisor of Elections Kimberle Weeks on Monday brought her case to the council to use the larger room at the city's community center for early voting in 2014 in in all major elections in subsequent years.
Weeks did not get everything she wanted, but it now appears that she will accept a compromise crafted by Mayor Jon Netts that grants her most of what she wanted. That means the Palm Coast Community Center will be an early voting location in the 2014 primary and general elections.
"I'll work with whatever they'll give me," Weeks said after the meeting. "I'll take whatever they offer me."
Netts's compromise: Weeks would be given free use of rooms 107 and 108 (the smaller rooms) at the community center for all the days of early voting, free of charge. And the council would either cancel its scheduled meeting on Election Day, Nov. 4, or more it to its city administrative offices (or reschedule it to another day), so Weeks could hold Election Day voting in the larger room. Weeks had requested the use of the larger room throughout early voting days and on Election Day itself.
Weeks never explicitly agreed to the compromise during the hour-long special meeting with the council, arranged at Weeks's request (another concession for the supervisor), and said she'd wait for the official letter from City Manager Jim Landon spelling out the terms. The council directed Landon to draft that letter and have it ready for formal approval at the council's meeting Tuesday. And for a while, it appeared as if Weeks would stand by her own demand for the larger room, which she pointedly called "the people's room" when council member Bill Lewis referred to it as "our room," meaning the council's.
But after the meeting, Weeks in a brief interview made clear that she would not let the disagreement derail her plan to have the community center become an early voting location. "I'm not going to refuse it," she said, "because I know we desperately need another early voting site in Palm Coast, and the library site desperately needs some relief." Weeks said that she wanted to ensure that if voters complain, she would have done everything possible to secure the larger accommodations, and that they would have to take their complaints to the council instead.
Weeks was requesting the community center's larger room for 13 days in August 2014 and 13 days in October and November 2014. The room's 2,000 square feet is twice as large as the smaller space the city is willing to grant Weeks. There are no room reservations for the room during the primary period.
The county deeded the community center to the city in 2000 without any deed restrictions on the use of the building. That means the county may not demand that the community center be used in any given way, other than at the city's discretion. Weeks over the past few months had suggested that the city was violating the agreement with the county by not acceding to her requests.
City charter requires that the council meet at least once a month. It meets four times—twice for a "business" meeting, where it votes on various measures, and twice for workshops, where it makes no formal decisions but hashes out most of its eventual decisions and direction. The larger room at the community center measures just over 2,000 square feet. The smaller room is just under 1,000 square feet (but still larger than the room the supervisor uses at the county library for early voting.)
Weeks said the smaller room at the community center would replicate inconveniences to voters that they've experienced at the county library, until now the only early voting location in Palm Coast. Previously, the police was called at the library early voting site, she said. She did not explain why specifically, but was describing how lines would lengthen and tempers shorten, presumably leading to problems. She said she gets comments from people that "they're not going to subject themselves to these types of conditions in order to vote."
Lewis told Weeks that he was not "sympathetic" to her suggestions that the city was "insensitive" or "selfish." He then spoke of being a member of a generation that "fought for my right to vote" in all sorts of conditions, making the discomfort of long lines and rain and sunshine minor matters.
Lewis is black and 78, making him old enough to have lived through the civil rights era as an adult. Congress did not pass a Voting Rights Act until 1965, he lived in New York when he turned 21 and became eligible to vote. He could not remember when he first voted, but the first presidential contest in which he could have cast a ballot was the Eisenhower-Stevenson contest of 1956.
"We don't have the luxury of having a city hall and a community center," Lewis continued. "But we do have a community center that we have to use as part of the city's facilities. The city has been I think very straight forward and said sure, we'd love for you to come to the community center to use." But, he told Weeks, she's asking for "the whole shooting match."
Other council members raised a few issues but none so serious as to get in the way of giving Weeks most of what she asked for. They seemed perplexed at her unwillingness to bend, with council member Dave Ferguson describing the two sides as 90 percent in agreement. Bill McGuire wondered how voting is improved with one given room's difference. He was skeptical about the number of voting booths at the community center making a significant difference. Jason DeLorenzo was willing to cancel a meeting altogether to accommodate Weeks. But 40 minutes into the discussion, Weeks and Lewis began to duel.
A lot of voters can't even stand, Weeks said, turning personal, "and you Mr. Lewis are aging yourself, so at some point you may appreciate having more voter convenience."
"We're offering you two additional rooms, so you have besides the library two rooms to use," Lewis said, referring to the smaller rooms at the community center.
"Those two rooms don't amount to squat to what the larger room has," Weeks shot back.
Alan Peterson, a former city council member who's also served a term on the county commission, would have been familiar with Weeks' abrasive tactics, as the council was not: Weeks's appearances early in her first tenure were rife with acrimony, with Peterson and Weeks dueling often.
"You are coming and asking for additional space, and we're saying yes, here's the additional space we can offer," Lewis said. "We don't have space either to carry on our business. We do the best we can."
Why can't you use the smaller room, Weeks asked.
"Why should we? It's our space."
"No it's not your space, it's the people's space," Weeks said.
"You're refusing to accept our offer. I think that's being very selfish," Lewis countered.
That's when Netts intervened and put forth his compromise. But Weeks didn't seem interested.
"In other words you're rejecting the compromise offer," Netts said.
"I don't want one single voter to leave because they had to wait in line or because they had to stand ort because it was raining," Weeks said. "I just have to say that we need the larger room." Netts shrugged his shoulders.
"What are you willing to accept?" Lewis asked her later.
"I'll wait until I get the letter," Weeks said.
But by then it was mere posturing: the council was not going to give up the larger room for both election cycles' early voting days, and Weeks was not going to hunt for another location. The council had, in fact, gone a very long distance to accommodate the supervisor. Weeks wouldn't say so explicitly, but as she would say after the meeting, she was ready to take what the council would offer.