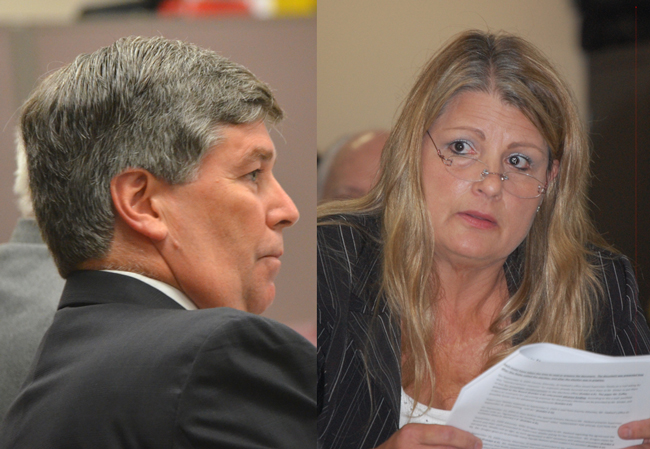 Rather than moving toward a resolution, the feud between Supervisor of Elections Kimberle Weeks and Palm Coast City Manager Jim Landon over the use of the city's community center for early voting next year is getting more strident.
Weeks is not moving away from her request—or "demand," as Landon sees it—for use of the larger community center meeting room for what would amount to a total of four weeks for early voting and Election Day voting in the 2014 primary and general election.
Landon is not moving away from his offer that Weeks use a smaller room. He is also requiring that she either pay for at least some of the use of the room, or barter with the city to exempt Palm Coast of any fees it would normally be charged to have its 2014 council elections on the ballot.
But Landon is promulgating a fee arrangement the city council does not support.
At least three Palm Coast City Council members—Mayor Jon Netts and members Bill Lewis and Jason DeLorenzo—say they're willing to dispense with fees and grant Weeks free use of a facility at the community center. DeLorenzo made his position clear in a meeting earlier this month, saying the few hundreds of dollars the city would charge Weeks aren't so significant that they can't be dispensed with. Netts and Lewis, interviewed Monday, say they'd also be willing to offer Weeks use of a room at no charge.
But the council members also agree that the free room would be the smaller option at the community center, which Weeks is not accepting, even though she's previously accepted to hold Election Day balloting in the smaller room. She says she needs the larger room because voters have complained about the smaller room in the past.
The larger room is 2,100 square feet. The smaller room is virtually half that size—1,160 square feet, according to figures provided by Carl Cote, Palm Coast's construction manager.
Ironically, the smaller room is actually bigger than the early voting meeting room Weeks uses (free of charge) at the public library on Palm Coast Parkway and Belle Terre. That room is 972 square feet, and has been the prime destination for early voting for the past several elections. In 2012, voters waited up to 75 minutes to cast a ballot there, during the eight days of early voting. The Legislature had at the time scaled back early voting days, but has since expanded them again.
"For Early Voting, the large room is needed," Weeks wrote in an email, in response to a question that asked whether she'd be willing to take the smaller room, now that council members are willing to provide it, free. "This building belongs to the people, and was given to the City for Governmental Services, and it is maintained with the tax payers money.  I don't consider their workshop and meetings as services, I consider them as functions.  Because this building is mine to use, a fee should never be charged and it is insane that Mr. Landon made the proposal that he did."
In an Aug. 21 letter, Landon had written Weeks that early voting hours extend beyond the normal business day, and would therefore require extra city staffing at the community center. He said those costs should be paid out of countywide dollars, not city dollars, since all county voters would benefit from the early voting location.
Landon's point in this case is a stretch: Palm Coast voters account for about 80 percent of the electorate, and the community center location would likely be used by an even larger proportion of Palm Coast voters, for whom it's designed, as it would be the third early voting location. Weeks will also provide early voting at the county library and at the Government Services Building in Bunnell.
"However," Landon wrote, "we are proposing that if you assure us that you will not charge the Palm Coast taxpayers, through the city budget, for any election costs, we will agree to pay the extra community center city staffing costs caused by an election out of the city budget." Otherwise, he said, the city will bill the supervisor for use of the facility.
Weeks countered that if the city made a key available to her staff, there would be no need for city staffing during extra voting hours. Weeks was miffed by the suggestion that her own staff could not supervise the building as properly and safely as city staff during those extra hours, particularly since most unused rooms in the building would be locked after hours.
The billing matter may be academic, if that majority of the council sticks by its pledge to do away with the fee—but only if Weeks agrees to using the smaller room.
But Weeks, citing documents dating back to when the community center was a county property, insists that the city may not stand in the way of her use of the facility as she deems fit. The city doesn't agree with that interpretation of the older documents.
Weeks also says that it's the city, not her office, that's being inflexible over scheduling.  "It is interesting that their meetings/workshops have been cancelled for their elections," she wrote, "and that they schedule is obviously flexible, but they refusing to be flexible at this time."
Weeks is mostly wrong on that score.
The council cancelled its Nov. 8 workshop in 2011, for example, to accommodate the city's election day, though the workshop was to be held at the city's offices at City Marketplace, where bi-monthly workshops are usually held. But the council has not cancelled a meeting at the community center to accommodate an election: even on Nov. 6, 2012, the day of the last general (and presidential) election, the council started its meeting at its usual larger chamber at the center, at 6:30 p.m., half an hour before polls closed. In other words, voting was still taking place in the nearby "secondary" meeting room a few steps down the hall. That was also the case on Election Day in November 2010 and in 2008.
That's why council members and Landon are at a loss over why the supervisor is being adamant about using the larger room, when all sides could be accommodated, including voters (and taxpayers), if she conceded to using the smaller room.
But Weeks was unbowed, and turned up the volume on council members and the city administration.
"I am only asking for the big room for two weeks every election and elections are typically every two years," she wrote. "I don't see that as being unreasonable. I see them as being unreasonable.  If the council members have no more regards for our elections process, and don't think of the voters when making their decisions, shame on them.  I hope they remember they are elected, and they are accountable to the people. Are they trying to keep voter turnout low, and prevent making voting more convenient?"
Palm Coast has had a problem with turnout in its last few elections, with turnout plummeting to below 15 percent, and voting locations also being reduced drastically in cost-saving measures. That was before the city decided to pair its elections with even-year federal and state elections, to save money and encourage more turnout. Weeks and the city have had a checkered history over that period.
"We reached out to the city when we were doing redistricting and considered fire stations as polling locations and again they wanted to charge a fee," Weeks wrote. "The City of Flagler Beach, City of Bunnell and Town of Beverly Beach help us to advertise elections (at no cost) in their utility billings, and when reaching out to the City of Palm Coast they wanted an outrageous amount of money.  The ballot box should never be controlled by the budget!"
She added: "If there was a good reason why I shouldn't be seeking the use of the large room at the Community Center I would consider other options.  Thus far a good reason hasn't been presented."
The city disagrees.
Weeks will make her case to the council at a Sept. 3 meeting, at 6:30 p.m.–in the council's larger room at the community center. Weeks has also been invited to a council workshop to discuss the matter, on Sept. 10, at 9 a.m., at the city's City Marketplace offices. Both meetings are open to the public and are streamed live on the Internet.