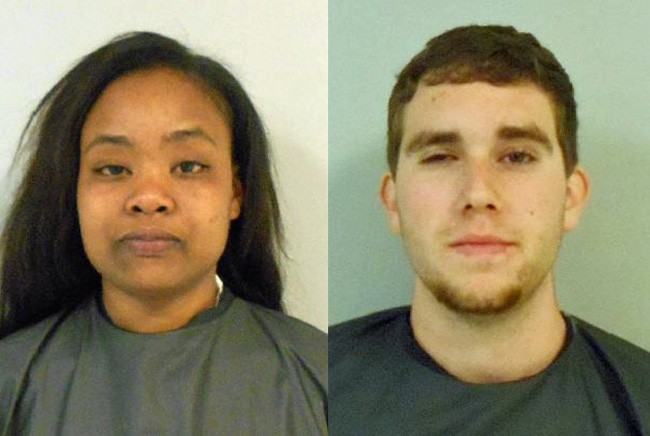 A woman's car was assaulted by a man with a tire iron and struck twice as the woman, who had her two children in the car, idled at a light at Belle Terre Parkway and Palm Coast Parkway Friday evening.
Christine Weaver, a 38-year-old resident of Palm Coast's B Section, told a Flagler County Sheriff's deputy that she'd been driving on Belle Terre from Rymfire during heavy or congested traffic around 6 p.m. when she switched lanes and "felt that there was enough room when she did so," according to an incident report. After she changed lanes, an unknown man in a white, four-door Chevy Equinox "began to tailgate her vehicle and aggressively drive behind her." (The victim later said the vehicle was more likely a Chevy Trail Blazer.)
Weaver began to drive around town, as she did not want to lead the other driver to her home. When she stopped at the Palm Coast Parkway traffic light, the man, she told police, exited his car "and struck her vehicle with a tire iron two times, once on the trunk and again near the rear drivers side passenger window." The man then drove west on the Parkway, and she subsequently lost sight of him. She was unable to provide a tag number or or further description of the vehicle.
Weaver described the alleged suspect as dark-colored, "possibly black or Hispanic wearing white pants with blue boxers showing."

Car Break-In at Cracker Barrel
Friday morning Yolanda Solis, a 56-year-old Jacksonville resident, had pulled over at Palm Coast's Cracker Barrel, on her way to Orlando Airport. She was about to go on vacation in Mexico.
She was in the restaurant about half an hour, between 9:30 and 10 a.m.
During that time, someone smashed out the back driver's side window of a 2014 Toyota Corolla (a Hertz rental car) and took her luggage bag, which was sitting on a seat by that window. The bag contained Solis's Florida driver's license, passport, her green card, a bank debit card, a Cannon digital camera, $1,400 in U.S. currency in 100-dollar bills, and $2,000 in Mexican currency.
The Cracker Barrel manager told police that the camera outside does not point in the direction of where the vehicle was parked, toward the back, near McDonalds. The vehicle was photographed and no pertinent evidence was located on or within the vehicle.

Assault and Brass Knuckles
Friday afternoon Johnnie Mae Smith, a 45-year-old resident of South Chapel Street in Bunnell, ran down to the intersection of East Drain and South Chapel near her home to stop an argument involving three women. As she got between them, she was struck on the head by a coquina rock about 8 to 12 inches in diameter, and two of the three women left.
When Bunnell police showed up, Smith would not provide a written statement: she didn't want to get further involved in the altercation or press charges against anyone despite a 2-inch abrasion on her left shin. She also refused medical attention. The third woman who'd been part of the altercation told police that she'd been driving from Daytona Beach to Bunnell. The two other women had pulled up behind her at the intersection in Bunnell, and the argument started. The woman said Jamell Johnson, a 22-year-old resident of South Bacher Street in Bunnell, had picked up the rock and allegedly thrown it at her, but missed, striking Smith instead.
The next day toward evening, Bunnell officers conducting extra patrols in South Bunnell noticed a Mercedes at the intersection of South Anderson and Martin Luther King Jr. Street, and ran its tag through databases. The tag returned ownership to Johnson, who by then had a charging affidavit against her, for assault, as a result of the incident on Friday. The officers conducted a traffic stop and was taken into custody over the aggravated battery charge.
After she was taken into custody, officers searched her purse and discovered brass knuckles. Under Florida law, brass knuckles, or metallic knuckles, are categorized as a weapon, and carrying brass knuckles is the equivalent of carrying a concealed weapon. The officers conducted a check of Johnson's concealed weapons permit, if she had any. She did not. She was arrested on the aggravated assault charge as well as on a charge of unlawfully carrying a concealed weapon.

Criminal Mischief at Holiday Inn
Sunday evening, Flagler County 911 got a call from a cell number that was geo-located at the Holiday Inn on Florida Plaza Drive, off of State Road 100. It's not clear from the police report whether the call was a hang-up or an explicit call for assistance. But a deputy went to the hotel and made contact with the caller in the lobby. The caller appeared drunk. The deputy asked for identification "in order to document who I contacted for the call of service," the report notes. The ID showed the individual to be under 21.
The individual appeared to be a Palm Coast resident. The deputy asked him what he was doing there. The individual said he was catching up on sleep, and "party a little with friends," according to the police report. He gave the room number where he was staying.
Four hours later, two deputies returned to the hotel as a follow-up, and to investigate the possibility of underage drinking. They spotted Francesco "Frank" Colombo heading for the pool. He was wrapped in a comforter and holding a Bud Light. Colombo is a 19-year-old resident of Secretary Trail in Palm Coast. He took the deputies to the same room that the other individual had mentioned earlier in the evening. Colombo, the report states, consented for the deputies to enter the room.
The deputies noticed an array of beer bottles inside, as well as whiskey. The room was "in complete disarray," according to Colombo's arrest report, with vomit-covered linen in the bathroom and yellow dust on the bathroom counter, the floor and the furniture, which appeared to be from a dispensed fire extinguisher. A plastic water pipe with what appeared to be marijuana residue was located in a drawer.
Colombo was arrested on charges of criminal mischief, possession of alcohol by an individual younger than 21, and possession of drug paraphernalia.
It's not Colombo's first arrest: last September he was arrested on charges of burglary and criminal mischief. The charges were dropped. And in November he was charged with lewd or lascivious battery. That charge was also dropped.