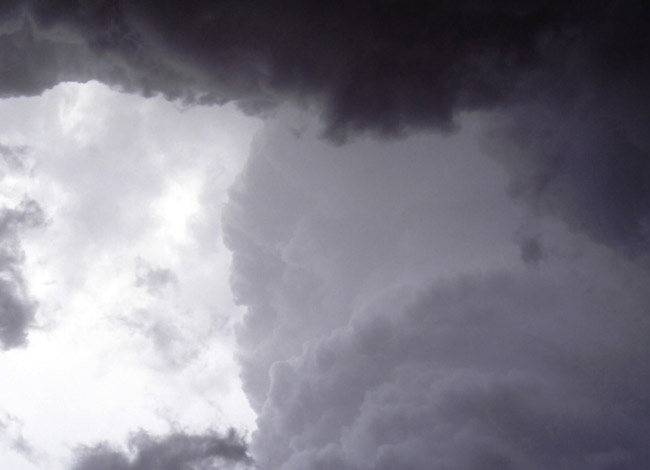 Last Updated: Sunday, 3:30 a.m.
Note: See Sunday's updated story with images and interviews from the scene.
Heavy winds, possibly a tornado, struck portions of Palm Coast's B and C Sections at around 7:02 p.m. Saturday evening (Dec. 14), damaging several homes, downing power lines and closing streets.
Damaged homes were reported on Colchester Lane and Bainbridge Lane. No injuries have been reported.
As the evening wore on, reports of damaged homes–damaged roofs and damaged porches–accumulated, especially in the central part of the B Section. But with the actual wind danger well past, authorities were struggling with onlookers and drivers gathering in areas where damaged power lines and downed trees were posing a danger. At 5 Bannerwood Lane, for example, a large tree-top was dangling, endangering anyone walking below.
Florida Power and Light was reporting power outages to 2,000 to 2,500 customers. But by 3:30 a.m., the number of customers without power had been reduced to fewer than 300, all in the most-heavily storm-affected area of the B Section.
"The fire chief says that from his assessment," Palm Coast spokeswoman Cindi Lane said at close to 10 p.m., referring to Fire Chief Mike Beadle, "it does appear that it was a tornado."
Sheriff's deputies, Undersheriff Rick Staly said, has restricted access to the neighborhoods most affected, "requiring proof of ID that they have a legitimate reason to be in the area." Some 30 sheriff's units have fanned out in the area. "We don't need sightseers in the area right now," Staly said, asking that residents stay out of the way. Trespassers may face arrest.
Little by little in the course of the evening, authorities gathered a house-by-house inventory of the damage. From their reports, it appeared that a tornado had likely touched down and perhaps skipped some areas and touched down again, but most of the damage was minor to moderate, with a few houses more severely damaged.
Minor damage was reported at 44 Bainbridge, minor to moderate damage reported at 43 Bainbridge. The porch collapsed at 85 Colchester, where parts of the roof also collapsed. There was some damage at 87 Colchester Lane. There was heavy damage at 39 Bannbury Lane. Heavy damage was also reported at 36 Bannbury. A tree was reported to have struck a house, but the address of that house is unknown at this time.
There are also reports of house damage on Farnsworth Drive, but those reports–unlike those on Bannbury, Bainbridge and Colchester–have not been confirmed by rescue personnel on scene.
There is a report of damage on Cedarview, where a screen enclosure was damaged. Cedarview is a considerable distance east from the area that sustained the most damage. Shortly after 8 p.m., officials reported some damage to roofs in the 20, 30 and 40 blocks of Barring Place. Number 28 Barring had roof damage, Number 30 had heavy damage, number 38 had moderate damage, numbers 32 and 35, 40, 49 and 61 had minor damage.
Heavy damage was reported at and near the intersection of Bannerwood Lane and Bayside Drive, where water pipes were also damaged, all the way to Barring Place. At least one home in that area lost its roof. The homes at 38 and 42 Bannerwood had minor damage. Some roads in that area are not passable. Minor damage was reported at 9 Bannerwood. Trees were reported against power lines at the intersection of Ballenger and Barring Place, and at 75 Baltimore Lane. A tree had struck a house at 61 Baltimore. Damage is being reported on Birchwood Place, where the houses at numbers 20 and 21 have minor damage, and at 22, moderate damage.
In the C's, a house at 92 Cimmaron Drive had damage to its roof and its porch, though the house itself appeared structurally sound. The house at 3 Comanche Court had minor to moderate damage.
Palm Coast has activated its road crews to clear roads of tree limbs, while building officials will be inspecting homes at 23 Bayside and two homes on Banburry to decide whether the houses are livable or need to be evacuated.
Road closures may be taking place between Belle Terre west to U.S. 1 and Palm Coast Parkway to Pine Lakes. Florida Power and Light trucks have arrived in the area to repair downed power lines.
One patient was reported in the area of Bayside Drive, being prepared for evacuation, but it was not clear whether the trauma alert was due to the weather emergency, or had happened to take place in the same geography.
The area struck by the heavy winds is to the east of Belle Terre Parkway, north of Palm Coast Parkway and south of Bird of Paradise.
Firefighters and sheriff's deputy are at the moment (8 p.m.) conducting welfare checks in the area–meaning that they are going door to door to check on the welfare of residents.
Fire officials were contending with people on bicycles and other pedestrians looking around and interfering with first responders–and asking for deputies' help to clear the area of "gawkers."
At 8:26 p.m., an official at the National Weather Service in Jacksonville said that office was still waiting to hear reports from emergency management personnel at the scene to make a more precise determination as to what took place.
At 7:02 p.m., the NWS reported a "possible tornado touchdown on Brittany Lane," with reports of trees down, power outages, and tops of large pine trees snapped off at Banner Lane and Bannerwood Lane.
The weather forced an early en d to Palm Coast's Starlight Parade in Town Center.
The parade started at 6 p.m.. It was about half way over when the deputy Palm Coast fire chief, Jerry Forte, was watching the radar and could see the cell approaching. "They pulled the plug on the parade," Palm Coast Spokeswoman Cindi Lane said, and the announcement was made over the public address system that "bad weather was approaching and people should go to their cars, and the parade was cancelled at that point. Chief [Mike] Beadle was the announcer of the parade so he took off his chief Santa hat and put on his Chief Fire hat, and went to the tornado."
Lane spoke at a press conference quickly prepared in the presence of Staly and Flagler County's new emergency director, Kevin Guthrie, among others. The briefing was held at the Flagler County Public Library in Palm Coast at about 9:40 p.m.
Storm notes: At 6:34 PM Flagler County REACT activated their storm spotter operation.
At 7:13 PM REACT relayed a report of a tornado in Indian Trails to the National Weather Service in Jacksonville.
Ten stations were in the net including participation from CERT.
At 6:55 p.m. 13 Radio Amateurs licensed by the Federal Communications and members of the Flagler Emergency Communications Association opened a net on one of their repeaters to share and communicate weather reports through the Skywarn System to the National Weather Service in Jacksonville.
At 2:36 a.m. the National Weather Service in Jacksonville issued another tornado warning for Flagler county until 3 a.m. At 2:35 a.m., meteorologists had been tracking a severe thunderstorm capable of producing a tornado 6 miles west of Bunnell, moving northeast at 45 mph, with other locations in the warning including Palm Coast and Flagler Beach. The warning expired without reports of a tornado.