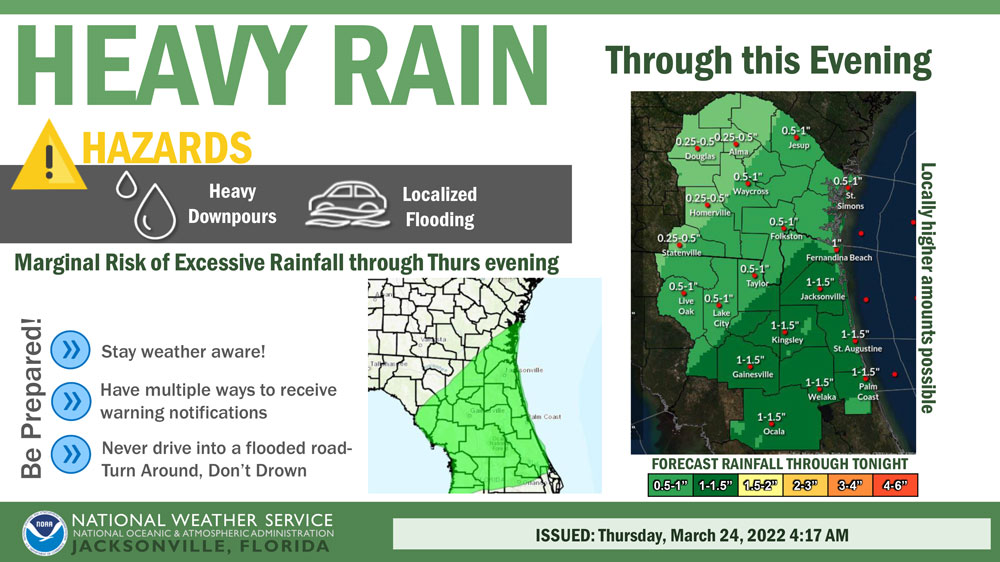 The National Weather Service in Jacksonville is cautioning residents of a day of potentially severe weather, including heavy rain and strong wind gusts, through the middle of the afternoon. Palm Coast could get more than an inch of rain, adding to already saturated grounds.
A cold front is slowly moving east across the region today. "Strong to isolated severe thunderstorms will be possible for locations south of the Interstate 10 corridor through the mid-afternoon hours, and heavy downpours may result in localized flooding before rainfall coverage and intensity decreases by late this afternoon," the National Weather Service said in a 6 a.m. briefing.




Palm Coast and the northern half of Flagler County are at the southern edge of the moving front, making the degree of local weather severity uncertain as rain bands move from the southwest in a north-easterly direction. "A few of these thunderstorms may become strong or even severe, with damaging wind gusts of 40-60 mph being the primary threat, especially for locations across north central and coastal northeast" Florida, the weather service said. "An isolated tornado or two cannot be ruled out across this area as well."
Heavy downpours will add another 1-2 inches of rainfall for much of northeast and north central Florida. Repeated downpours in specific places could result in locally higher totals in a short amount of time, creating a marginal threat for flooding, especially for urban and normally flood prone locations. This activity will begin to end late this afternoon as the cold front presses slowly eastward towards the Atlantic coast.
It'll be cooler today, with temperatures topping off in the low 70s before falling into the 60s this afternoon. THere'll still be a slight chance of thunderstorms in the evening and showers after midnight as the temperature plunges to the lower 50s ahead of what should be a very pleasant weekend of sunshine and cool temperatures.