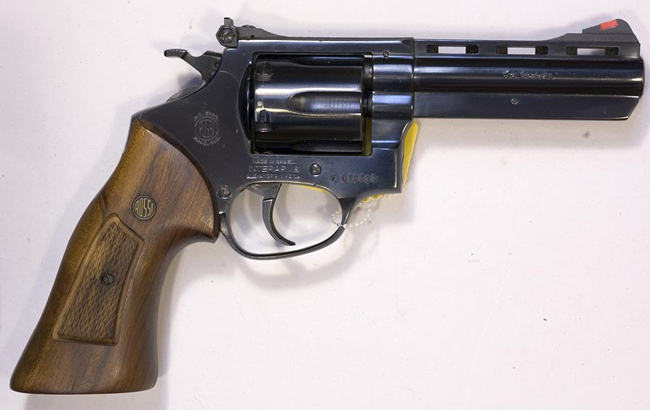 For the second time in five days Flagler County Sheriff's deputies have seized, with consent, two unrelated individuals' weapons for safekeeping after incidents involving excessive grief or hallucinations, and fear among cops or relatives of the individuals involved that they could harm themselves if their weapons were left in their possession.
Such preventive seizures are not uncommon, and are at times conducted at police officers' discretion, based on their judgment of the situation. But the seizures have at times drawn unusual attention in the last couple of years as an organization called Florida Carry Inc., which describes itself as a Second Amendment advocacy organization, has sued police agencies around the state for pre-emptively seizing firearms.
In Daytona Beach, the police department around Christmas 2012 seized 16 firearms from then 27-year-old Anthony Bontempo after responding to his home for a so-called welfare, or well-being, check, as Bontempo had indicated that he might harm himself. Daytona Beach Police Chief Mike Chitwood, however, sought to require Bontempo to get a court order to get his weapons back. Bontenpo refused, and sued instead through Florida Carry. Eight months later, a Volusia County Circuit judge ordered Chitwood to release the weapons.
No such court orders are part of the seizure protocol in Flagler County, where the sheriff's office allows weapons owners to recover their guns once they feel better.
The first incident took place the evening of May 11. Charlie Borill Jr., 56, of Cloverdale Court in Palm Coast, was grieving painfully over the recent death of his wife and, as he told deputies, after he was asked to exit his residence and was patted down, that he was having a difficult time coping with the loss. His sister told deputies that she was very concerned about Borill's safety because he had a lot of weapons in his house. But Borill had made no statements that would lead deputies to believe that he had any intention of harming himself—either to deputies or to his sister.
Borill said he had plenty of family to live for, and that only "idiots' would kill themselves, according to a sheriff's report.
Borrill said he would seek counseling, but did not want to be forced into it, nor to be removed from his home. Other family members were on the way from out of state to help him through his difficulties. (Borrill was likely referring to the Baker Act, which gives police authority to remove an individual from his or her home, against the individual's will, and incarcerate the individual in a psychiatric unit at Halifax hospital for up to 72 hours for evaluation. Baker Acts have become almost a daily occurrence on deputies' beats locally and across the state.)
"Sergeant Williams," according to a sheriff's report on the incident, "advised Charlie that he was concerned with the amount of guns in his home while he was going through a really hard time dealing with a death. Charlie agreed to voluntarily surrender his weapons to be placed into evidence for safekeeping. Charlie understood that this effort was voluntary and that he could retrieve his weapons at a later date when he felt he was more stable emotionally."
All of Borrill's weapons were located and identified in various locations inside the house. They totaled six pistols, four rifles and two shot guns. The weapons were transported to the Palm Coast Precinct where they were packaged for safekeeping.
The second incident took place late the night of Friday (May 16) Oak Ridge Road, in the Flagler County portion of Ormond Beach, following a welfare check on 70-year-old Peggy Harwood.
Harwood told police that she was lying in bed watching television when she saw a blond stranger enter her bedroom through her closed bedroom door. She screamed, went to her closet to arm herself with a .38-caliber revolver, and said the stranger didn't move when she screamed at him. She left her room by jumping out of a bedroom window. She was standing in front of her property when cops arrived, the gun in her purse next to her on the ground.
Deputies checked the house but found no one inside. The bedroom door Harwood had mentioned was still closed. There were no signs of forced entry or damage to any areas of the residence.
"While speaking with Peggy she stated these hallucinations started in the past several weeks after a new prescription she started taking," the incident report states. She explained that with different types of medications she was taking, the combination may have triggered the hallucinations. Harwood's primary doctor could not be contacted just then, as his answering service told deputies that he would not be back until Monday.
"Due to Peggy's hallocinations I took possession of two firearms she had inside her residence for safekeeping," the deputy's incident report states. "The weapons are a loaded five shot Rossi Model .38 revolver S/N W090225 and a loaded six shot Armi-Gale-Brescia-Brevetto .25 silver pistol. Peggy had no objections of me taking her firearms and signed an property sheet documenting the items being turned over to the Flagler County Sheriff's Office."