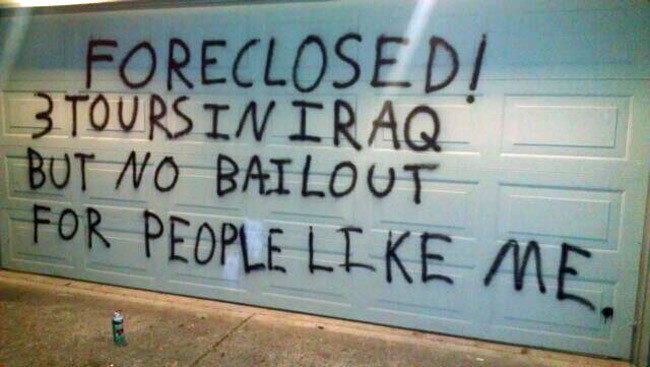 Romneology, June 15
From the Daily Show: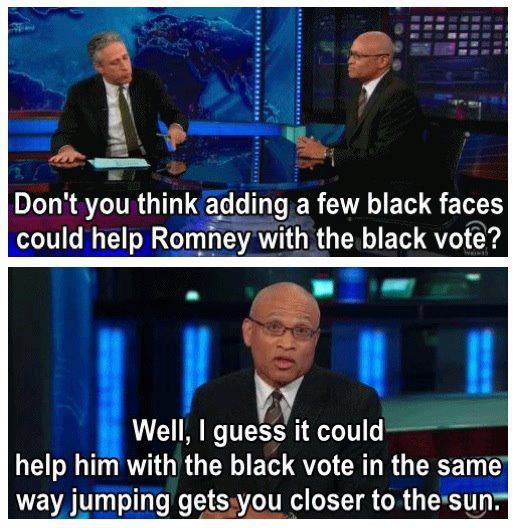 Voter Purge: It's 2000 All Over Again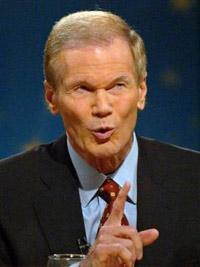 U.S. Sen. Bill Nelson is warning Gov. Rick Scott: Don;t repeat the mistake of 2000. "In the 2000 Florida election," Nelson wrote Scott in a letter, "at least 1,100 eligible voters were wrongly dropped from voting rolls in an attempt to purge a list of felons," Nelson wrote. "Many of those who were dropped showed up to vote and were told they could not. And in a presidential election decided by 537 votes, that erroneous purge may have been a factor." Politifact checked Nelson's figures: "Nelson's figure comes from a 2001 Palm Beach Post investigation, the crux of which asserts at least 1,100 eligible voters were wrongly purged before the 2000 election — "the collateral damage from an aggressive and ill-conceived state plan to prevent felons from voting." The Post's count included at least 108 citizens who were cleared after the election and 996 people who committed felonies in other states (they were supposed to retain their civil rights even in Florida). Other tallies put the number of bad targets 11 or 20 times higher." […] Twelve years later, Gov. Scott ordered state officials to clear the rolls of noncitizen voters. The state department whittled a list of 182,000 potential noncitizens to about 2,700 by comparing driver's license data, which contains some citizenship data, against voter rolls. County supervisors, again, were told to notify those listed by mail of the need to urgently prove their citizenship. And also like last time, some supervisors decided to sit out the purge. Already, a Pasco County woman and a 91-year-old World War II veteran from Broward County have made headlines for being wrongfully targeted. In fact, elections supervisors found that most names on the list belong to citizens — probably because the motor vehicle department's citizenship information is out of date, the Miami Herald reported. Republicans stand by the clean-up efforts." The full story.
The Tea Party vs. Ronald Reagan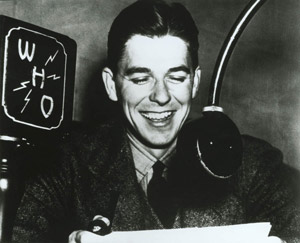 Bruce Bartlett in the Fiscal Times: "This week, former Florida Gov. Jeb Bush, heretofore a pillar of the Republican Party, both for his successful governing record and family history as son and brother of presidents, came in for criticism from members of his own party. Americans for Tax Reform president Grover Norquist, who enforces party discipline on tax issues, attacked him for being a "yokel off the bus" who was echoing Democratic talking points. Bush's sin? He suggested that the GOP had moved so far to the right and was so radically opposed to compromise of any kind that his father, George H.W. Bush, and Ronald Reagan couldn't be nominated by the party today. As Jeb Bush put it: "Ronald Reagan would have, based on his record of finding accommodation, finding some degree of common ground, as would my dad — they would have a hard time if you define the Republican party — and I don't — as having an orthodoxy that doesn't allow for disagreement, doesn't allow for finding some common ground." […] It is indisputable that Reagan was vastly more moderate, at least in terms of how he actually governed, than today's GOP. […] I worked for Ronald Reagan and believe he was a great president. But he was not a radical who made extravagant claims or sought to destroy government, as most Republicans appear willing to do today. He believed in conservative governance and getting things done, and if bending on principle was necessary, then so be it. I think Republicans would be better off emulating the real Ronald Reagan and less demanding rigid adherence to unachievable principles."
She Quits Her Job at Microsoft In Song
[]
The Wonder of Film
From TED: Movies have the power to create a shared narrative experience and to shape memories and worldviews. British film director Beeban Kidron invokes iconic film scenes — from Miracle in Milan to Boyz n the Hood — as she shows how her group FILMCLUB shares great films with kids:
When Indianapolis Was Nuked
From the National Security Archives: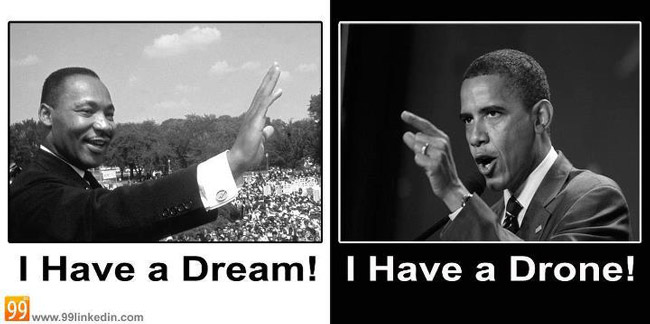 Romney's Bullying Problem (Again)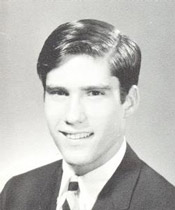 First this. Now this, from the Boston Globe: Former governor Mitt Romney's administration in 2006 blocked publication of a state antibullying guide for Massachusetts public schools because officials objected to use of the terms "bisexual'' and "transgender'' in passages about protecting certain students from harassment, according to state records and interviews with current and former state officials. Romney aides said publicly at the time that publication of the guide had been delayed because it was a lengthy document that required further review. But an e-mail authored in May of that year by a high-ranking Department of Public Health official – and obtained last week by the Globe through a public records request – reflected a different reason. "Because this is using the terms 'bisexual' and 'transgendered,' DPH's name may not be used in this publication,'' wrote the official, Alda Rego-Weathers, then the deputy commissioner of the Massachusetts Department of Public Health." The full story.

Food Stamps Survive Tea Party Assault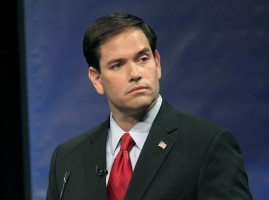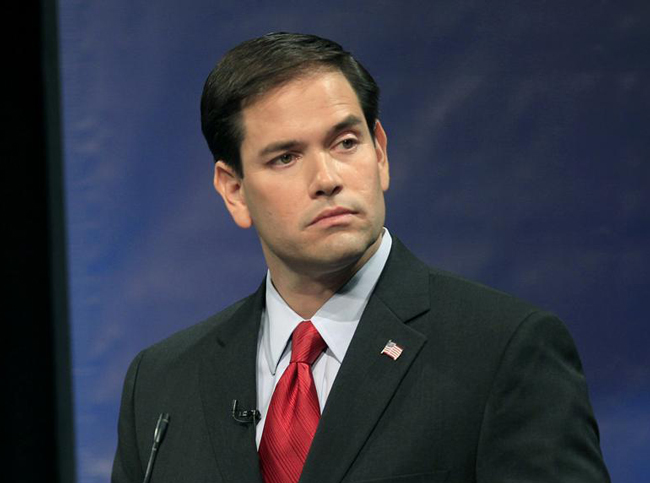 From Politico:"The decades-old farm and food stamps coalition held in the Senate on Wednesday, as 13 Republicans joined Democrats in blocking a tea party-led effort to cut nutrition funding almost in half and shift control back to the states. […] The food stamp vote was significant because the amendment, offered by Sen. Rand Paul (R-Ky.), mirrors a proposal by House Republicans that would also convert the program to a state block grant and cut funding — albeit not as much as the tea party conservative proposed. Paul was proposing a $37 billion, or 45 percent cut, from the projected funds for next year. The House GOP budget plan would save about half as much over roughly the same period. " The roll call vote was 65-33 to reject the motion, with two senators not voting. Sen. Marco Rubio was in the minority, voting to slash the food stamps budget for a state where the proportion of people on food stamps, or eligible for food stamps, is well above the national average. Sen. Nelso voted in the majority.

A gallon of regular gas for half a dollar? Groovy Reflections posts with the nostalgic image belowt: "Remember when folks in the 70's raised holy heck when gas prices skyrocketed to these unbelievable prices? Oh to go back to the summer of '76!! And this was when their was such a thing as "full service!!"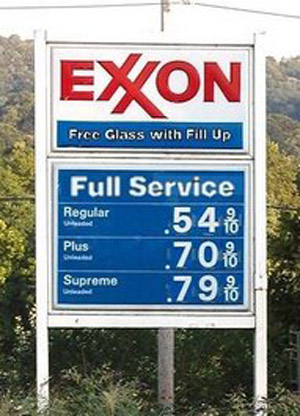 To which they commented: "I worked at a self serve station in early '78 and I remember a gallon starting out as just that," one commenter wrote. This was when all that energy stuff and the odd-even rationing was going on, and Prop. 13, etc. etc. And the prices just bounced up and down that whole year! Got a major headache." And another: "I remember this well! Was a senior in h/s and was upset of the hike in gas….. :) remember saying if it went to a dollar I was riding my bike!! lol" And: "Remember when you could give the handle a quick click and round the total off? I tried that today and it jumped 8 cents." And: "I member gas going up .20 in one week. People were freaking with lines to our station were 5 miles long on Central Ave. In Hartsdale NY."
Keep in mind: $0.54 in 1976 is the equivalent of $2.18 today.

From icanhascheezburger.com: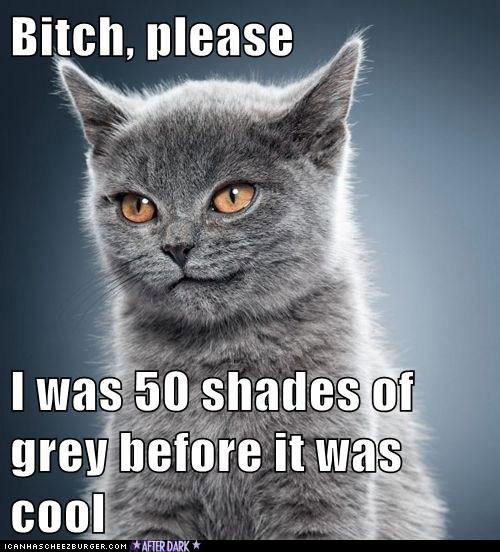 Harvard's No-Tuition, No-Student-Loans Plan:
From Flagler County BlackBoard Blog: "Harvard University announced over the weekend that from now on undergraduate students from low-income families will pay no tuition. In making the announcement, Harvard's president Lawrence H. Summers said, "When only ten percent of the students in elite higher education come from families in the lower half of the income distribution, we are not doing enough. We are not doing enough in bringing elite higher education to the lower half of the income distribution." If you know of a family earning less than $60,000 a year with an honor student graduating from high school soon, Harvard University wants to pay the tuition. The prestigious university recently announced that from now on undergraduate students from low-income families can go to Harvard for free… no tuition and no student loans! To find out more about Harvard offering free tuition for families making less than $60,000 a year, visit Harvard's financial aid website at: http://www.fao.fas.harvard.edu /or call the school's financial aid office at (617) 495-1581.

When the Golden Age of News Was All Lead
Remember these?

Fred Willard's History in Flags
June 14 as Flag Day dates back to 1889, when George Balch, a kindergarten teacher in New York City, thought up the notion, later adopted by the State Board of Education of New York and, in 1891, the Betsy Ross House in Philadelphia.Fred Willard continues the tradition. From Funny or Die:

St. Augustine Voted Florida's Favorite City. Miami Is Worst.
From Public Policy Polling: "St. Augustine is seen favorably by 76% and unfavorably by only 5% of the state's registered voters. That is leagues ahead of the home of Disney World, Orlando (64-13), which is followed closely by Tampa (61-13), home of Busch Gardens; Key West (60-12); and Tampa's cross-bay neighbor St. Petersburg (56-8). Not far behind are Gainesville (57-12) and Ft. Lauderdale (56-11). The more typically Southern cities of Jacksonville (45-16) and Tallahassee (45-20) round out the well-liked bunch. Voters break even, however, on Miami (36-35), which has the biggest divide between Democrats and Republicans. Democrats see it positively by a net 14 points, but Republicans negatively by 13. Independents split on it (29-29). Much of this difference owes to a racial gap between white and minority voters. Hispanics see Miami by a net 13-point favorable margin and blacks by 29 points, but whites are down on it by seven. Miami is the starkest example, but there are also large racial gaps for a few other cities. Key West is liked by Hispanic voters by a net 62 points, and 65 by black voters, but "only" 45 points by white voters. There is a 32-point gap between black and white voters on Ft. Lauderdale. The only city that is liked quite a lot more by white voters than either minority group is Jacksonville, one of the most conservative cities in the state." The full results.
■ St. Augustine
Favorable: 76 percent
■ Orlando
Favorable: 64 percent
■ Tampa
Favorable: 61 percent
■ Key West
Favorable: 60 percent
■ Gainesville
Favorable: 57 percent
■ Fort Lauderdale
Favorable: 56 percent
■ St. Petersburg
Favorable: 56 percent
■ Jacksonville
Favorable: 45 percent
■ Tallahassee
Favorable: 45 percent
■ Miami
Favorable: 36 percent