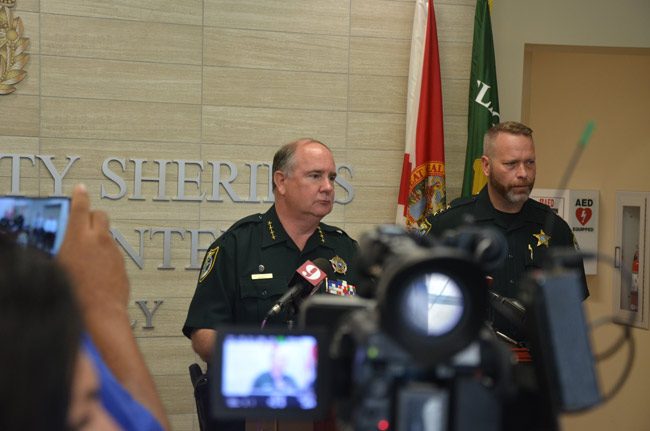 The woman was naked, bruised throughout and bleeding, when motorists driving along Old Kings Road saw her trying to flag someone down Monday morning. It was in the area of Pecos Drive, near the Flagler-Volusia county line.
Several drivers stopped. A woman provided a towel to the 25-year-old victim to cover herself and a bottle of water, helping her to her own car so she could rest. Others provided a sweatshirt. She told her helpers that she'd been walking from a friend's house in Daytona Beach the previous night when a man who called himself Travis approached her in a red beat-up car and asked her if she wanted a ride. She agreed, only for the man to rape her in several locations, she said, the last in the woods off Old Kings Road. She said the man threatened to use a gun if she fled, though she did not see the gun.
There were shoe marks on the back of her head—imprints from a man's shoes, she said, as he twice wrapped a belt around her neck and strangled her, the second time crushing her head with his shoe so her could have more leverage to tighten the belt.
The next day before noon, Obtravies Watkins, a 34-year-old homeless man and registered sexual offender who's divided his time between Palm Coast, Ormond Beach and Daytona Beach since his release from prison on child-sex charges seven years ago, was arrested in Volusia County and charged with rape and kidnapping there. He is also charged in Flagler County with attempted second-degree murder, rape and kidnapping.
Deputies and detectives from the Flagler County Sheriff's Office and the Volusia County Sheriff's Office, aided by the victim's precise descriptions of the man and his vehicle as well as license-plate recognition technology the Daytona Beach Police Department uses, were led to Watkins, who had used that very name, Travis, in the lead-up to a previous arrest and conviction on luring a 16-year-old Palm Coast girl for sex several years ago.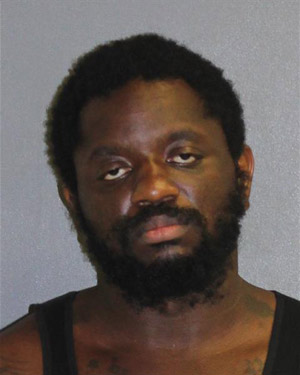 "Most brutal attacks, sexual batteries, kidnappings, those kinds of things, it's all about control, controlling your victim for whatever reason," Sheriff Rick Staly said during a press conference this afternoon. "So I suspect that all of that played into this case. Seven hours being held against your will, driven all over two counties, attacked multiple times, dragged out in the woods and left for dead. It's pretty brutal, and just amazing that she's alive." She was hospitalized in Volusia County.
Watkins "did make admissions to our detective," Cmdr. Steve Brandt of Flagler County's investigative services said. "I don't think at this point it's appropriate to discuss what his statements were, but they were statements that placed him with the victim and multiple scene of numerous crimes throughout Volusia and Flagler counties."
According to his arrest report, Watkins said he wrapped the belt around the victim's neck because she asked him to. When confronted with images of the victim's injuries, he said, according to the report: "I must've went overboard." But he denied raping her, saying he'd picked her up for sex and she'd agreed.
"At some point what began as a friendly encounter went south," John Creamer, the chief deputy at the Volusia County Sheriff's Office, said. There's no indication that the two individuals knew each other previously.
The arrest reports from the two sheriff's agencies narrate how the seven-hour ordeal developed.
According to the victim, she was on Ridgewood Avenue in Daytona Beach around midnight Sunday when she was approached by the man she'd later identify as Watkins as he drove his car. She said he offered her $70 for sex. She agreed. She got in the car. They drove to the Ormond Beach Post Office, where Watkins injected himself with "molly," a form of synthetic narcotic. They then went to James Ormond Park and had protected vaginal and oral sex, "which was originally agreed upon," according to the arrest report's narration of the victim's account.
---
The Sheriff's Press Conference Wednesday Afternoon
That done, the victim told Watkins that the "date" was over. He punched her in the face and forced her to perform oral sex again as he drove up and down Old Dixie Road, telling her he had a gun under the seat and was not afraid to use it on her. As they drove in the area, they pulled into an undetermined location other than that there was a body of water and some houses with lit Christmas decorations. Watkins allegedly raped her—without protection. They left that location, he drove on, took a dirt road, and raped the victim again.
Then they drove to what would be the final stop, on Flagler County's side of Old Kings Road near the intersection with Pecos Drive. There, he dragged her from the car, across the grass and into a wooded area. "Once there," the report states, "he wrapped a belt around her neck and strangled her until she was unconscious. When she regained consciousness, he placed his foot on the back of her head and pulled the belt even tighter and rendered her unconscious for a second time. He left her lying in the woods and fled the scene."
"This was absolutely a brutal attack that lasted for seven hours that occurred in both Volusia and Flagler County. We are fortunate that she survived this attack," Staly said. "Her injuries are not life-threatening but they are extensive, they cover her entire bodies. She had injuries ranging from scratches to blunt-force trauma."
Watkins's account of the night tracked closely with that of the victim, including taking "molly," having sex at the Ormond Beach park and near a body of water with Christmas lights on houses, as well as ending up in a secluded wooden area—where he said he placed the belt around her neck "at her request." He left her there naked, he told investigators, because she was complaining about wanting more money. He said he got rid of her clothes at an unknown location.
Watkins previously faced 21 felony charges and 10 misdemeanor charges. "This is a bad dirt-bag and he needs to stay in jail for the rest of his life," Staly said. The sheriff said Watkins is expected to be transferred to the Flagler jail, suggesting that his case would be heard in Flagler Court rather than in Volusia.
Staly was asked bout Watkins twice bonding out of Flagler's jail this year. "Our job in the Sheriff's Office is to make the arrest and to put them in jail, then it's up to the judges and initial arraignment to handle it from there," Staly, who just last week was critical of a judge allowing a suspect to be released on home confinement. "Judges have guidelines, they make decisions based on the facts that are presented to them, and, you know, that's their decision."