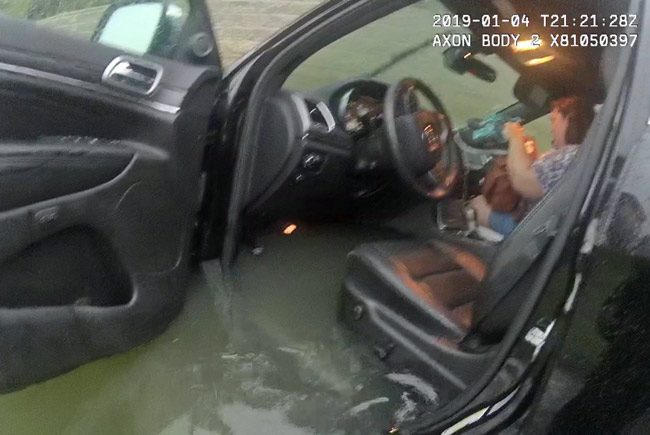 It was a gray, raining afternoon Friday, the rain falling in sheets. At 4:16 p.m., the 911 center got a call: a car had driven into a pond at Waterfront Park in Palm Coast, off Colbert Lane. The car's entire front end was submerged. The occupants could not open their doors.
Nancy Burns, 60, a resident of Canopy Walk in Palm Coast, had been at the wheel of the black Jeep Cherokee. She was with her daughter Lisa Burns, 37, who is blind, and Lisa's service dog. Nancy would later say she'd been trying to negotiate a turn onto Colbert Lane, and in the heavy rain, misjudged the turn. Instead, she "turned onto a small section of roadway for an undeveloped street just east of Colbert Ln on Waterfront Park Rd," the sheriff's crash report states–and ended up driving into the water.
Flagler County Sheriff's deputies John Collins and Robert Myers responded. The black car was half-way in the pond, tilted on the passenger side, the murky brown covering the hood all the way to the windshield. The rear right wheel was barely visible. The driver's side was a bit more elevated–just enough to allow the deputies to maneuver the rescue.
"Oh, my God," Nancy said when the deputy opened the door and a small flood rushed in at her feet. "You're going to have to crawl over that seat, and you need to hurry," the deputy tells Lisa, meaning to crawl to the back seat so he could pull her out.
"She's blind," Nancy tells him, sloshing her way out of the pond. "She's blind."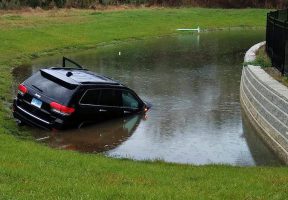 "The dog is in there," Lisa yells out.
"Where's the dog?"
"He's in the front seat with me!" Another deputy wades in, draws out the dog, then, with some difficulty, helps Lisa out of the car with the first deputy.
"What about the car?" one of the women asks.
"Dog's OK, car's OK," one of the deputies says.
"It's a rent-a-car," Nancy says. "Oh my God, I'm dead." The vehicle was rented from Enterprise. The two women were talking to paramedics standing by and were cleared. They'd not been injured.
Roger's Towing of Bunnell pulled the car out of the pond and towed it. "Once removed from the pond there was no visible damage" to the Jeep, the crash report states.
"This story could have had a very different ending," Sheriff Rick Staly said. "I am extremely proud of deputy Myers and deputy Collins for their quick response to the scene and how they went into the water without hesitation. Driving in the rain can be very dangerous, if at any time you are driving and
you feel like the conditions are too hazardous we encourage drivers to pull over at a safe location and wait for the weather to pass."
See body camera footage of the rescue below.