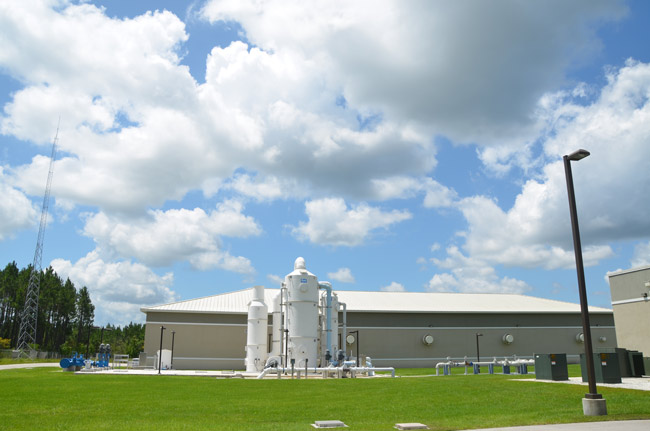 The Palm Coast City Council Tuesday evening weathered a verbal barrage of questions and criticism from 15 people upset at the city's plan to finance $78 million in water and sewer charges over the next five years, in part by raising water rates 22 percent in the next three years. But little change is expected.
Palm Coast has three water plants and one sewer plant. The water utility, which the city acquired in 2003 for almost $100 million, has been a mixed blessing. It has generated huge revenue for the city, enough to enable the utility fund—ostensibly a fund separate from the city's general revenue—to "lend" or "invest" money in the Old Kings Road widening project near State Road 100. The loan did not pay off, exactly: the loans to the Old Kings Road project was at 5 percent interest, but has yet to be paid back.
(Note: A previous version of this story incorrectly lumped together various transfers from one city fund to another, attributing all such transfers to the utility fund. In fact, the utility fund has lent money only to the capital fund for the widening of Old Kings Road–not to the Town Center CRA, which got a loan, now paid back, from the general fund, nor to the tennis or golf course funds, which were also subsidized by the general fund.)
The utility has large loans of its own. But absent the money it lent, and especially absent the growth the city banked on to spread the cost of its maintenance and growth of its utility, the city now finds itself facing bond holders who are demanding certainty that their money will be paid back. The city cannot risk to jeopardize its bond rating, otherwise the cost of its loans could go significantly higher, adding yet more costs to ratepayers overall. Without new customers to tap, the city's only option is to raise rates.
"The reality is, we're not collecting money simply for the sake of collecting money, we're collecting money to do projects that have to be done," Palm Coast Mayor Jon Netts said Tuesday evening.
A water-treatment plant, for example, has reached 70 percent capacity. It's well away from 100 percebt, but the mayor said the 70 percent threshold requires the city to begin planning for a new treatment plant. Once another threshold is passed, that treatment plant must be built. The city is not growing at the moment: it hasn't grown significantly for several years. But Netts said the city cannot gamble on the assumption that it won't grow. Rather, it's basing its growth projections on those of the University of Florida's Bureau of Economic and Business Research.
Based on last spring's estimates, those projections see Flagler County growing to 101,000 people by 2015, and 114,500 people by 2010. But the bureau also notes that actual growth has been slowing down significantly: in April 2010, Palm Coast had a population of 75,180. In April 2012, it had grown by 1,270, to 76,450—still better than any other place in the county, where population has been flat, but nowhere near the growth rate of the decade before the Great Recession, when Palm Coast's utility projections were calculated.
On Feb. 12, the council will hold a workshop to discuss alternative options to the rate increases. But the public is not allowed to participate at workshops. The city council is scheduled to vote on the rate increases at its next hearing, when the public can again speak, on Feb. 19 (at 9 a.m. at the Palm Coast Community Center).
Tuesday evening, Vince Liguori, the tea party leader who successfully led the battle against the council's utility tax proposal in June, was first to address the panel Tuesday evening, ending with a request for a referendum (but it wasn't clear on what). Liguori said the utility's five-year plan is equivalent to a $2,400 burden per household. "There's no question in my mind that this must be subject to further examination, review and options prior to voting on this issue," he said. "Gentlemen I have this: how and why did we get to this point?" He provided a long and rapid list of alternatives, including the creation of a five-member Palm Coast water authority that would include the city manager, two water utility employees and two residents, a proposal echoed by a few other speakers after him. "We the citizens have to manage our money," Liguori said. "We need a clear picture of what you do with our money. Do not make decisions by how much public attendance you obtain on any subject, because Palm Coast residents have shown that they are apathetic about voting and civil matters. A referendum is needed."
Liguori was followed by Tom Lawrence, another tea party leader and a former member of the council. "Let me be clear: A rate increase of 24 percent in 22 months seems excessive and is unacceptable," Lawrence said. He proposes minimizing rate increases even if it means taking on more debt, among other options (including reviewing the way long-term projects are financed, and enacting an annual savings mechanism equal to each year's inflation).
Eighteen more speakers followed, 13 of them addressing the water utility, at times by relying on outlandish figures, such as one speaker's claim that there'd been 324 rate increases since the city acquired the utility 10 years ago (not so: city Finance Director Chris Quinn said there was a rate increase of 12.5 percent in 2008, and an average rate increase of 1.7 percent a year since, as inflation adjustments). Another speaker noted the level of poverty in the county, and the 62 percent of students in the community on free or reduced lunch, to whom additional water costs would be intolerable.
Dennis McDonald, a county commission candidate last year who also identifies with the tea party, has been appearing before the council repeatedly since, in something of a crusade to unseat Netts and to demand the resignation of City Manager Jim Landon (he calls it "the Landon-Netts fiefdom.")
"We are all here," McDonald said, "because the management of our investor-owned utility has not been expanding the water and sewer services by billing—you have been billing it to the stockholders and rate-payers and not requiring the land developers who must have our services to expand their developments to ante up." He is partly right: big developers who have, for example, acquired land west of the city to build potentially huge developments have not yet paid their impact fees to defray the cost of development, including the cost of water and sewer improvements, because they have not yet built the homes that generate those dollars.
But that's not the city's fault. And the city cannot demand that those developers pay for an impact they have not yet generated. Where the city miscalculated is in its assumption that those developments would be underway by now: the city had made a bet that growth would continue apace, or be only briefly interrupted. So far, the city, and Palm Coast's rate-payers, have been on the losing end of that bet, because bondholders must still be paid.
McDonald went on to make direct attacks on Landon's management, citing a $435,000 blunder over who was to provide electricity to the city's newly acquired water wells west of the city. The city is now saddled with that cost. It was a mistake. But Landon later in the meeting wryly thanked McDonald for bringing up the matter, because, Landon said, it gave him a chance to tell the rest of the story: that the acquisition of those well-fields had once been a $4.5 million proposition from Rayonier to the city, before Landon's arrival, but that he and Richard Adams, the utilities director, renegotiated and got the well sites "at no cost," a savings, Landon said, of millions of dollars to the city. Curiously, Landon, who advertises even minor awards or cost-savings in his weekly review to the council, and at the end of meetings, had never mentioned that multi-million success before.
None of the 15 people who addressed the council on the water issue were supportive of the council's current plans.