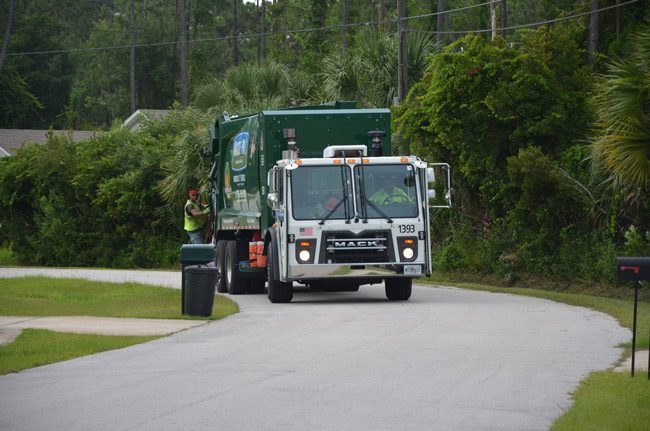 WastePro's days in Palm Coast may be numbered.
Palm Coast government has contracted with WastePro for residential and commercial waste pick-up since 2007. It had been a solid relationship until WastePro's contract was renewed just last June, though even then complaints were beginning to rise. Since then, residents' complaints have piled up. So have city fines of WastePro for failing to fulfill its responsibilities—chief among them, not picking up garbage on days it's supposed to.
WastePro is about to receive a bill for $8,365 in fines. It's more fines than for all 12 months combined in most years. In 2016, the company racked up only one month of fines that reached $4,000, and most other months saw fines in the hundreds of dollars, not the thousands. But in 2017, the fines surged to $12,310 just in the last four months of the year. The new year opened with $3,305 in fines for January.
So what took place at the Palm Coast City Council Tuesday evening was a matter of time.
"I just have one item," Mayor Milissa Holland said at the end of what had been a very brief meeting. That elicited a sharp "ow" from fellow-councilman Steve Nobile, who knows: Holland's items, rare as they are, are never minor or fluffy. This one certainly wasn't.
"Our utility bill pays a service to a company. Our residents pay for that service to be met. This is getting rather frustrating," Holland said, referring to WastePro. "I think we've all been very patient through the storms and we understood that that was taxing on our waste hauler because of not being able to bring in other haulers, and it took us time." But, the mayor said, she was "running out of patience" with emails from residents saying WastePro was missing pick-up days.
County Commission Chairman Greg Hansen had told her that the company, which also provides service to residents in unincorporated Flagler, has been having trouble finding employees to hire. (County commissioners summoned the company's local manager to address complaints at their end, but that meeting turned out to be more of a thank you session than an accounting, and the manager was sent back with pats on the back. The county does not levy fines on WastePro for any failed service.)
In an interview today, Holland was even more blunt. "I think we have enough communications with our residents to demonstrate that they have failed on the job," the mayor said. Asked if she would recommend severing the contract if the problems continued, she was unequivocal: "Absolutely. If it's not resolved, and they do not make sure they're picking up garbage the days which they contract with our community, then they have left us no other choice but to look for an alternative, immediately."
City Manager Jim Landon suggested those preparatory steps may already be in the works. He tried to out-blunt Holland Tuesday evening. "It's absolutely ridiculous that a basic service that people should be expecting, and the level of service we've had here in the past has been good, but right now it is subpar," Landon said. "In fact, it stinks. Yes, WastePro tells us it's because they can't find employees in the market today. That's not our problem. That's not our residents' problem. They've been doing this for many years, they have labor issues up and down, they have to take care of it."
The city has a consultant who helps enforce the city's contracts. The consultant is preparing a plan to hold WastePro accountable. If that fails, "I've already put our city attorney on notice that if it doesn't change quickly then we will start a legal process to bring them in compliance with their legal obligation to the residents of this community," Landon said—not going so far as to suggest that there'd be a break in the contract. "I'm tired of excuses, I don't want to talk anymore, we need to see action from them, and that's the message I'm trying to send at this point. We will fine them for every chance we get."
He had one recommendation to residents who want to lodge a complaint: "Please don't call WastePro. Call us." That, too, suggests that the city has lost faith in WastePro reporting failed pick-ups accurately.