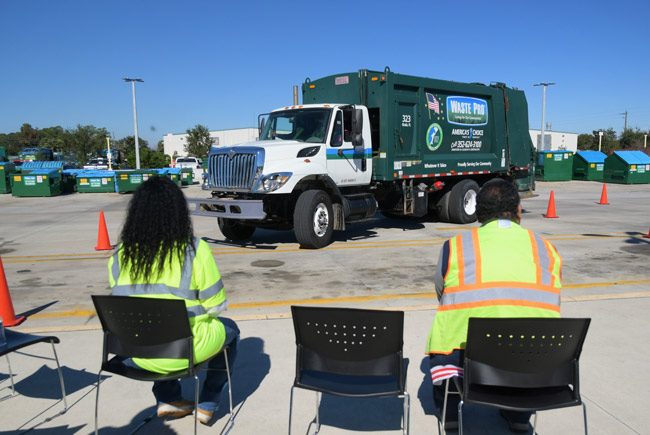 Waste Pro, Palm Coast's contracted garbage collection hauler, began new, shorter pickup routes this morning (March 4) as part of ongoing efforts to improve service for garbage, yard trash and recyclables in the city.
Customer pickup days will stay the same. However, the time of day when the pickup is made will change because all routes now have new starting and finishing locations.
Customers are reminded that garbage and recyclables collection in Palm Coast runs from 6 a.m. to 6 p.m. Garbage must be placed at the curb no later than 6 a.m., or the evening before scheduled pickup, to ensure it's not missed. Waste Pro is unable to return to a route to collect garbage that was put out after that day's collection.
The garbage hauler, contracted by Palm Coast since 2007, has had a checkered record in the past two years as complaints have risen and fallen, depending on the month. The company went through a bad patch in late 2017, soon after getting a five-year contract renewal and a 9 percent pay increase from the city.
It had a good summer, with few fines recorded, but complaints started rising again in the fall. Fines against the company (levied by the city) totaled $2,785 in October and $1,780 in November. The company had a particularly difficult December, stacking up $3,210 in fines from the city, most since last March and April, when fines totaled $40,000 those two months, according to city records. The fines are triggered when routes are missed or pick-ups are delayed past a certain point. Over the holidays, a one-day shift in pick-up schedules caused by Christmas and New Year's day led to a lot of confusion and stacks of garbage that stayed out all week in some parts of the city.
By January, Waste Pro had announced it was adding two new trucks and was hiring additional personnel, including supervisors, so it could shorten routes and be more responsive to customers. The personnel had to be trained before the new routes could be started. An employee's death and another employee's serious injury also likely spurred the company to focus on safety: in less than two months last September and November, one employee's leg was severely injured when his own truck ran over him, and weeks later, a truck overturned and crushed a 21-year-old hauler to death.
Last year Waste Pro pointed to a driver shortage, in part caused by tighter rules on commercial driver's licenses, as part of its challenges. The company launched what it calls its "Co-Heart program" to mentor employees to their CDL.
"Waste Pro is one of only two solid waste companies in Florida that works with the Florida DOT to offer such a program. Waste Pro's Regional Operations Center in Sanford, Florida is a state-approved CDL testing site," Melissa Catalanotto, a company spokesperson, said two weeks ago. "Since its creation, the Co-Heart program has led more than 150 helpers, drivers, and other employees to obtain their CDL. Graduates of the program have gone on to become lead drivers, supervisors, managers, and winners of Waste Pro's $10,000 Safety Award – which Waste Pro is the only private company in the United States to offer. To qualify for the award, drivers must go three years without accidents, injuries, or property damage. None of the people who have completed the program have had an accident or property damage claim."
Palm Coast Utility customers are advised to contact Customer Service at [email protected] or 386-986-2360 if Waste Pro misses their pickup. The City works with Waste Pro to resolve all concerns. Waste Pro also provides garbage service for Flagler County's unincorporated residents. But the county does not have a fine system in place to discipline the hauler.