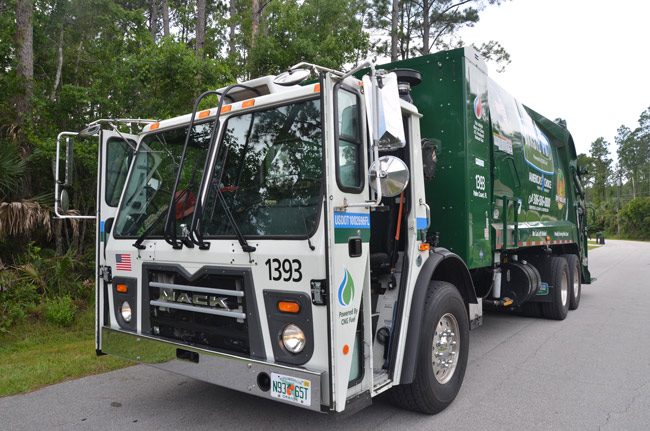 The holiday season was rough for Waste Pro, Palm Coast's garbage hauler: shifted schedules, missed pick-ups, a stream of complaints like this one left on the city's Facebook page in December: "Christmas week was a disaster in the S section and this week not much better. Reading through all the comments, doesn't look like anyone received trash pick up! Last week ours finally was picked up Saturday! Our can is still at the curb and I have no idea when it will be empty. Aggravating!!!"
Or this one, which provided a different perspective and touched on an issue the city has been working on: "I have no complaint with the guys at all. It's the city and the company office that my complaint is with over the lack of communication to the customers. Believe me, those fellows have a hard enough job and I would never give them any grief. I even understand and I'm sure many others do too, when a route cannot be completed but what I do ask is the common courtesy to inform the customers of the delay and that IS NOT the responsibility of those nice fellows who run the trucks. Heaven knows they are always friendly, smiling and working their butts off….we all see that!"
Waste Pro had in fact shifted its schedules during the holidays, with no pick-up on Jan. 1 and all regular pick-ups after that pushed to the next day for the next six days. That created a lot of confusion and complaints. The city announced the changes on its social media platforms and its website. "We're always challenged with communicating that information to residents," Cindi Lane, the city's spokesperson, said. "Apparently the word didn't entirely get out, because we got quite a few calls."
The city and the company have been listening, and changes are afoot. Today, Palm Coast and the hauler announced that Waste Pro is adding two new garbage trucks to its fleet, along with crews in pairs for each, it is adding a second road supervisor, and it is redrawing routes to make them shorter and more manageable. Crews will take to the new routes in late February.
"We are a customer-focused company and are working hand-in-hand with the city to adjust and enhance the service for our Palm Coast customers," said Shea Drury, Waste Pro's Division Manager for Palm Coast. "We saw a need for improved services and have already taken steps to make necessary changes."
Waste Pro is in the middle of a five-year contract with the city, and has been hauling for Palm Coast for over a decade. It's had its rough patches in the past, giving city council members extra anxiety: they're often the first line of complaint from constituents, who tend to be picky about their garbage and recycling pick-ups. The city levies fines on the company when it under-performs, whether it's missing pick-ups or getting to them too late. In late 20-17 and early 2018 the fines ranged from $1,500 to $4,000 a month. The company also lost a hauler to a severe on-the-job injury in September, then a 21-year-old hauler, Demont'e Harris, was killed on the job when a truck overturned on him on Nov. 21.
City and Waste Pro officials met two weeks ago to discuss issues, and the company returned with the improvement plan adding staff and shortening routes. "We've definitely seen some really strong improvements since the holidays, this month has certainly been better in terms of service," city spokesperson Cindi Lane said today.
With the route changes beginning in late February, customer pickup days will stay the same. However, the time of day when the pickup is made will likely change because routes will have new starting and finishing locations. Customers are reminded that garbage and recyclables collection in Palm Coast runs from 6 a.m. to 6 p.m. Garbage must be placed at the curb no later than 6 a.m., or the evening before scheduled pickup, to ensure it's not missed. That's especially important once the new routes kick in for residents used to seeing their haulers pass later in the day, when they could now start coming much earlier. Waste Pro is unable to return to a route to collect garbage that was put out after that day's collection.
"By adding more staff, two new trucks, and shortening our collection routes, we are confident Palm Coast customers will experience improved service moving forward," Drury said.
As for recycling: that's business as usual–for now. There's been a great deal of reporting nationally and internationally about the contraction of the recycling market. China had been a prime market for recycling, but the country is gradually ending that and plans to stop accepting any recycling or overseas garbage in a few years. And there's less money to be made in recycling. Recyclers are on the hunt for new dumping grounds, with some Florida cities, like Deerfield Beach last year, seeing their recycling service suspended for a while.
One of the issues has been contaminated recycling–meaning recycling mixed in with un-recyclable trash, or with recyclable material that's not clean for recycling. Yes, your jam jars have to be rinsed clean and your pizza boxes have to be grease-free before they make it into the recycling bin. The city plans to pay more attention to that in the future. Still, for now, keep putting out your recycling bin on recycling day.
Palm Coast utility customers are advised to contact Customer Service at [email protected] or 386-986-2360 if Waste Pro misses their pickup. The City works with Waste Pro to resolve all concerns. More information about Palm Coast garbage service is available online at www.palmcoastgov.com/trash.