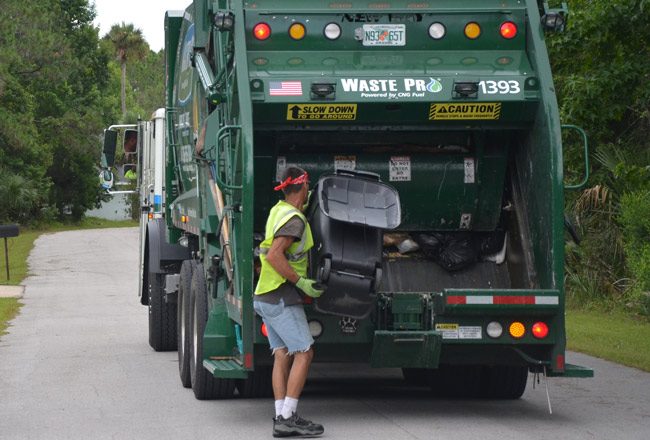 After remaining flat for 10 years, garbage-pickup rates for Palm Coast residents this month kicked up 9 percent, to $20.36 a month, or what equates to an increase of $21 for the year, as the city's latest contract extension with garbage hauler Waste Pro began on June 1.
The Palm Coast City Council approved the contract extension and the price hike on Nov. 1, with one caveat: since there had been a noticeable increase in customer complaints about Waste Pro's service, Council member Steven Nobile asked the city administration for a follow-up to those complaints between November and June 1. That follow-up has not been made public.
The new contract extension maintains the simplified hauling standards in the previous contract and adds one new advantage for residents: hazardous pick-ups will be far less complicated or costly. Until now, residents had doorstep pickup for hazardous waste, but they had to have a minimum number of items at their doorstep to qualify for that pickup, and the cost appeared on their bill regardless (30 cents a month). Now, the charge will fall to 20 cents a month, and there will be no minimums. So fluorescent bulbs, paint, antifreeze, vehicle oil,, pesticides, batteries and other hazardous items can be picked up after making a request to Waste Pro by scheduling the pick-up: call 386-986-0800 for that pick-up.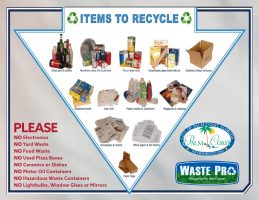 The new contract also keeps in place the current so-called single-stream trash pick-up system, which means that you do not have to sort your recycling materials. Waste Pro will do the work with its natural-gas powered trucks, with two-person crews, and without automated pick-ups, as in Bunnell. The city also wants to maintain the recycling rewards program and GPS positioning on all vehicles.
Only one other company submitted a bid last August when the city put out its request for proposals, Advanced Disposal Services of Jacksonville, which filed a bid protest after Waste Pro got picked again.
The city summarized Waste Pro's contract in a release this morning,. with some of the following information. For yard waste, vegetative debris will continue to be picked up weekly. Yard waste can be piled loosely in the yard next to the road. The loose piles still must not exceed 3 feet wide by 3 feet tall by 12 feet long. For yard waste placed in containers, the weight must still not exceed 50 pounds. Tree limbs must be no longer than 5 feet and no wider than 6 inches in diameter.
The city encourages recycling to protect the environment and save space at landfills. Recycling materials can be mixed together in the same bin, and it doesn't matter if the bin is blue or green. All households or customers may receive one additional bin at no charge, for a total of two.
Items that can be recycled include glass jars and bottles; aluminum cans, foil and pie tins; tin or steel cans; cereal boxes, paper towel rolls and cardboard (please flatten all boxes); telephone books; junk mail; plastic bottles and containers; magazines and catalogs; newspapers and ad inserts; office paper, file folders and paper bags. But no electronics, yard waste, food waste, used pizza boxes, ceramics, dishes, motor oil containers, hazardous waste containers, light bulbs, window glass or mirrors in the recycling bins.
Bulk trash such as furniture, mattresses, construction debris from do-it-yourself projects at home, TVs, children's play equipment and other bulk trash will be picked up weekly, on the customer's second garbage collection day.
As an incentive for recycling, the city participates in the Recycle Rewards Program. Residents can sign up for Recycle Rewards at www.wasteprorewards.com or by calling 888-234-8211 to earn coupons and rewards. Each recycling bin has a computer bar code that is automatically scanned by an electronic reader in the cab of the collection truck.