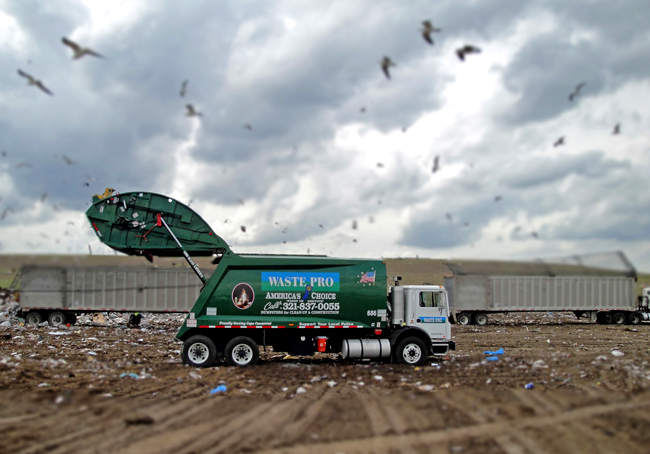 Waste Pro is the John Kerry of garbage haulers. It's all for bidding out a garbage contracts until it's against it.
In Palm Coast, Waste Pro is hoping the city doesn't go out for bids for its next garbage contract, because it already has that contract. It's doing everything it can to convince the city to stick with a known entity: itself.
On the other side of the state, Waste Pro is doing the opposite: it's trying to convince the Hillsborough County Commission not to stick with its known entities and to go out to bid–and give Waste Pro a chance.
One of Waste Pro's wishful competitor in Palm Coast is Waste Management, one of the companies that holds the contract in Hillsborough.
It's not unusual. The very same company–whether it's construction, garbage hauling, street-sweeping or paving–will argue one thing in one jurisdiction and the exact opposite in another, depending on which side of a contract it's coming from.
Waste Pro has been Palm Coast's contracted garbage hauler for the past five years. The contract is expiring in December. The city has an option to renew for another five–or to bid out the contract. In a June letter to the city administration, Waste Pro Executive Vice President Robert Hyres did all he could to convince the city not to go to bids. "Why go to the expense and time consuming process of bidding this service, not knowing who you're going to get," he asked, citing disruptions on one hand and "happy" city officials on the other.
Waste Management, one of the companies interested in bidding for the $7 million-a-year contract in Palm Coast, may have written the very same letter to Hillsborough County commissioners. The commission there is debating whether to renew with Waste Management (and two other contractors) or whether to go out for bids.
As in Palm Coast, some officials in the Hillsborough County government argue that they should stick with their existing haulers because complaints are virtually nonexistent. Waste Pro is hoping to have a crack at the contract by arguing that it can bring down prices.
In Palm Coast, where City Manager Jim Landon has been Waste Pro's chief lobbyist, complaints about Waste Pro are also rare. And Landon last week argued to the council that going with a new contractor would create disruptions for residents and for the city, and that if the city changed haulers, Waste Pro employees would lose their jobs.
Yet Waste Pro had no problem taking over the hauling contract in Hollywood, in South Florida, two years ago, costing 30 people their jobs. The city made the switch to save residents $3.5 million a year. In Oak Hill, city officials' inattention appears to have forced them to renegotiate an extension with Waste Pro, because they ran out of time to allow for a bidding process.
On Tuesday, Landon will again recommend–as he did last week–that the council give him the authority to negotiate a contract extension with Waste Pro. In a presentation to the council last week, he used many of the same arguments to stick with Waste Pro that Waste Management and other haulers under contract are using in Hillsborough.
"If it ain't broke, don't fix it," one of the haulers there is quoted as saying in a Tampa Tribune editorial published Saturday. The editorial quickly made its way into officials' email boxes here.
"It may not be broken, says a would-be competitor, but why not try to improve it?," the editorial goes on, positing the question on Waste Pro's (or any competing hauler's) lips. "Hauling rates are hard to compare because counties vary in population density, frequency of service and method of recycling. St. Petersburg, Tampa and Miami seem to pay more than Hillsborough, but competitive bids appear to have lowered prices in Sarasota, Polk County, Hernando County and Tarpon Springs. The county staff should take a close look at deals other counties have negotiated."
Mayor Jon Netts last week was in favor of renegotiating, but Bill Lewis was favor of bidding out, and Frank meeker and Mary DiStefano had more interest in bidding out than re-negotiating, though they could see the advantages of renegotiating as well. By Tuesday, it'lll be apparent to what extent Landon's influence will have played a role.
Their decision will be almost as consequential as their vote on property taxes. A Palm Coast household pays $239 a year for garbage and recycling service. The charge has increased manyfold since Waste Pro took the contract five years ago–increasing the city's take, too: the city imposes a 10 percent franchise fee on the value of the contract, netting city coffers $700,000. The city has no incentive to lower the value of the contract: lower fees for residents mean lower revenue for the city. If anything, the garbage fees will increase in coming years as they have in previous years, as garbage–like water–is turning into local governments' sources of cash.
The council meets at the Palm Coast Community Center on Palm Coast Parkway at 9 a.m. Tuesday, Aug. 15. See the agenda and background here.
See Also: