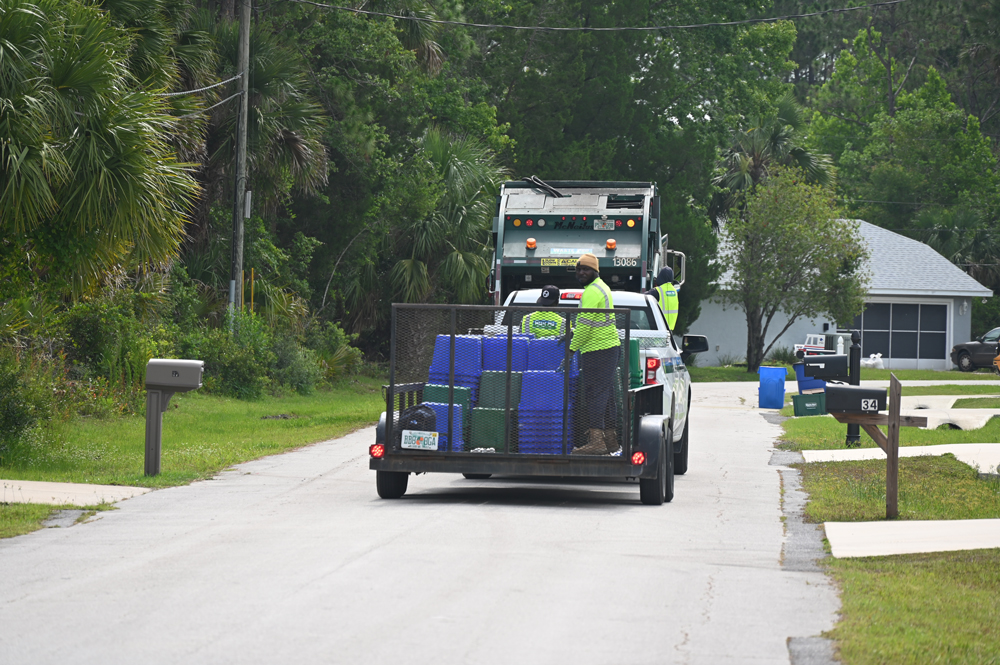 The two-month dispute between Palm Coast government and Waste Pro is over.
The two sides have reached an "amicable" settlement over the threat-ridden conflict that mushroomed between them after Waste Pro began collecting residents' recycling bins in the final week of its 16-year contractual relationship with the city.




Waste Pro deemed the reclamation of the bins its due. Palm Coast disagreed, deeming the bins residents' properties, and fined Waste Pro for every bin removed. Waste Pro accrued over $66,000 in fines. The city also withheld final payments due Waste Pro.
The hauler, in turn, threatened to sue the city.
On July 20, the two sides signed an agreement that will have Palm Coast release $153,150 owed Waste Pro. The city will also void the $66,350 fines the company had accrued. Both sides agreed to drop any litigation. It was a victory for Waste Pro, which got to take the bins back, get its final payments, and face no penalties.
Neither side admits wrong-doing.




The company issued a brief release today. "The City agreed to pay Waste Pro in full for services rendered, and all alleged fines and damages were dropped, including those related to Waste Pro's retrieval of its branded recycling bins," Waste Pro's statement read. (The fines were not, in fact, "alleged," but nullified.)
Waste Pro and Palm Coast will each bear their own attorneys' costs. City Manager Denise Bevan and City Attorney Neysa BOrkert signed the agreement, with Waste Pro COO Keith Banasiak and Waste Pro attorney Amy Shay signing for the company. (See the agreement below.)
"The City sought to avoid litigation with Waste Pro by requiring Waste Pro to sign a Settlement and Release of All Claims against the City which Waste Pro would only agree to if the liquidated damages were released and the civil citation withdrawn," a Palm Coast spokesperson said in a statement issued this afternoon.
"While the City still firmly believes that the recycling bins are the property of the City's residents, avoiding litigation with Waste Pro is believed to be in the best interests of the residents," the city's statement said.
Waste Pro removed thousands of bins in its final rounds around the city, though as residents became aware of the removal, thousands withheld their bins, too–and are using them now with the new hauler. Waste Pro offered to sell the bins back to Palm Coast.
Waste Pro was replaced in Palm Coast by FCC Environmental. The two companies were the only bidders when the contract was up for renewal. FCC edged out Waste Pro, whose relationship with the city, if perhaps not as much with residents, had frayed over the years. Waste Pro, which has a plant in Bunnell, continues to be the hauler for residents and businesses in unincorporated Flagler County.




FCC has been gradually replacing residents' recycling bins since it took over the routes in June. Waste Pro today was still advising Palm Coast residents that if they are "still in possession of a Waste Pro bin(s) and no longer wish to utilize it, please contact us at (386) 586-0800 or deliver the bin(s) to our local office at 401 South Bay Street, Bunnell."
"For over 17 years, our dedicated team enjoyed providing waste services to the Palm Coast community.," the company said in its statement. "We look forward to maintaining a strong presence in Flagler County with continued growth in our commercial services."

Solid Waste Settlement, 7.20.23