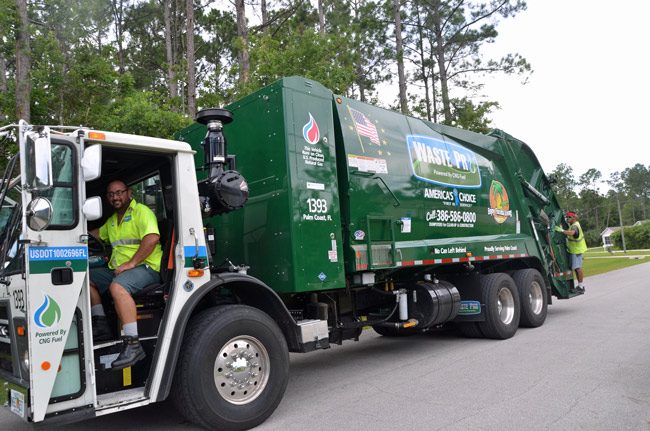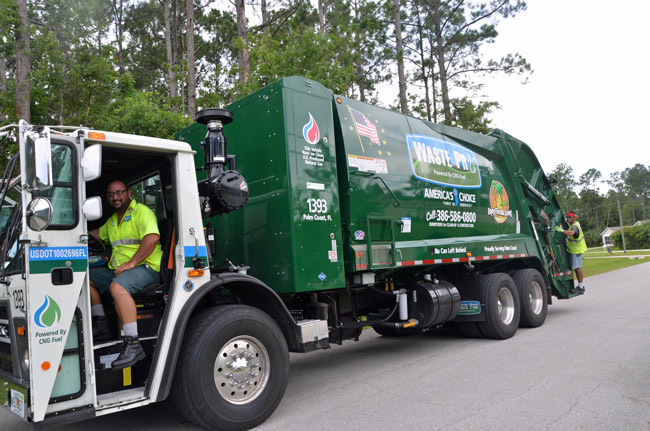 Palm Coast residents will see their garbage rates increase $1.74 a month, or 9 percent, starting June 1 as the city council tonight is expected to approve a new five-year contract with Waste Pro, the garbage hauler that's been providing trash, recycling and hazardous pick-up for the city for the past 10 years.
The price will increase from $18.62 a month to $20.36 a month on June 1 but remain constant through the duration of the five-year contract. The charge appears on residents' utility bill. The past five years, Waste Pro had charged slightly less than it had from 2007 to 2011, when the monthly charge was $19.27. The company has controlled costs by converting its haulers to natural gas, a conversion Palm Coast favored.
The contract is being renewed despite a noticeable increase in complaints about Waste Pro in the past year–problems council member Steven Nobile, who's not opposed to renewing the contract, pointed out in discussions about the renewal during a council discussion last week.
"How are we going to deal with the problems we've had with Waste Pro over the last year," Nobile said, "because I know one of their issue was manpower, when you get that kind of turn-over, non-experience, we're getting a little shoddy customer service, missed pick-ups, a lot of complaints I'm getting in that area."
"We're well aware and have sat down with them," City Manager Jim Landon said. "A number of complaints we've heard since we sat down with them to me have been reduced, so I think they have put a lot of effort forward. The other thing is we fine them. Any time they don't perform like they're supposed to, there's a penalty or a fine we actually charge them." The city is "pretty diligent about that," Landon said, "and we will continue to do that." But he acknowledged that the problems have increased in the last few months because of turn-over. "I do think they've recognized they have problems."
---
Waste Pro will be fined if "shoddy customer service" persists, the city pledges.
---
The new contract essentially renews the services in the existing contract: Garbage pick-up, single-stream recycling (menaing that consumers would not have to sort their own recycling), no automated systems for pick-up, two-person crews, and compressed natural gas vehicles. The city also wants to maintain the recycling rewards program and GPS positioning on all vehicles.
One advantageous difference for residents: hazardous waste pick-up will be much easier and less complicated. For the past five years, Palm Coast was among the pioneering cities that enabled residents to request doorstep hazardous waste pick-up, once a month, including for such things as fluorescent bulbs, paint cans and so on. But there was a serious caveat: each type of waste came with a minimum requirement, such as a minimum of four bulbs. That created a complication that discouraged a lot of residents from taking advantage of the service, which came at a price of 30 cents a month on the bill.
First, that charge will fall to 20 cents a month. Second, the minimums have all been eliminated. Each household has one Saturday a month that's designated as a hazardous-waste pick-up day. But it's still up to the resident to call Waste Pro to find out when that Saturday falls. The city intends to better promote that benefit in coming months. "We need to be encouraging our residents to use some sort of appropriate hazardous waste pick-up," Palm Coast Mayor Jon Netts said, especially with the removal of minimums. "If you look at the trend in hazardous waste, we're going to be generating more hazardous waste, not less."
The city administration has been working on a new contract since August, when it issued the request for proposal. The process has been somewhat less contentious than it was five years ago, when companies aggressively tried to lobby the city to wrest the contract from Waste Pro. This time the RFP drew just two submissions, including Waste Pro. The other was Advanced Disposal Services of Jacksonville.
Five years ago, the request for proposals drew four bidders, among them Advanced Disposal, which came the closest to Waste Pro's bid in 2011: Waste Pro in 2011 bid a base price of $18.47 a month per household, with Advanced Disposal coming in second, at $20.45. Waste Pro again beat Advanced Disposal, coming in with a base price of $20.16, compared to Advanced Disposal's $20.47.
Residents could have seen a reduction in their garbage-disposal cost if the hauler picked up once a week instead of twice. That price reduction would have been $1.91 a month, or almost $23 a year, essentially negating all the projected price increase in the new contract and a little more. But the city administration is not recommending that option, with residents now used to the twice-a-week pickups. Nor are council members favoring it. "I can make it to the next one, I can't make it another week," Nobile said.
As was the case five years ago, there was no interest in automated pick-up systems because it reduces flexibility for residents and creates space issues in garages (the 35-gallon bins would be much larger than current bins), among other drawbacks.
Advanced Disposal Services filed a bid protest. The company objected to the city's scoring of the two bids. The scoring involved five city staffers analyzing the bids and each providing a score. But it's not clear where that protest is: the city attorney last month shut down any public discussion of it, as it was pending. Since the administration issued the RFP, the city council has discussed the proposals in three workshops, two of them last month. But tonight's meeting is the first time it will take formal action to approve the new contract.