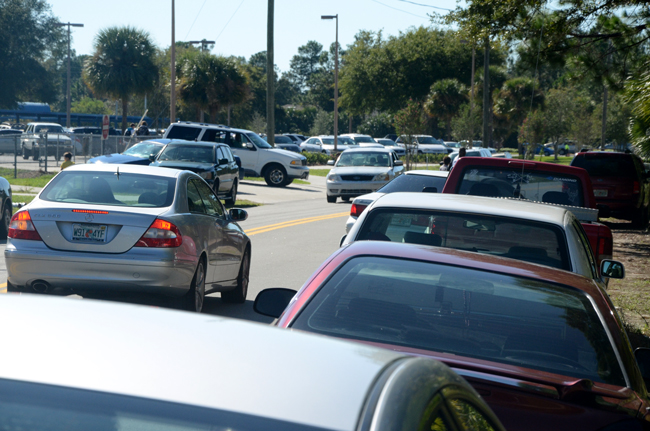 You can see them begin to line up after 3 p.m. on both sides of Parkview Drive, just north of Wadsworth Elementary. It's not a parking zone, exactly, but every afternoon it turns into a parking lot, narrowing the two-lane road from both sides as parents who don't want to go through the car-rider line wait to pick up their children.
For a while, it looks only like a busy city street with cars parked on both sides. Immediately after dismissal, however, the street turns into something like a teeming hazard: children—very young children—pour out of the school and begin to cross the street, usually with their eyes on their destination (their parent, their car, their dog in the car) rather than on the two-way traffic. That traffic can itself slow to a crawl as drivers are mindful of children or, in some cases, as more parents jam up the road to pick up a child.
Meanwhile those who have their car-rider number wend their way through Wadsworth's campus and back out around Frieda Zamba Park in a wide circle, itself a crawl that, apparently, those who park on Parkview don't want to navigate. Parents who do go through the car-rider line are not too appreciative of the fact that, while they follow the rules, they get jammed up once they make it out onto Parkview.
"When you have people pulling over on both sides of a two-lane road, it creates a traffic problem," says Robin Dupont, Wadsworth's principal.
It's been going on for a few years. No one's been hurt. But parents, school administrators and Andy Dance, the school board member, think it's time to put an end to the mess, safely.
Later this month—possibly later this week—No Parking signs will go up on either side of Parkview, past Plainview Drive. Flagler County Sheriff's Office deputies will patrol the street. They won't be ticketing anyone who still parks there at first: there'll be an education campaign to get parents better aware of the new rules, Dance said. But eventually, those who persist in parking on Parkview will be ticketed.
"From a safety standpoint, when something bad happens and you've known about a problem, you don't want something bad happening when there's a history of complaints and nothing was done," Dance said. "Hopefully we've caught it in time before something bad happened and somebody got hurt."
The sheriff's office couldn't keep people from parking on Parkview because, legally, drivers were doing nothing wrong. Unless No Parking signs are posted, anyone can park anywhere—yes, even along your own property or across from it (though most people think they own that stretch of road), as long as the vehicle is not actually on your property. For parking to cease along Parkview, the city of Palm Coast had to agree to put up No Parking signs there.
Between Dupont, Dance, Mike Judd—a senior school district administrator—the sheriff's office and the city administration, an agreement was finally reached to put up the signs.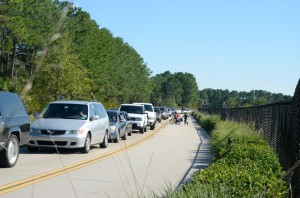 Most of Wadsworth's 935 students take the bus. Dupon didn't know exactly how many were car-riders, but the line is long and can take 15 to 20 minutes to clear. Many of those parking along Parkview are picking up children who live within 1 mile of the school, making them ineligible for bus-riding—but entirely eligible to be car-riders. One parent picking up her children last Friday said she didn't have a car-rider number, as required to be eligible for the line, and didn't always pick up her children. She was not aware of the pending rules, nor had received any notice about the change. Another parent who had just parked across from the intersection of Parkview and Plainview, and was calling out to her daughter, was actually glad to hear of stricter rules, describing the street as a hazard at that time.
Dupont said the school is letting parents know that they can get themselves a car-rider number. "We're streamlining out car-rider line to make it move quicker," Dupont said. "I've sent messages home to parents about what the procedure is and hopefully that will help the situation."
"We're working to make it run smoother to accommodate all concerned and to make sure that our children are safely transported home," Dupont added. "It's getting better and I'm thinking with the cooperation of the city of Palm Coast and transportation and everybody involved, we're going to have a good resolution to this situation."