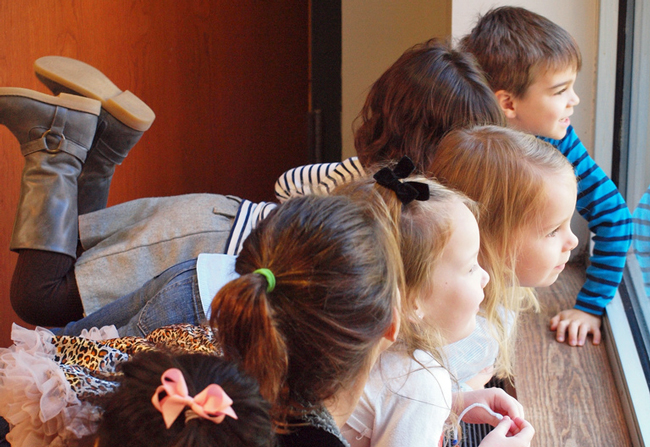 For the first time, the Flagler County school district will be offering Voluntary Pre-Kindergarten throughout the district starting this fall. But the School Board is struggling over the $60-a-week fee currently charged to parents who enroll their children in extended instruction programs before and after VPK hours. Because of the VPK expansion, the school administration is leaning toward raising the fee, perhaps to $65. The board is not eager to do so, at least not yet.
What's almost certain is that the $60 fee will not go up for the remainder of this year: board members don't want to sticker-shock it to parents in the middle of a school year. But they appeared more amenable to raising the fee next fall as they discussed the matter in a board meeting Tuesday evening.
Voluntary pre-kindergarten has been available at two school sites so far. Beginning in August, VPK will be available to any child who is 4 years old before Sept. 1. The half-day program will be offered at each of the five traditional elementary public schools in the county, Monday through Friday. Parents have an option to enroll their child in the morning or afternoon sessions, for a total of 540 hours over the year. That will enable children to attend VPK in the same school where they will then go on to kindergarten the following year.
Students would attend the schools in their zones, but school choice is available for VPK. Transportation, however, is the parents' responsibility, with free breakfast available to all students, and free and reduced lunch provided for students who stay for wrap-around care. Special education students will also be attending their home-zoned schools in an inclusion setting with all other VPK students. Specialized transportation will be available for special education students.
VPK is wrapped by preschool and afterschool care, or extended day, at each of the sites, what the district calls wrap-around care. The current weekly fee for that wrap-around care is $60. Students may be at the school site from 6:30 a.m. to 5:30 p.m. (which compares with rates by private providers ranging from $50 to $125).
The fee may change, possibly to $65, Superintendent Jacob Oliva said, in order to provide additional services. "Our goal is to get as many children as we can in this program and we want to make it as accessible as possible for families that are struggling," Oliva said. At the same time, the district wants to be able to staff the program appropriately.
The Early Learning Coalition of Flagler and Volusia has some financial aid available to eligible families. But every advertisement for VPK that's circulated this year has listed the $60 fee for wrap-around care. School board members were concerned about changing the fee now, since it's been set.
"The program has historically run in the black, but what we have to understand is that we're expanding this program" beyond its current scope, Oliva said. For example, the district wants to provide para-professionals to assist teachers at each site and create a more solid "infrastructure" to support the VPK expansion. "We are getting a lot of wonderful feedback from families that are showing feedback and are very excited about having their children participate in VPK in the same school where they'll attend kindergarten," Oliva said.
"My concern is that we start the program and come January we go oops, we've got to up it by $25 or a significant amount" that parents aren't ready for, board member Sue Dickinson said.
Before approving a higher fee, Board member Trevor Tucker wants a breakdown of the costs to run the expanded VPK program and ensure that the fee cover the start-up costs.
"We'll make a decision whether to increase the fee at that time," board member Colleen Conklin said. "I'm excited to see how it grows, really," Conklin said.
Almost 700 VPK vouchers have been issued to families for students in Flagler County. But with every grade level in the district averaging 1,000 students, the district administration estimates that there must yet be some 300 eligible students who have not enrolled in VPK, but should. The district is making an effort to reach those students.
Projected enrollment and faculty is as follows (keeping in mind that the number of students reflects those who will be attending VPK as well as those who will attend VPK and extended care. Classrooms will be organized accordingly):
Belle Terre Elementary: three classrooms, 66 students, six teachers.
Bunnell Elementary: four classrooms, 88 students, eight teachers.
Old Kings Elementary: two classrooms, 44 students, four teachers.
Rymfire Elementary: four classrooms, 88 students, eight teachers.
Wadsworth Elementary: four classrooms, 88 students, eight teachers.
Summer Voluntary Pre-Kindergarten, or VPK, is available in a 300-hour program, as required by law, from June 9 through Aug. 8 at Bunnell Elementary. The program is offered daily from 9 a.m. to 4 p.m. But it's available only to students who'll be entering kindergarten in fall, but who were not enrolled in a VPK program before the summer.
Pre‐registration for summer and fall is under way. Parents can call their
home‐zoned school to be placed on the pre‐registration list. Registration packets must be submitted to finalize registration after May 1. Placement will be on a first come, first served basis.