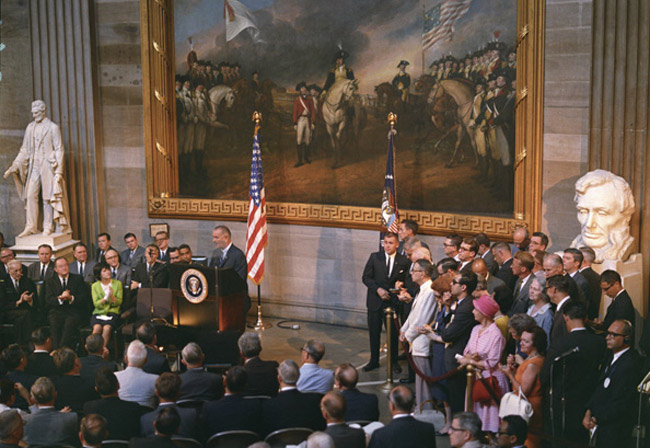 Congress passed the Voting Rights Act in 1965 when blacks were kept from voting through poll taxes or literacy tests, "an insidious and pervasive evil which had been perpetuated in certain parts of our country through unremitting and ingenious defiance of the Constitution," the U.S. Supreme Court wrote in a 1966 case upholding the act. The act was to be in effect five years, or for as long as Congress considered discrimination to be an issue. It's been renewed several times since, the last time in 2006, when it was renewed for 25 years by overwhelming votes in both chambers of Congress.
On Tuesday, the Supreme Court, in a 5-4 decision, declared two key parts of the act invalid. The act isn't voided. But Congress must rewrite the formula that determines which areas of the country must seek federal approval before enacting changes to their election rules. The case focused on Sections 4 and 5 of the act, which require that "pre-clearance" process and specify how it is to be applied.
"There is no valid reason to insulate the coverage formula from review merely because it was previously enacted
40 years ago," Chief Justice John Roberts wrote in his majority opinion. "If Congress had started from scratch in 2006, it plainly could not have enacted the present coverage formula. It would have been irrational for Congress to distinguish between States in such a fundamental way based on 40-year-old data, when today's statistics tell an entirely different story. And it would have been irrational to base coverage on the use of voting tests 40 years ago, when such tests have been illegal since that time. But that is exactly what Congress has done." He concluded: "Our decision in no way affects the permanent, nationwide ban on racial discrimination in voting found in §2," "We issue no holding on §5 itself, only on the coverage formula. Congress may draft another formula based on current conditions."
Roberts was joined by the conservative wing of the court: Antonin Scalia, Clarence Thomas, Anthony Kennedy and Samuel Alito. The four liberal justices dissented: Stephen Breyer, Ruth Bader Ginsburg, Elena Kagan and Sonya Sotomayor.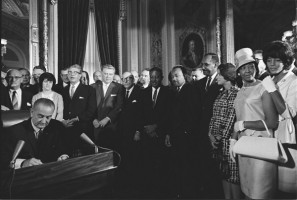 "In the Court's view, the very success of Section 5 of the Voting Rights Act demands its dormancy," Ginsburg wrote in her dissent. "Congress was of another mind. Recognizing that large progress has been made, Congress determined, based on a voluminous rec­ord, that the scourge of discrimination was not yet extir­pated. The question this case presents is who decides whether, as currently operative, §5 remains justifiable, this Court, or a Congress charged with the obligation to enforce the post-Civil War Amendments 'by appropriate legislation." With overwhelming support in both Houses, Congress concluded that, for two prime reasons, §5 should continue in force, unabated. First, continuance would facilitate completion of the impressive gains thus far made; and second, continuance would guard against back­sliding. Those assessments were well within Congress' province to make and should elicit this Court's unstinting approbation."
The House of Representatives renewed the Voting Rights Act in 2006 by a 390-33 vote in the House (in July 2006), and by 98-0 in the Senate. Conservative justices have frequently spoken disdainfully of "activist" judges who go against the will of legislatures and Congress. There was no question on Tuesday who were the activist judges.
"The law," the Washington Post reported at the time of its 2006 renewal, "retains near-iconic status in civil rights circles, even though some elected officials say it is no longer needed. GOP leaders were eager to renew it before the November elections. Unlike the House, where some Southern Republicans opposed provisions that focus on their states, the Senate passed the bill unanimously after hours of one-sided debate in which member after member praised leaders of the 1960s desegregation movement."