Olfat al-Kurd is a 45-year-old a mother of four, a resident of a-Shuja'iya neighborhood in Gaza City, and a field researcher for B'Tselem, the Israeli Information Center for Human Rights in the Occupied Territories. Al-Kurd provided the following testimony to Field Researcher Manal al-Ja'bari on October 12, and updated on Oct. 15. Below hers is the testimony of Muhammad Sabah, a 42-year-old field researcher for the organization and a resident of a-Rimal neighborhood in Gaza City. Gaza, population 2 million, is a 140 square mile enclave–exactly the geographic size of Bunnell. Both testimonies appear here as originally published at B'Tselem.

I live with my husband, Muhammad Khalil (47), and our four children, Haya (19), Yasser (18), Zeinah (16) and Yusef (14), in the a-Shuja'iya neighborhood in Gaza City.




On Saturday, 7 October 2023, I prayed the morning prayer around 6:30 A.M. and then woke the children to get ready for school. I started my exercises, which I do every morning, and then I heard a loud explosion. We're used to hearing explosions here, so I didn't pay too much attention to it, but then there were more explosions and they got louder and louder. It was getting very scary. I looked through the window and saw that all the neighbors, women, children and elderly people, had come out of their homes. Everyone was running along the road in a panic, white as a sheet with fear. I saw men running with small children in their arms, and mothers crying and looking for their children. It was a terrifying sight.
Then my husband came running into the room and asked us to get ready to leave quickly. We didn't know what was going on and only understood there was a war. My sons and daughters grabbed their bags. They were shaking with fear and ran out to the street without any of us knowing what was happening.
We got into a taxi that took us to my sister Ghadah's house, which is close to the Gaza seaport. Everyone was fleeing west of Gaza City. I saw thousands of frightened women, children and men running along the street like it was Judgment Day. I stopped the taxi to buy bread and water, but the stores were being swarmed so I couldn't get any.




We kept driving until we got to my sister's house. She also didn't really understand what was going on. We started checking the news sites on our phones, and then we found out what happened in the Israeli settlements around Gaza. I was shocked to my core, and at the same time, I realized the Israeli response would be very harsh. I talked to the children and explained to them that very difficult things were going to happen. I asked them to stay inside and not hang around outside or scatter. The kids were so scared they couldn't eat, and only drank some water. I tried to cheer them up a bit, but they were very pale and scared and kept running to the bathroom out of fear.
Later that day, my husband went to the market and bought some groceries to stock up for the war. We heard fighter planes bombing different parts of Gaza. The children became withdrawn. Whenever there were explosions nearby, they covered their ears with their hands.
I stayed on the phone with my father and siblings all day. They live in the northern Gaza Strip and also deserted their homes. My brothers' wives went to their families' homes in Jabalya Refugee Camp, and my father and brothers went to my sister's house.
Yesterday, 10 October 2023, around 12:30 P.M., we had to evacuate    my sister's house. We moved to my brother-in-law's, east of Gaza City. There were a lot of people in the house and it was very crowded. There wasn't enough food and water, and the power was out.
My husband and I decided to go to a-Shifaa Hospital and wait there because it's considered a safe place, but when we got there, the situation was horrific. There were thousands of families there, women, children and elderly people. We heard shouting and crying and bombing. Ambulances were constantly bringing in dead and injured people. We saw people who lost limbs, children wandering around crying and looking for their mothers, and people who were hungry and sick.
We looked for a free spot to hole up in, and I finally found a narrow area at the end of a passageway in the hospital, near a toilet, and the whole family sat down there. I kept trying to lift the children's spirits and joke around with them, but I couldn't. They were shaking with fear the whole time. Every now and then, my husband went and got us a little something to eat, like snacks or tinned food. The fighter planes kept circling above us and dropping bombs. At the hospital, there were hundreds of pale and scared children who were crying all the time, and women in mourning who were screaming and wailing. Some had lost their children, others their husbands. Some lost their entire family.




The internet was down, which only made it worse. We were very worried about relatives and didn't know what was happening to them. We were cut off from the world and had no idea what was happening outside. Every time injured and dead people were brought to the hospital, we were very afraid we'd recognize friends or relatives among them.
Yesterday, around 10:00 P.M., a relative called and told me the Israeli army had bombed my aunt Fatimah's house and that members of our family, including children, were killed there. I still haven't been able to find out exactly who was killed. That's been our situation since Saturday. We still hear bombings and rockets and see injured and dead people all the time. The smell of blood is everywhere.
On 15 October 2023, Olfat added: 
My family and I stayed at a-Shifaa Hospital for three days. That whole time, we couldn't sleep at all, and just saw terrifying sights of wounded people covered in blood, and dead people, and heard mothers screaming and ambulance sirens that didn't stop for a second. Hundreds of people, women, children and elderly people were sleeping on the hospital's premises, including in the stairwell. Hundreds of young men slept in the outdoor areas, on the ground, with nothing to cover them. Some people slept sitting up because there was no place to lie down. There was not enough water or food. There were hundreds of frightened children who cried and screamed all the time. My children were pale with fear and suffering from lack of sleep. They lost their appetite and barely ate a few bites. I felt like I was falling apart, and I kept it together just for them.
On Thursday, 12 October 2023, the Israeli forces issued an order to evacuate a-Shifaa Hospital. Everyone started running away quickly in a panic, fearing the hospital would be bombed. Children were screaming in fear, and elderly people who had trouble moving cried.




Luckily, a friend of the family picked me and my family up, and we crowded in the car with his six family members. We drove away, leaving behind hundreds of people, including dead and injured people. On the way, we saw shocking scenes. Thousands of people who had been displaced from their homes, women, children, old people, young people. The houses, towers, buildings and schools were reduced to rubble. The smell of death and blood was everywhere. It was hard to advance because the roads were destroyed. The children and I recited Quran verses and felt that we were going to be bombed at any moment, that these were our final moments.
It took us about half an hour to get to the center of the Strip, but it felt like forever. We went to the home of the sister of our friend with whom we escaped, in Deir al-Balah. Other people were already staying there, and with us, the number came up to 20 people. We had no water or power. Luckily, they got water that day. My children had quick showers after a few days without being able to bathe. We washed the clothes by hand, baked pita bread on firewood we'd brought, and conserved as much water as possible, because we knew it would get cut off. We filled up as many dishes and bottles as we could with water, and the bathtub too.
We used a neighbor's solar device to charge our phones and get in touch with relatives who'd also left their homes and whose whereabouts we didn't know. Reception was terrible, but I was able to make sure that my father and siblings were still alive. Thousands of refugees from Gaza arrived in the area. I saw thousands sleeping in the streets and under trees. Only a few hundred were lucky and found shelter in institutions, universities, schools and UNRWA offices, but they didn't have water, food or power either. Food and water in the area started to run out.




My kids were on the brink of a breakdown, especially Haya (19), who lost her appetite, became withdrawn and lost weight. I kept trying to coax her to eat, and it occasionally helped, but then she couldn't eat again. We're all just praying to go back to our homes and waiting to hear if there's a solution on the horizon. We're living a nightmare, anxious for family members and friends we haven't heard from, without power and with very little food and water.
I've already lost more than 16 relatives in this war – uncles and cousins.  I'm in shock and can't even cry. I feel emotionally disconnected. I try to put on a brave front for the family, but it's very difficult. We have no idea how this will end and what will happen to us. These could be our final days.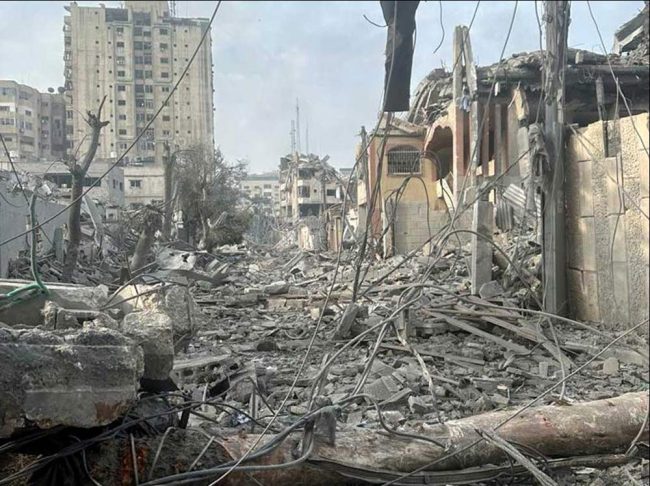 Muhammad Sabah's Testimony
On Saturday, 7 October 2023, I was sleeping over with my wife and children at my parents' house in Rafah when I was woken by bombings. At first, I thought I hadn't heard correctly, but I quickly found out there were Israeli airstrikes after militants had entered Israeli cities. We grabbed the kids and drove to our apartment in the neighborhood of a-Rimal in Gaza City. It was a quiet, safe neighborhood.
My wife and I packed a bag with our documents and with clothes for us, our three daughters and our son. I bought some groceries and sat down to follow the news. The next day, the airstrikes started and we were very worried. We were afraid our area would be bombed any second. Every time we heard a bombing, we were terrified. The bombings didn't stop and the situation was difficult. We were very tense and so were the children. We were all anxious.




Day turned into night – but we slept very little. Every time we put our heads down, we were immediately woken up by the sounds of planes and bombings. Every time, we got up to make sure it wasn't nearby, that our building hadn't been hit and no one injured. We put some mattresses in the middle of the living room, far away from the windows, because we were afraid we would be hit by shrapnel.
Meanwhile, we started getting partial information about the horrifying things the militants had done in Israel, the harm to women and children.
On the third day, the Israeli military warned us that they were going to bomb Falastin Tower, which is a 14-story building with apartments, offices and medical clinics 100 meters away from our building. We all left the apartment and stood in the stairwell with the neighbors. They bombed the tower and our apartment was damaged. Our car was also damaged.
After the bombing we went back to the apartment, but kept on hearing airstrikes and spent the day in fear. When it was almost nighttime we were even more afraid. We felt vulnerable and very stressed. It was a long night, and we kept hearing bombings and reports about houses bombed and people killed inside their homes. Every time we heard about a family killed, it made our anxiety worse. I tried to calm my wife and children, who were very scared.
We stayed home until the military called the neighbors and ordered us all to leave. Everyone in the neighborhood was ordered to evacuate. We didn't know what to do. We thought about it and discussed it between us, and in the end, we all decided together that we should leave. It was incredibly hard to leave our apartment, which we worked so hard to put together and invested our whole lives in. We were afraid we would never see it again. But we were even more afraid for our children's lives and for our own.
Every family in the building went somewhere else. My family and I went to my brother Fathi's house in the Tel al-Hawa neighborhood, about a kilometer from our house.




About 15 minutes after we left home, the military bombed our neighborhood. They flattened it completely. A-Rimal was considered the safest, most modern and most peaceful neighborhood in the center of Gaza. Muslims and Christians lived there together. There were luxurious apartments and villas. Everyone always ran to it during wars because it was considered the safest, and now they've bombed it to smithereens.
I went back to the neighborhood the next day to check on our house. It was hard to reach because of the wreckage. The roads were cut off and the entrance to the building was blocked by rubble. I went into the apartment and found a lot of damage. I stood there for a moment and mourned the home we had, but I couldn't linger because I was afraid there would be another strike. I ran in to my neighbors, who were also there checking on their homes. They were all shocked and mourning their ruined apartments. We stood on the street, among the debris, and could smell the smoke from the bombs.
I went back to Fathi's apartment. The situation remained dangerous, and we kept hearing planes and bombs. We were scared to death. Every time they dropped a bomb, we were sure it was our turn. We stayed like that for several days, with no power and very little water. It was dangerous to leave the house and the roads were destroyed.
On Thursday, 12 October 2023, at around 7:00 P.M., we heard people talking in the street down below. We went over to the window and saw elderly people, women and children carrying bags and belongings and fleeing the neighborhood. We asked them what happened and where they were going. They said they'd run away from another neighborhood and now there had been an announcement this neighborhood was going to be bombed. We took all our bags and headed outside. We stood in the doorway of the building. The women and children were shaking with fear. We didn't know where to go and were afraid we would be bombed at any moment. It was dark, and we heard planes in the sky and bombings. We stood at the entrance to the building and didn't know where to go. Every one of us had a different idea. We simply stood there, like that, for a few hours and didn't know where to go or what to do. Then we went back inside and sat down on the stairs. We stayed there until morning and were sure it was our last night. It was a very rough night.




In the morning, we went back to Fathi's apartment and stayed there until, on Saturday, 13 October 2023, the military announced that all residents of the northern Gaza Strip had to move to the Wadi Gaza area. We debated again. We didn't know whether to leave or what to do. After several hours of deliberation, we took our things and went back to my parents' house in Rafah. My brother Fathi and his family went to his wife's family's house in Khan Yunis.
We drove along Salah a-Din Street, which is the main road where travel is permitted. It was a difficult journey because part of the way was blocked by debris and there was a lot of movement on the road – people driving in all kinds of vehicles, cars, trucks, and a lot of people on foot. It was very hard to see. Seeing all those people fleeing south, terrified, on Israel's orders was a tough sight.
I tried to film it but couldn't really.
When we got to my parents' house, my sisters were there with their husbands and kids. The power was out, and there's no water or wifi. Things are very bad.