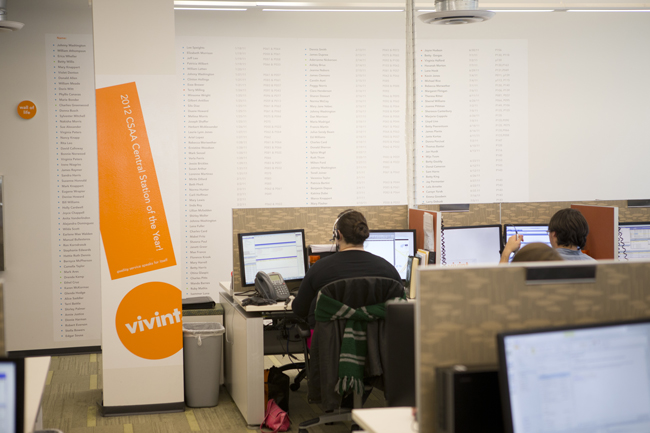 Last Updated: 7:55 p.m.
The Palm Coast city administration and the Flagler County Sheriff's Office say they have received complaints from residents regarding permitted solicitors from a home security and home automation company, Vivint Inc.
Residents have stated that Vivint solicitors have told them they have been sent by Flagler County government or Palm Coast government to alert people that telephone lines in their area are being upgraded, and that the new telephone lines would no longer be compatible with the residents' emergency systems.
A company spokeswoman said Monday evening that Vivint-trained representatives would in no way misrepresent either Vivint or the city and county where they're operating, and that news of the matter reached the company only when it was published here today. "No one on our end had been contacted by the city that I'm aware of or that our legal team was aware of," Megan Herrick, Vivint's director of media relations, said. "That's also concerning."
Vivint Inc. is not affiliated with Palm Coast, the city said Tuesday, and residents should be skeptical of any company representing that they were sent by the city. But it does have a soliciting permit.
Vivint representatives are dressed in company uniform,s, carry IDs and have QR codes on their IDs that residents can immediately scan to verify the representatives' legitimacy, Herrick said. After hearing of the complaints, Vivint officials contacted the sheriff's office, but were told that complaints were not, in fact, lodged. Rather, the sheriff's office reported that residents had made inquiries about the company's legitimacy–which the company expects, Herrick said. It was already after hours when company officials tried to contact Palm Coast officials. (The Provo, Utah-based company is two hours behind Palm Coast's.)
The city, according to a new release issued today, has placed the company on notice based on the complaints received and in accordance with city rules and regulations about solicitors. If the city receives additional complaints following the warning, the city may suspend or revoke Vivint's solicitor permits, according to the release. But word of that notice had not reached the company in Provo.
Vivint Inc. is owned and run by Todd Pedersen and Alex Dunn. It has been operating in Florida since 2007, with a Florida registered-agent location in Plantation, according to documents filed with the state Division of Corporations. In 2011 the company renamed itself Vivint, from APX Alarm Security Solutions. It was then reportedly one of the five largest home-security companies in North America, with half a billion dollar's worth of financial backing from Goldman Sachs (the same company that backs American Traffic Solutions, which runs Palm Coast's red-light spy-camera network). Late last year the company was acquired by Blackstone Group for more than $2 billion. Today the company has 700,000 customers and 3,200 employees, reaping plaudits for its innovative systems and focus on green energy.
The company projects a youthful, progressive image, catering as much to families as to the environment, and boasting just this month of outfitting a home that will produce more energy than it will consume thanks in part to its solar panels. The company also projects a carefully honed image that appears at odds with the sort of rogue behavior of solicitors Palm Coast described in its release.
"We're kind of baffled," Herrick said of the accusations against the company. "There's no misrepresentation complaints that have come to us at all."
But such complaints, if justified, can be narrowed down very rapidly if residents can substantiate when and where a representative misrepresented the company. The matter would then be addressed immediately, Herrick said.
Consumers, the city notes in its release, should be aware that door-to-door solicitors need a permit from Palm Coast and should present the permit when requested. Permitted solicitors are only allowed to solicit between 9 a.m. and 6 p.m. In addition, solicitors should not threaten or harass anyone. Complaints regarding solicitors should be directed to the Flagler County Sheriff's Office at 386/313-4911.