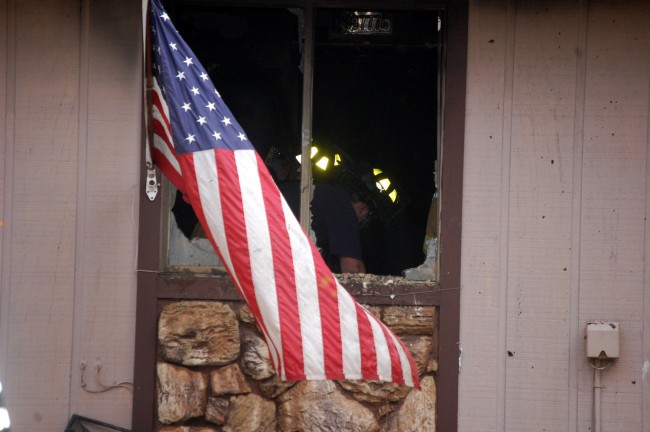 The Flagler Beach Fire Department pulled off what residents of The Village neighborhood might consider a couple of miracles. Three, if you include the circumstances that led to a neighbor's quick call to 911. First, two firemen—Inspector Scott Jackson and Alex Wilhite—found and pulled an unconscious, 44-year-old disabled veteran out of his home through blinding smoke and fire. Second, they managed to contain then kill the house fire within 40 minutes, preventing it from touching two adjoining units in the 64-unit multiplex compound.
Roy Davis, the veteran who'd lived at 7 Village Drive for the past three years, is recovering, in stable condition, at Florida Hospital Flagler.
Debbie Bancroft doesn't usually live next door to Davis. Her permanent home is in Virginia. She keeps the place at #5 Village Drive so she can visit her children and grandchildren. She happened to be visiting these days. She was getting ready to go Christmas shopping with her daughter just after 10 this morning when she heard what she thought was the garbage truck, because it went bee-bee-beep. "But it was his smoke alarm, because it didn't stop," Bancroft said. She went out the door, briefly freaked out at the sight—smoke pouring out of windows—and started beating on Davis's door. "I just beat on it and hollered and I didn't hear anything, so that's when I grabbed my cell phone, you know, in the meantime of trying to beat on the door, running in and got my cell phone, I was on 911. They were here very quickly. Very quickly, because I said, 'where are they?,' and she said they're on their way, it's only been a minute or two. I'm like OK. When you're in a panic like that, you think it's hours when it's only been minutes."
Meanwhile the young resident on the other side of Davis' place was sound asleep as the fire began. Another neighbor pounded on her door repeatedly to wake her up, and managed to do so.
The fire department got the call at precisely 10:14. It was at the scene at 10:18.
---
Shane Wood and Scott Jackson Describe the Scene (Wood Speaks First)[media id=133 width=250 height=100]
Flagler Beach Police office R.S. Burns got there just before the fire department did. "I arrived on scene, saw heavy smoke coming out of the north window of the unit," Burns said. "When I started approaching the building, flames were coming out by that time. Neighbors were yelling that somebody was inside the residence. Forced entry, attempted to locate, but smoke was overwhelming. I went in there twice. That's when the fire department arrived on scene. They got the breathing apparatuses and proper equipment."
Assistant Fire Chief Shane Wood was in charge (Flagler Beach Fire Chief Martin Roberts was on his way out of town to be with family for Christmas when he got the call and turned around). "We were advised that there was possibly a victim inside, so they did their rescue sweep and found him," Wood said. He was in the living room, in the back part of the 785-square-foot apartment. Unconscious, on the floor.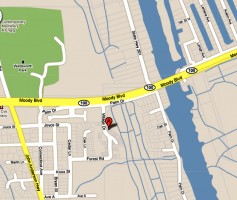 "I barely found him," Jackson said, describing the scene: "As I went in—I mean, I'm the officer, so as I went in, I went in first, and went to the right, where the fire was, to see if that might be where the vic was, it was black smoke to the ground, we couldn't see, there was no visibility, so we felt around the bed, and it got so hot in there we had to come out. As I walked by the door, my hose team was there, I told them to proceed in and head right and get that fire knocked down, then me and my other partner, my two guys on one side went and got the fire, me and my other partner went toward the back looking for the victim, and once we got to the end of the living room, we found him laying on the ground, unconscious. So we picked him up and carried him out."
At that point, the main bedroom on the front of the house was ablaze. The patterns showed that the fire started in the bed, according to firemen. As to why: that question is officially undetermined until the fire marshal determines it. Davis is a smoker.
The priority for the firemen was to save Davis. "Once we were told there was a victim, we don't really worry about anything other than getting him out then," Jackson said. "We don't care what the conditions are. From that point, that's part of our job, is not to worry about ourselves, worry about what to do, and that's save somebody, and we ended up saving the guy's life, so it's good."
Once he was out of the house, the next priority was to kill the fire, which they did in less than 40 minutes. "We train hard, train a lot. We're very aggressive," Jackson said, "and I come from a long line of super-aggressive firemen training me. I started out in Alachua, came here. We move fast. We make sure we get ahead of it. I can walk up and look at the conditions of a house and tell from the outside if it's something we can catch quick or if we're going to have to just step back. And when I looked at it we were there in time to catch it." The fire started making its way out the bedroom and into the hallway toward the living room. That's where it was stopped and worked back toward its origin.
The house is smoke-damaged, but salvageable, according to firemen.
"Everything was really quick. They did a really good job," Wood said. "We had the possibility of losing two other units, with them being connected structures."
Standing in the driveway, between two fire trucks and looking calmly sad, were Michael and Meryle Fonte of Palm Coast: the owners of the unit that had caught fire. They own many properties in the county. They've owned the one on Village Drive since 1992. The unit, built in 1985, is valued at $47,000 this year.
Flagler Beach had 10 men and women on the call, including two members of its fire police. The Flagler County Fire Department's Engine 92 and Rescue 11 also responded and assisted.
---
The Village Fire Gallery[nggallery id=46]