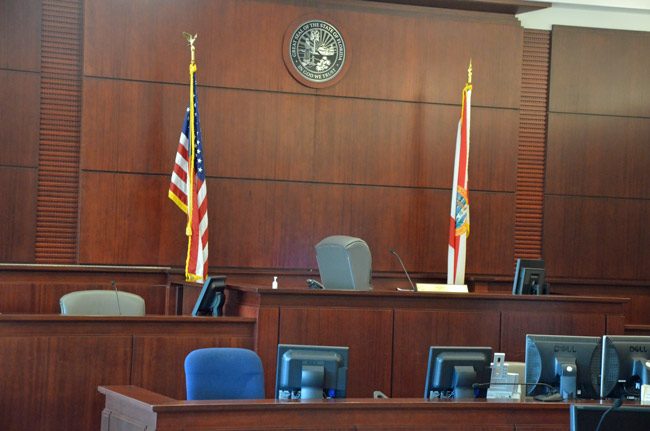 With the measure drawing support from state leaders and law-enforcement officials, Florida voters in November will decide whether to approve a proposed constitutional amendment that would spell out a series of rights of crime victims.
The Florida Constitution Revision Commission on Monday voted 34-3 to approve the measure (Proposal 6001), which largely focuses on a victims' rights initiative known as "Marsy's Law."
The proposal, which will need support from 60 percent of voters in November, would seek to ensure the rights of victims to receive information and provide input during criminal cases. Also, for example, it would ensure victims have the right to talk with prosecutors about issues such as plea agreements, restitution and sentencing.
In Flagler County, victims routinely do so, and judges ask, during plea agreements and at sentencing, whether victims have been consulted. Victims also routinely address the court during sentencing hearings.
"The Sheriff's Office remains committed to having additional protection in place for victims of crime in our State Constitution," Sheriff Rick Staly said in a statement issued last week. "I greatly appreciate the Marsy's Law group for their dedication to this issue and their hard work to get this proposal on the ballot for all voters."
Commission member Tim Cerio, a Tallahassee attorney who sponsored the proposal, said Marsy's Law is about "making sure victims have a right to be engaged in the process."
Among other things, the proposal also would establish a right for the safety of victims and their family members to be considered when bail is set in criminal cases.
Before approving the proposal, the commission rejected a series of changes sought by member Hank Coxe, a Jacksonville defense attorney. One of the changes, for instance, sought to add wording that would have said victims are entitled to the rights "to the extent that these rights do not interfere with the constitutional rights of the accused."
But with Cerio and others opposed, Coxe's proposed changes were rejected. Coxe, former Sen. Arthenia Joyner, D-Tampa, and Orlando attorney Rich Newsome voted against the overall proposal.
The Constitution Revision Commission approved the measure as it began taking final votes on a dozen proposals for the November ballot. The 37-member commission, which meets every 20 years, has the unique power to place issues on the ballot. Proposals need support of 22 members of the commission to advance.
Several of the proposed constitutional amendments bundle more than one issue. The measure including Marsy's Law also would change a mandatory retirement age for state judges. If approved by voters, the age would go from 70 to 75.
The measure also includes a proposed change that would affect legal cases involving the interpretation of state laws or rules. The proposal would direct judges to not "defer to an administrative agency's interpretation" of the laws or rules in the cases.
The commission Monday had a lengthy debate about whether the measure including Marsy's Law and other proposed constitutional amendments should be "unbundled" — which would effectively require each issue to be voted on separately.
Commission member Roberto Martinez, a Coral Gables lawyer, argued the commission was bundling unrelated issues and that voters should be given clear choices on approving proposed constitutional amendments.
"Do they (the three issues in Proposal 6001) all deal with the courts? They do," Martinez said. "But are they really related? They are not."
But Brecht Heuchan, chairman of the commission's Style and Drafting Committee, which bundled issues, said it was "absurd" to think voters would get confused. He and other commissioners defended the process, in part arguing that they were following precedents from when the commission put measures on the ballot in 1978 and 1998.
"The whole process is being attacked," Heuchan said.
Commissioners rejected an attempt by Martinez to send the measure including Marsy's Law back to the Style and Drafting Committee to be unbundled.
The Marsy's Law proposal has drawn support in recent months from state leaders such as Gov. Rick Scott and many sheriffs and prosecutors. It also has the backing of Attorney General Pam Bondi, who serves on the Constitution Revision Commission.
The proposal is part of a broader national movement stemming from the 1983 death of a California woman, Marsy Nicholas, who was stalked and killed by an ex-boyfriend.
–Jim Saunders, News Service of Florida