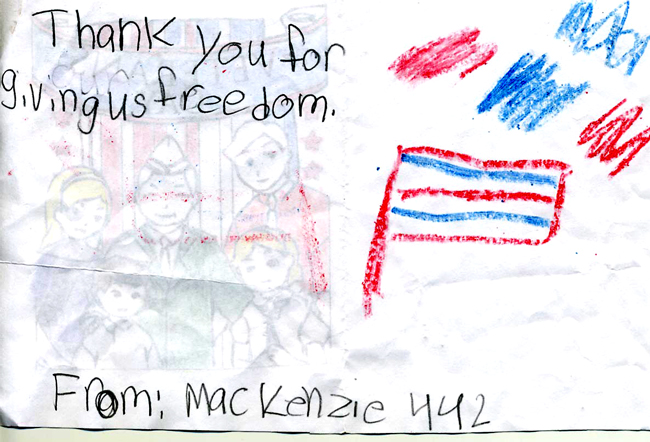 By Sisco Deen
Today we honored our veterans.
A veteran – whether active duty, retired, national guard or reserve – is someone who, at one point in his or her life, wrote a blank check made payable to The "United States of America," for an amount of "up to and including my life."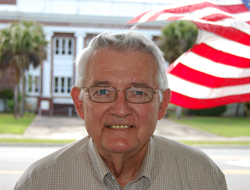 To serve is an honor, and there are way too many people in this country who no longer understand. They do, however, understand in downtown Bunnell.
Following the Veterans Day Ceremony at the Flagler County Government Services Building today, a Brownie Girl Scout approached me and said: "Mr. Veteran, I made this card for you." (See the copy above.)
I read the card and asked her the significance of the numbers following her name. She said it was her troop number.
I thanked her, shook her hand, took a step backward and gave her a smart salute. She smiled and returned the salute – made my day!
Now a bit of history.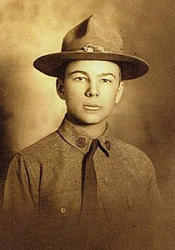 In his remarks today, Lt. General Charles S. Mahan, U.S. Army, Retired, spoke of the passing of the last of our 5 million World War I Vets, Frank Buckles. Gen. Mahan said that with Buckles's passing, this Veterans Day is the first one without a living link to that "war to end all wars."
A little research on the internet this afternoon provided some additional information on Private Buckles:
On Feb. 27, 2011, Frank Woodruff Buckles, America's last living "Doughboy" of World War I, passed away, aged 110 years, at his home in Charles Town, W. Va. Born in Bethany, Missouri, on February 1, 1901 to James C. Buckles, a farmer and his wife Theresa J., he lived through nearly half of the history of our republic. Eager to serve and see action, Buckles enlisted in the military when he was only 16 years of age, at a time when one had to be 21 to enlist.
It took him three tries (after first being turned down by the Marine Corps for being too small and then the Navy for having flat feet) and a bit of elasticity with the truth. But eventually the Army accepted him, and his example of patriotism, perseverance and eagerness to serve others is one we would each do well to emulate. He served with a detachment from Fort Riley, driving ambulances and motorcycles near the front lines in Europe.
During World War II, he was captured by Japanese forces while working in the shipping business, and spent three years in the Philippines as a civilian prisoner.
Buckles was awarded the World War I Victory Medal at the conclusion of that conflict and the Army of Occupation of Germany Medal retroactively following the medal's creation in 1941, as well as the French Legion of Honor in 1999.
His funeral with military honors was held on March 15, 2011 at Arlington National Cemetery, with President Barak Obama attending.
The war in Iraq will not have its Armistice Day. Nor will Afghanistan. And though the geography of war and the method of our battles have changed, the meaning of service has not. We must always remember and honor those who have served and dedicated their lives to our country as was very well done in the small city of Bunnell and elsewhere in our county today.
Historically Speaking,
Sisco


Sisco Deen, a captain, served two tours in Vietnam, first in 1965, with an air-refueling wing, then in the 8th Tactical Fighter Wing from August 1972 to August 1973. He is the archive curator for the Flagler County Historical Society and FlaglerLive's historical adviser.