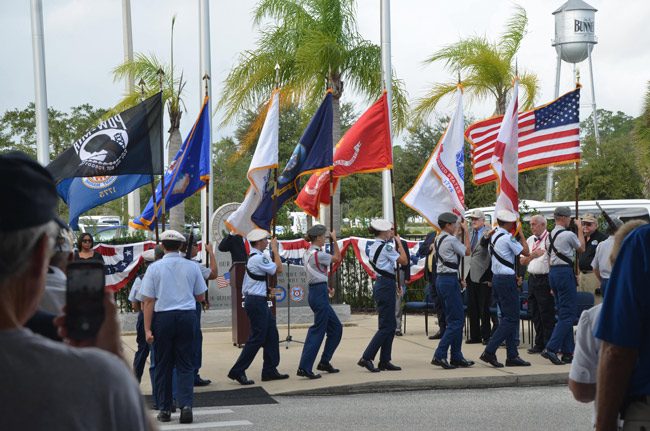 World War I, until then the most futile of wars, ended 100 years ago Sunday in a place called Compiègne, northeast of Paris, when two trains pulled up near each other, one of them bearing the commander of the French army and the other that of the Germans.
The two sides signed the armistice at 5:15 a.m. In one of the innumerably cruel and intentional twists of the war, the guns wouldn't fall silent for another six hours, running up the tally of 9.5 million dead (117,000 of them American) just a bit more. The sides wouldn't sign an actual peace until the following year in Versailles, and it proved to be less a peace than a 20-year pause, the Second World War continuing the First, briefly, and now always wryly, also called "the war to end all wars."
During his invocation at this morning's Veterans Day commemoration in front of Flagler County's Government Services Building Lt. Col. Harry Gilman noted the anniversary of the war, and its failure to live up to its moniker. It was one of only two brief references to the war and the day that gave rise to Veterans Day, at first called Armistice Day until it became a commemoration of all veterans from all services (and numerous wars) in 1954.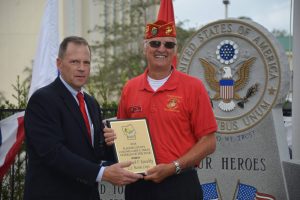 Flagler's commemoration is the occasion to present the Veteran of the Year Award, a name David Lydon, the county's veterans service officer, kept veiled until he announced it under grayish skies, and after enumerating the recipient's long service record as a Marine and a volunteer since he's lived in Flagler since 1970: Joe Kowalsky.
"He set the example for this award," Lydon said, even if Kowalsky "is a reluctant recipient of this award." Kowalsky thought it should go to someone who accomplishes heroic things. Lydon said he does.
"No one, and I mean no one, is contributing more personal time and energy to his fellow veterans, their families in our community than this veteran," Lydon said. A life member of the Marine Corps League and its past commandant and a representative of the league on the county's Veterans Advisory Council and the county's Affordable Housing Committee, Kowalsky is involved the league in Access Flagler, the county's recurring initiative for the needy, and he logs hundreds of volunteer hours every year, the majority of them working in kitchens or driving veterans to VA hospital appointments all over the northeast, or making improvements of veterans organizations he serves.
"I didn't know I've done so much," he told the crowd after extended applause. "We're all veterans here, we all need to support our veterans organizations throughout the county. There are a lot of veterans in Flagler County and a lot of them need help. Let's get out of here, join an organization and help. There's plenty of room."
The Flagler Women's Club's Jane Mealy, who is also a Flagler Beach commissioner, read the assembled veterans a brief, anonymous tribute often heard on these occasions ("for the time you took your oath, for the time you responded to my need, for your service, for my security for your bravery for my peace, thank you") and Barbara Hall presented her annual patriotic quilts–one to Maj. Deidre Hall, USAF (Ret.), and one to Lt. Col. Ed Waller, USAF (Ret.) for their contributions as veterans to the community over the years.
Earlier, Hal Kushner, a Daytona Beach ophthalmologist, retired Army Colonel and flight surgeon, held the audience of about two hundred spellbound with his keynote address: the story of his harrowing 1,931 days in captivity at the hands of the Vietcong during the Vietnam War, from the time his helicopter went down in 1967 to March 1973.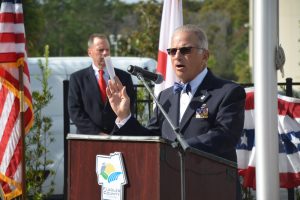 "In Britain they call this day not Armistice Day, not Veterans Day, but the Day of Remembrance," Kushner told the audience at the beginning of his 23-minute address, in which he referred to death, dead comrades or people who have died in his arms two dozen times. "I carry this card in my pocket every single day, and this card reminds me of a man who died in my arms in 1968, named Bill Port, and this card is his Medal of Honor citation, and I keep it on my desk, and I keep it in my wallet, and I read it very frequently." He read of how Port threw himself on a grenade, saving three comrades at the eventual cost of his life: severely wounded, he was taken prisoner, and agonized for days before dying. Kushner, whose long address was particularly self-referential, said 13 people died "in my arms" during his captivity.
"In a sense, I think, we're all veterans, since 9/11" Kushner said, "and the soul of the nation requires sacrifice from us all to live here and enjoy its bounty and blessing. You didn;t ask me, but I believe in universal service, not selective service, and I think if we're lucky enough to be an American,m we should be glad to serve our country in some aspect." It was the only time he was interrupted with applause before the end of his speech. "If you're a conscientious objector or a pacifist, you can drive ambulances, you can be a medic, you can Teach for America you can be in the Peace Corps. There are lots of avenues."
He too made reference to World War I, but it was brief, an echo from one futile war to another as he focused on his own ordeal in Vietnam's jungles and a Hanoi prison before his liberation.