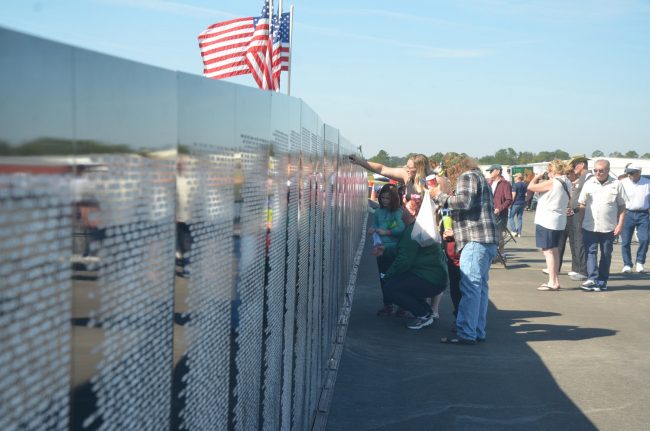 Flagler County government usually commemorates Veterans Day in front of the Government Services Building in Bunnell, where a couple of hundred people usually gather for speeches and remembrance.
Today the commemoration was moved to the Flagler County airport to accommodate two larger occasions: the weekend-long Freedom Fest, a celebration of veterans with music, vendors and exhibits. And, more significantly, the Vietnam Traveling Memorial Wall, a sizeable replica of the original black-granite Vietnam Memorial in Washington, D.C., which unfurls the length of some 300 feet and lists the 58,272 names of servicemen and women who died in Vietnam. Their names are engraved as in the original memorial, enabling people to stencil the name of their loved one
The replica is the product of Vietnam and All Veterans of Brevard County, a 30-year-old charitable organization. Other states and organizations have designed similar replica memorials, such as the Moving Wall, a half-size replica that travels the nation.
The traveling wall at the Flagler airport was set up in a straight line at the edge of the tarmac. All morning individuals or families approached its panels either to look for a specific name or to scan the ceaseless enormity of the names of the dead—and see, as with the granite monument in Washington, their own reflection in the wall. It didn't take long for small mementos, flowers and notes, to appear at the foot of the wall, as in D.C.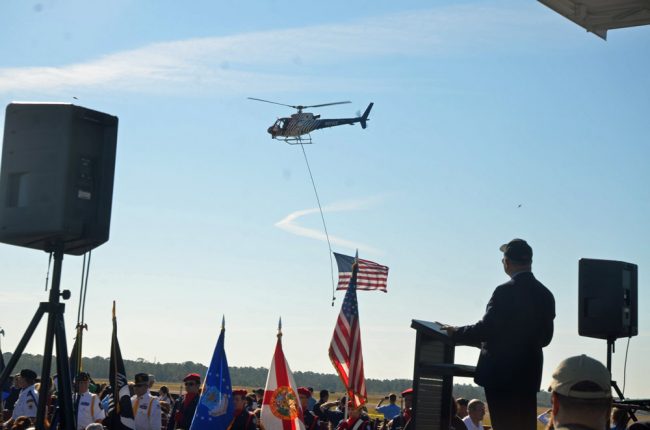 The weekend's events began with the county's ceremony from a stage in front of which hundreds of people had gathered, seated and standing, including dozens of veterans, some of them in wheelchairs, many of them in uniform.
"I have a lot of respect for all the veterans that served, whether in peace time or in wartime," retired Gen. Richard Butterfield, the keynote speaker, told the audience/. "Whatever you did, you did your part for your country, and for that, I salute you."
He was followed by David Lydon, a member of the Flagler County Veterans Advisory Council. Before announcing the annual Veteran of the Year award, traditionally awarded at the Veterans Day ceremony, he spoke of Col. Gary E. Dekay, after whom the honor would be named from here on: Dekay, a Palm Coast resident, died earlier this year: he would have been 70 today. He'd been instrumental in establishing the county's Veterans Appreciation Day and the annual award, Lydon said. "He was a catalyst for bringing the Vietnam Memorial Traveling Wall here, to our county for all to see," he said. The weekend Freedom Fest was also "his vision," Lydon said. It's been brought to life by the county and WNZF Radio.
The award in his name was given to a retired army chaplain and Baptist pastor, known for his "calming, intelligent, reverent sermons," in Lydon's words: Lt. Col. Harry W. Gilman, a Flagler County resident since 2007, originally from Bridgeton, N.J.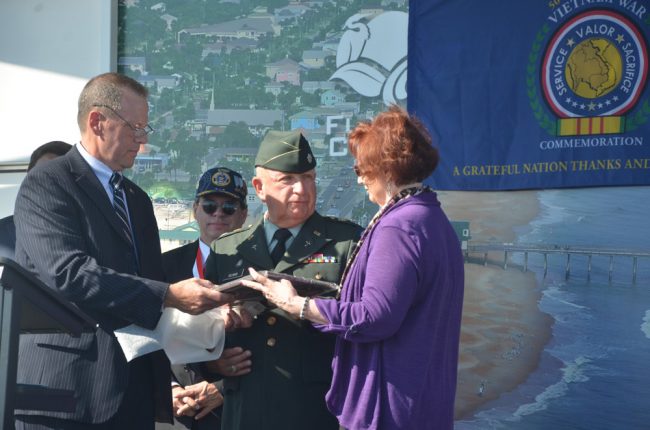 Dekay's widow joined Lydon to present Gilman the award. He had few words. "When you're from New Jersey and you retire, you ask God tyo show you the end of the rainbow. It was Flagler County," he said to cheers. "Life is a precious gift. People are the best part of it. So I'm home, and I appreciate it very much. The only thing I'd have liked added to my tribute was, 'and he's tall, dark and handsome.'"
The ceremony also recognized winners of the Flagler County schools' Veterans Day essay contest, which drew students who each wrote of their own experience with members of their family who are serving, or have served. "Just about every single one of them wrote about a family member that's currently serving or has served, and its hits home to them and they were able to share some personal stories and insights," Superintendent Jacob Oliva said.
The winners were Christian Norris and Anthony Dispenza of Matanzas High School, and Alexa Furra and Janay Thomas of Rymfire Elementary.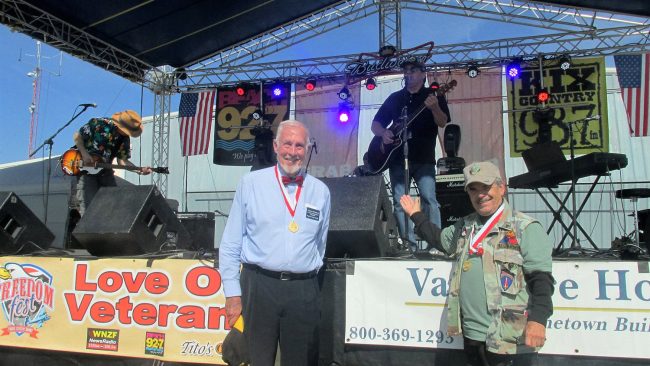 On the stage, there was Commissioner Nate McLaughlin, emceeing the event, there was Commissioner Charlie Ericksen, who'd just been re-elected, but in place of Barbara Revels, the commission chairman, and Commissioner George Hanns, there were the men who defeated them Tuesday, even though they're still not commissioners: Dave Sullivan and Donald O'Brien. Revels was on a three-week cruise in the South Pacific. Hanns might as well have been. He was wandering below the stage with his trusty tripod, looking for new angles for his photographs. It seemed inexplicable that he wasn't on stage, though there was room. Hanns, after all, had signed the contract making such things as the moving-wall visit possible. Even he couldn't explain it. "I don't know," he said. "There's no empty chairs. I wasn't going to impose on them. I'm just an old veteran now."
It would be 23 minutes into the program—well after he'd recognized a batch of officials in the crowd—that McLaughlin noticed Hanns, alongside Sheriff Jim Manfre. "With great honor and a little bit of heaviness of heart, a great veteran, a great man, a great servant of Flagler County for 24-plus years, Commissioner George Hanns," McLaughlin said. Hanns got the applause he'd rather had last Tuesday. Then McLaughlin's velvet stab: "What a great mentor he is, if you get a chance to work with him, I understand he's free now."