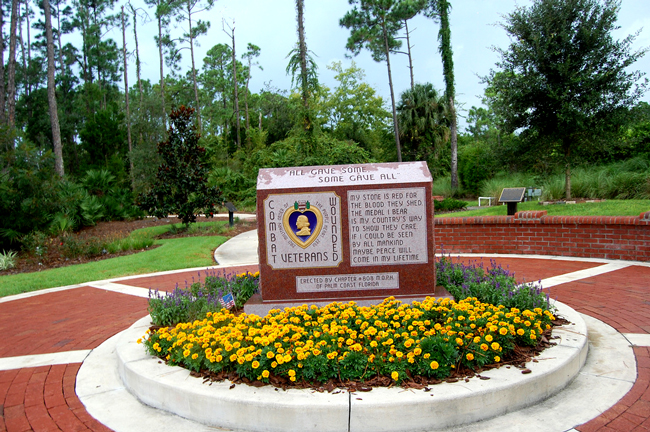 Lt. General Charles S. Mahan, U.S. Army Retired, will be the guest speaker at the Flagler County Veterans Day ceremony at 10 a.m. Friday, Nov. 11, at the entrance to the Government Services Building in the Flagler County Government Center, 1769 East Moody Blvd. (S.R. 100) in Bunnell.
Mahan spent part of his 35 year Army career overseas in the 1st Division Calvary in Vietnam. He also served in Germany and in Kuwait and Iraq as part of Operations Desert Shield and Desert Storm in 1990 and 1991. Lt. General Mahan also served as Deputy Chief of Staff U.S. Army Logistics prior to retiring to Grand Haven in Palm Coast.
The program, sponsored by the Flagler County Commission and the Veterans Advisory Council, will feature the National Anthem sung by Amy Fulmer's Flagler Palm Coast High School Formality Singers. Participants in the ceremony include: American Legion Post 115, DAV Chapter 86, Italian American War Veterans, Jewish War Veterans Post 300, Marine Corps League 876, Military Officers Association of America, Military Order of the Purple Heart 808, VFW Posts 8696 and 5213, The Knights of Columbus 2264 Color Corps, The Flagler Palm Coast High School AFJROTC, Flagler County Girl Scouts of America, Flagler County Cub Scouts and the Flagler County Veterans Service Office.
At the conclusion of the ceremony, the Formality Singers will sing a selection of patriotic songs. Refreshments will be provided courtesy of the DAV Chapter 86.
Palm Coast will mark the day at 8:30 a.m. at Heroes Memorial Park on Palm Coast Parkway, half a mile west of the Flagler County Library. An Honor Guard ceremony will be presented by the City of Palm Coast Fire Department. Mayor Jon Netts will lead the program with a brief address, followed by remarks from Council Member Holsey Moorman, a veteran, and special presentations from the Matanzas High School JROTC and the Festival Choir.
Light refreshments will be served. For more information, please call Marsha Lidskin, Community Relations Coordinator for Palm Coast at (386) 986-3708.
Schools, county and city offices will be closed on Veterans Day.