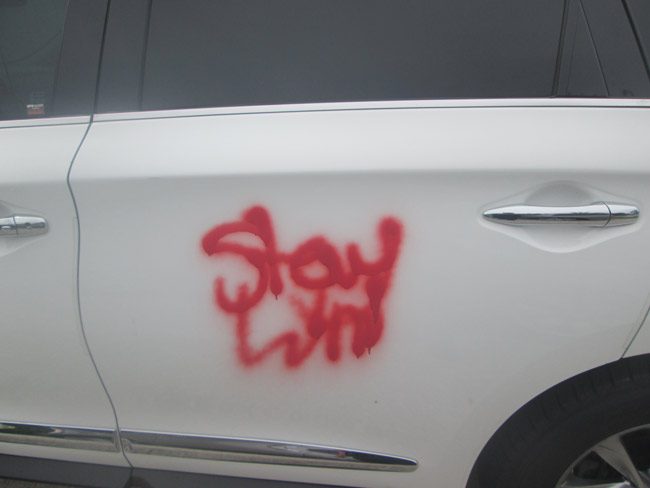 Sometime Sunday night, the white Dodge Durango parked outside 3 Farrington Lane was spray-painted with the words "stay white," in red, on the rear driver's side door and part of the driver's side. The vehicle is owned by a white man.
It was one of another half dozen instances of graffiti at homes on Farrington, Farragut and Florida Park Drive in Palm Coast's F-Section, and on Raeland Lane.
The "stay white" graffiti's wording was identical to that used to spray-paint a house on 15 Rolling Sands Drive around Aug. 5 or 6, when another spate of graffiti on private property was uncovered on that street and on Rocking Horse Lane.
Flagler County Sheriff's detectives believe the two spate of incidents are related, "but they think there are two or three different people tagging," a sheriff's spokesperson said. "They think it is likely kids messing around but can't rule anything out at this time."
The incidents earlier this month reflected graffiti that was "similar to 'white power' symbols," according to the Sheriff's Office at the time, and looked like a modified Z that hinted at a swastika in one case, another graffiti with the numbers 666 and the letters W and P, which could stand for "white power" and mirrored an investigator's findings of similar symbolism online. There were also spray-painted R's with crowns and a heart. The vandalism targeted garage doors, the side of a house and the side of a white truck, but with no apparent awareness of the owners' race.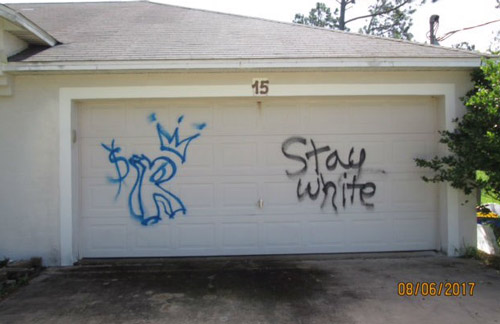 The more recent spate reflects similarly random vandalism. At 99 Farragut, a white Infiniti–owned by a black woman–was spray-painted. A neighbor told deputies that she heard yelling outside between 8:30 and 9 p.m. (that was Saturday night, Aug. 19). About half an hour later her boyfriend, looking outside, saw a group of three or four young teenagers walking toward the lower-numbered properties on Farragut Drive.
At 52 Farragut, the word "snitch" was spray-painted on the house. A resident had placed objects in front of the graffiti as if to conceal it. Deputies were not able to make contact with the resident. At 68 Farragut, the garage door was spray-painted apparently in broad daylight that Saturday, according to the resident, around 1 p.m., with the letter R in red, a sloppily drawn crown, and what looks possibly like a confused, unconvinced "fuck." (See below.) At 140 Florida Park Drive, the resident's van was vandalized with the letters "gg" spray-painted on the driver's side. That resident is south Asian.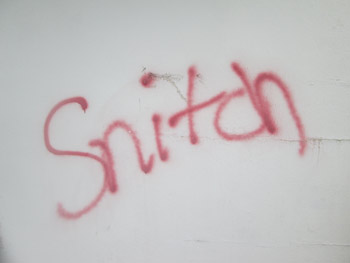 Either that night or early the next morning, the 2002 GMC Envoy parked at 14 Raeland Lane was spray-painted along the front passenger door and the rear–again with a three-pointed crown.
"We do not have any suspects but we do suspect that is most likely teenagers," the sheriff's spokesperson said today. "Despite the fact that there are some racial comments they do not appear racially motivated, at least in regards to the victims."
Asked specifically if it would it be accurate to say that the detectives are attributing the incidents more to youthful idiocy than to malicious bigotry, the spokesperson answered: "Yes, that is accurate. Their hope is that parents see these articles with pictures and realize that they've seen those images on a notebook their child keeps or somewhere in the home and then come forward."
There are no known hate groups in Flagler County, according to the Southern Poverty Law Center, which tracks them. Aside from the occasional graffiti, the county has known relative calm for years when it comes to overt cases of racism such as destruction of property or even hate crimes even as such incidents have soared across the nation in the past year.
The center has partnered with ProPublica, the news service whose work regularly appears in FlaglerLive's pages, to enable people across the country confidentially to share and document incidents in an ongoing project called Documenting Hate.
If you have information on Palm Coast's vandalism, you can call the non-emergency dispatch number at the Sheriff's Office, 386/313-4911.