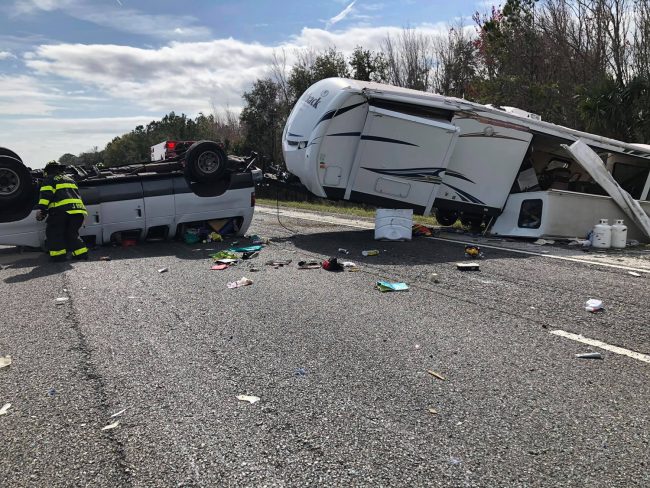 Last Updated: 8:03 p.m.
A van towing an RV flipped on I-95 south of Matanzas Woods Parkway in Palm Coast at 11:45 this morning, resulting in an unknown number of injuries, though firefighters at the scene reported only minor injuries.
The crash closed I-95 southbound from Matanzas Woods. Southbound drivers were advised to exit I-95 at U.S. 1 at the Flagler-St. Johns county line.
Simultaneously, two or three minor crashes took place along the same span in the northbound lanes. The crash took place near mile marker 292.
The van towing a 30-foot RV ended up on its roof, perpendicular to the highway. The trailer was still attached to the van, but was upright by the time the vehicles came to a stop.
William Carthcart, 70, of Stone Harbor, N.J. was at the wheel of the van. with Kathleen Slyne, 64, also of Stone Harbor, as his passenger. According to the Florida Highway Patrol, they were traveling on the outside lane when the rear tire on their 2005 Ford E350 came off, causing the van to veer off the highway. Carthcart corrected, but as he did so the trailer overturned, causing the van to overturn and become airborne before landing on its roof, while the camper landed upright.
Another vehicle was involved: an 85-year-old woman FHP identified only as Loretta, of Palm Coast, was driving a 2001 Toyota Highlander in the center lane directly behind the van and the trailer. The left-front of the van struck the right front of the Toyota as it was airborne, causing minor damage to the Toyota. Loretta was not hurt.
One of the people in the van complained of head pain, but both occupants of the vehicle were walking and talking.
There were two dogs aboard. One of them ran off and was being searched for. It's a black and white poodle. Animal control has been called in. (At 2 p.m., FlaglerLive learned from an unconfirmed report that the dog was found and was at a local animal hospital.)
The Flagler County Sheriff's Office, Flagler County Fire Rescue and the Palm Coast Fire Department responded to the crash, as did the Palm Coast Fire Police and DBi, which provides assistance similar to that of the Fire Police. The scene is being investigated by the Florida Highway Patrol.