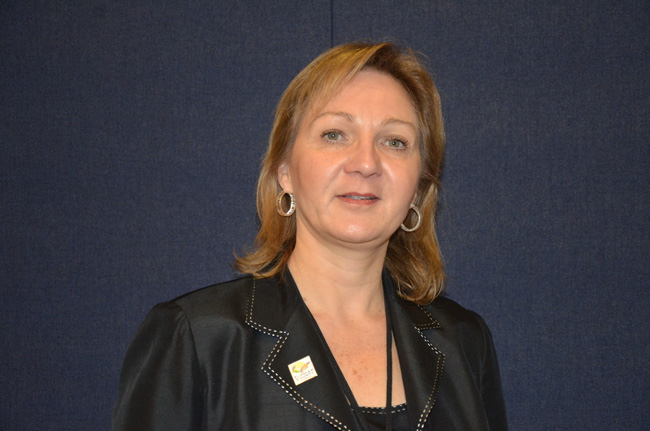 Flagler County's Department of Economic Development Executive Director Helga van Eckert was awarded the "Partners in Workforce Excellence Award" by CareerSource Flagler Volusia at the Annual Board of Directors meeting on Nov. 21.
The award was presented for her efforts to collaborate with business entities and other organizations to achieve a common goal for the economic improvement of the region.
"It's an honor to be recognized by CareerSource, an organization I greatly respect," van Eckert said this afternoon. "The foundation of Flagler County's economic development efforts has been bilt through strong partnerships with various economic development entities in the area."
"There is no greater advocate for collaboration than Helga van Eckert," Robin King President and CEO of CareerSource Flagler Volusia. "As a board member she has proven to be a invaluable champion of the CareerSource network."
The local award means that van Eckert is nominated by CareerSource Flagler Volusia for the statewide Florida Workforce Development Association's Barbara K. Griffin Workforce Excellence Award. Recent recipients for the local award include County Commissioner Barbara Revels for her efforts in reviving the Carver Center in Bunnell two years ago.
Van Eckert was cited for her efforts in implementing Flagler County's highly successful job fair this year. The job fair has 31 Flagler Businesses with 179 positions and 469 openings in manufacturing, healthcare, graphic design, retail and hospitality. Some 342 job seekers signed up and attended the event.
Van Eckert has also created the Business Impact Group a working collaboration of all those who are in the business of helping businesses. In nearly three years of shepherding the county's effort to attract manufacturing and business by creating a new department, van Eckert brought in seven new companies ranging from high tech and manufacturing to agriculture.
"Helga is a professional able to bring together the right individuals to accomplish the task of attracting diverse businesses to Flagler County," County Administrator Craig Coffey said. "We are indeed fortunate to have her on our team."
Van Eckert stressed that she has no plans to leave. "I love it here. We really have developed wonderful relationships" with local, regional and state partnerships, she said, so Flagler County could "reap resources that go beyond our immediate department."