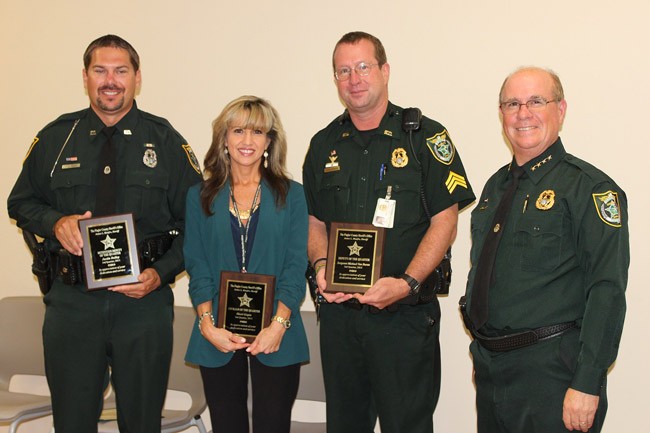 Flagler County Sheriff James L. Manfre honored three employees – two sworn deputies and one administrative employee– for excelling and going above and beyond in their jobs, the office announced in a release this week.
Sgt. Michael Van Buren was named Deputy of the Quarter, deputy Justin Bailey was honored as Detention Deputy of the Quarter, and Sheri Gopie, executive assistant to Chief Deputy Jeff Hoffman, was named Civilian Employee of the Quarter on Monday during a special ceremony at the Sheriff's Operations Center in Bunnell.
Van Buren was honored for his heroic actions on Sept. 14, when he was called to a Palm Coast home where a woman was displaying a gun and behaving as if she were provoking a suicide-by-cop. Deputies later discovered it was a pellet gun. But for several very tense minutes, she stood on her pool deck, refusing repeated multiple commands to drop what appeared to be a handgun. Van Buren was the highest-ranking officer on the scene. After about seven minutes, when the woman walked outside her screened pool enclosure, Van Buren used a Taser stun gun to shock her. She dropped the gun and was safely taken into custody, with no shots fired. See the incident as recorded by van Buren's body camera.)
"By all means, I was not alone in that incident," van Buren, a 28-year veteran of the sheriff's office, said. "We had three other officers, especially the first two that encountered her, who showed great restraint." Those were deputies Fiona Ebrill, who was sworn in two years ago, and James Crosby, who's been on the force about a year. George Hristakopoulos arrived at the scene shortly after the incident began to unfold. Van Buren says he hopes the trio will be honored at some point in the future.
"All the training in the world doesn't replace courage,'' Sheriff Manfre said in praising Van Buren for using restraint that day.
"That's the closest I've ever come to taking another person's life,'' Van Buren said after Monday's ceremony. In fact, another deputy on the scene was halfway through pulling the trigger on his gun to shoot the woman, Van Buren said, revealing a detail to the incident not known until now.
Van Buren was moved from the Neighborhood Services Division, where he'd supervised a squad of deputies known as the Power Squad, to an administrative position shortly after the suicide-by-cop attempt, though he'd received the notice of transfer before the encounter. A sheriff's spokesman said "this is not a demotion, this is not a punishment," but merely a management decision compelled by the medical leave of another supervisory sergeant, Carl Spath. Van Buren is currently assigned to the Palm Coast Precinct. "We were needing a sergeant to go up there, and we had Mike," the Sheriff's Office's Jim Troiano said. "We hold him in high regard. He does good work for us."
Van Buren has also previously been the Motorcycle Operations Supervisor.
At the quarterly awards, detention deputy Bailey was also praised Monday, for saving the life of his neighbor, who suffered a medical episode in his bedroom and couldn't breathe. Bailey kicked in the door and found the man gasping for breath, Manfre said. "Thank you for your service on behalf of the community and the gentleman you saved,'' he told Bailey.
Gopie was honored for assuming the duties of the sheriff's assistant in addition to her own responsibilities during a recent medical leave. Manfre praised her for her "can-do" attitude and for always having a smile on her face.

The attempted suicide-by-cop video: