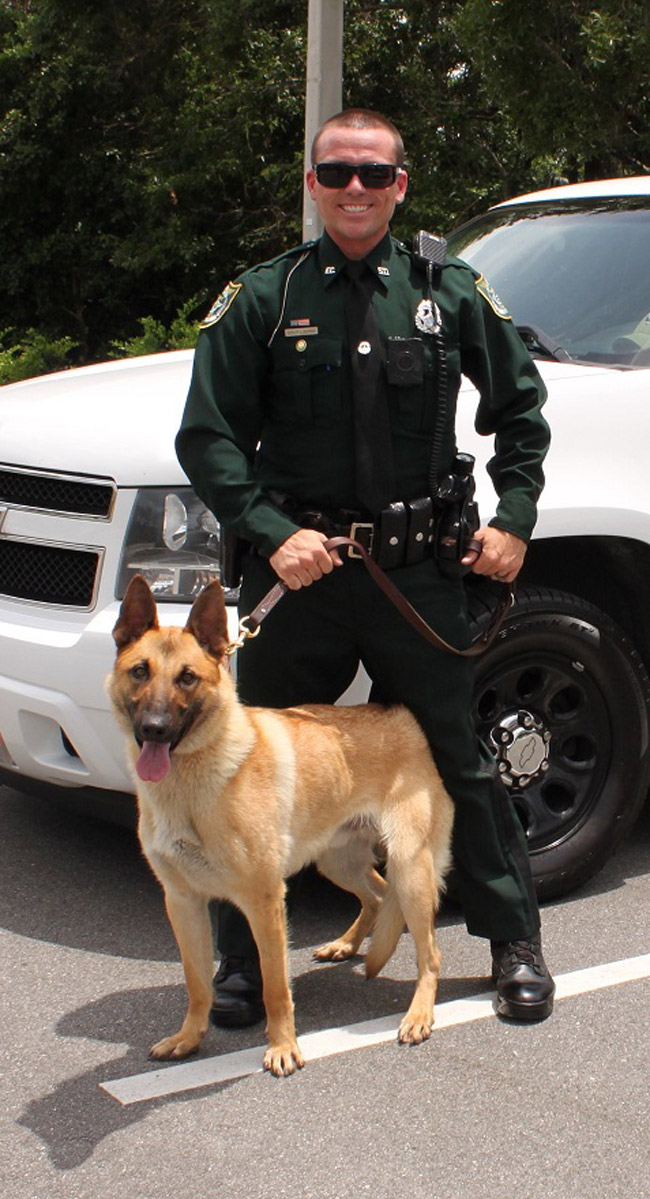 When the Flagler County Sheriff's Office asked for suggestions to name its newest K-9, it was flooded with what turned into a mirror of community desires, values, humor and sense of history.
Valor won.
That'll be the dog's name after some 2,000 people suggested names in a social media campaign that took the department by storm, and by surprise. What started as a Survey Monkey poll turned into a Facebook, Twitter, and email frenzy as suggestions came in through all channels, according to a release the sheriff's office issued today.
The dog is assigned to deputy Jonathon Duenas. He is a 14-month old Belgian Malinois-Shepherd mix who starts a 480-hour Florida Department of Law Enforcement K-9 Team Training course on June 9th. K-9s are considered deputies just as human deputies are, all the way to being included in the annual tallies of officers who are killed or die in the line of duty. This year for example, eight K-9s have died in the line of duty so far, four of them by gunshots (and three by heat exhaustion and one by heart attack), according to the Officer Down Memorial Page.
In late April the sheriff's office included K-9s in its quarterly award ceremony, when two dogs retired, Repo and Reno, and were turned over to the deputies to whom they'd been assigned. The new dog was donated.
The search for a name for Valor was mentioned on TV, radio, in print, and retweeted on Twitter and shared on Facebook numerous times. "I was really surprised at how much attention it got," Duenas said, though it is an absolute certainty that matters of life and death, great cataclysms, the most critical political, economic and issues of the day are immediately and crushingly displaced, on social media, by images of kittens and dog tales.
If Valor won, other names included Tango, Argus, Justice, Knight, Summit, Flag, Niko, Ponce, Henry (for Henry Flagler), and not just Max, but Mad Max (presumably after the name of the hero of the dystopian movie starring the always-mad Mel Gibson). There was also Pistol, Kojak, Ammo, Hercules, Zeus, Felony, Brutus and the inevitable Trump (which triggered an ".eeeeewwwwww noooo way"). There was Taser, followed by the admonition, "Don't Tase me bro"), DefCon, America.
Much of the fun was the explanations of contributors' ideas: "Banner because of FLAGler County," wrote Cheryl Raulerson on the sheriff's Facebook page. "A banner is used to represent something. Also, banner is an adjective which means outstanding. Banner could represent the outstanding sacrifice officers make to protect all of us." Or from Jodi Zgura: " I submitted the name – Badabing – not sure if it was considered. This was the name of our beagle who passed this year at 15, we miss him very much."
There were numerous suggestions to recognize or commemorate the fallen, including "Durrance," for Gregory Durrance, a Flagler deputy killed in 1927, and "Celico," for Sgt. Frank Celico, who died in 2011.
Jodi Baker liked "Blue," as a memorial "to ALL of the men and women who have fallen in the line of duty protecting their fellow officers and our communities. To those that have taken the oath to "Protect and Serve" sacrificing their time with family without the guarantee of returning home. Blue will be a testament of all officers, past, present and future, that will honorably represent."
David Stout suggested Togo, "after an under appreciated canine hero. Togo was the lead for the longest portion of the lifesaving 1925 serum run to Nome. Balto became famous because he led the last leg of the relay, but Togo's run was more arduous and nearly four times as long.
There were numerous gems like "Curfew for the delinquent kids who keep causing trouble," "Schützen. It means Protect in German," "Repobi. It's Latin for 'fallen,'" "Odin – Highest of the Norse gods; he presided over art and wisdom, war, and death," "Moses, because he was submitted to God's direction."
Those, anyway, were the sort of suggestions that made it through the sheriff's Facebook filter: some suggestions were hidden from view for being too unseemly. But of some 600 suggestions, the sheriff's office needed to hide only three. One was a suggestion for the name "Duke," apparently "because she never took any shit," its proposer wrote, another was from a likely animal rights activist who does not like dogs being used as cops, but said so in language not fit for a dog, and the third was mysteriously hidden, even though it would likely rank as one of the very best ones: it was הכלב הרע, or "Slevin Kelevra," Hebrew for Bad Ass Dog.
And of course one woman wasn't so much interested in naming the dog as naming "this handsome new deputy."
"Valor seems like a perfect name to me," Duenas said.
"Thank you to everyone who participated and took the time to send in a name," said Sheriff Rick Staly. "After graduation, Valor will be ready to help take a bite out of crime. We also greatly appreciate Summit Nutritionals International and the Blue Knights for donating our newest K-9 and helping to keep him safe."