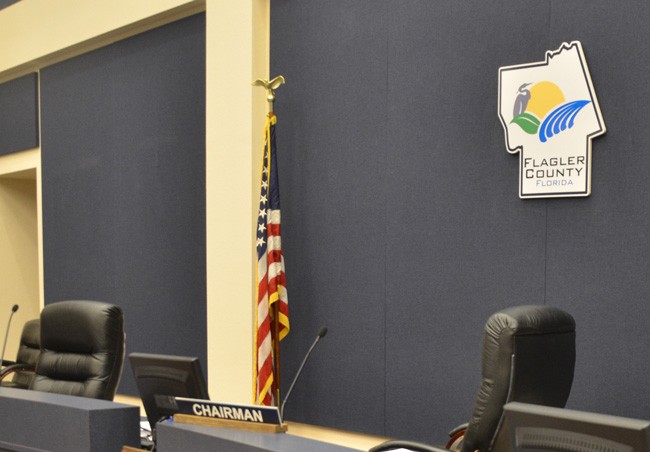 It didn't take long.
Two weeks ago the Flagler County Commission unanimously passed an ordinance regulating the booming short-term vacation rentals industry in the Hammock. On Thursday, Steven Milo, head of Vacation Rental Pros, a leading industry broker in the Hammock and much of Northeast and Central Florida, sued the county commission. (the lawsuit also includes Milo's Cinnamon Beach Way company. Both companies are based in Ponte Vedra in St. Johns County)
"I don't see where this is unexpected," Commission Chairman Frank Meeker said late Friday afternoon, though he hadn't yet seen the lawsuit. He said a lawsuit was likely "no matter what we did" on the matter.
Milo, a frequent and vocal opponent of the regulations during the many meetings and hearings the commission has been holding on vacation rentals for more than two years years, filed an eight-count action that focuses on property, privacy and equal protection rights.
The privacy provision disputes Flagler's right to collect the names of residents who stay in short-term vacation properties. It also disputes the rules' geographic target. "The geographic area regulated by the Ordinance, unincorporated portions of the County located East of U.S. Highway 1, comprises only approximately 10 percent of Flagler County," the suit states. "The regulations contained in the Ordinance are specifically and uniquely targeted to a single class of property owners, single family and two-family homes located almost exclusively in the Ocean Hammock Resort community, even though Ocean Hammock Resort was developed and marketed by the developer as a destination resort community where short-term vacation rentals were not only to be expected, but encouraged and welcomed."
"The Commissioners passed a vindictive ordinance that will effectively prohibit certain types of vacation rentals in Flagler County," Milo said in a statement. "We will vigorously fight for equal protection of all property owners and the privacy rights of the people we represent, and for all property owners who may want to rent their home at some point in the future."
"Until the legislature did this, I'm not sure these guys didn't have the right to do what they're saying they have the right to do," Meeker said, referring to the 2011 law the legislature passed, preempting local governments from regulating short-term rentals. That's the law Meeker and Flagler County successfully lobbied the Legislature to amend last year, returning home rule on the issue to local governments, with some restrictions. And that's an interesting argument right there. I'm not speaking for the county commission on that, but in my mind, I think clearly the Legislature granted them something that didn't exist."
Milo's strategy contrasts sharply with a spate of recent–and unsuccessful–lawsuits filed by local pressure groups against Palm Coast and county government. Milo's statement was part of a news release disseminated by Meteoric Media Strategies, a Tallahasse-based upstart PR firm led by two former communication aides to Gov. Rick Scott—Brian Hughes and Brian Burgess. The release noted Milo's attorney: Daytona Beach's Peter Heebner, who in September won a jury verdict worth almost $20 million against Ponce Inlet's city government, in a property rights dispute. The release included that information, suggesting Milo is positioning himself to do battle as much against the commission as in the public opinion arena. The hint of intimidation may signal Milo's interest in pushing the county to, if not repeal its ordinance—which state law explicitly permits—at least influence future amendments that would more favorably align with Milo's interests.
Milo also sued Venice in 2011 over Venice's banning vacation rentals–and not grandfathering Milo. He won a $300,000 settlement for lost income and attorneys' fees.
In a public appearance more than two years ago during a meeting on vacation rentals, when the county was drafting the legislature's local representatives to push for a return to local control, Milo spoke of the dozens of jobs his company had created locally, and the 30,000-some guests who had stayed in properties he manages, swelling county coffers with bed-tax revenue. The exact claim has not been verified, but the county doesn't dispute that short-term rentals have been an economic benefit. (The 4 percent sales surtax charged to hotel, motel and short-term renters has increased significantly in the last two years, but there's not been an empirical study analyzing the source of the revenue, and various local events have generated a substantial increase in hotel stays.)
"They pump money into the local economy, businesses, some bought homes," Milo said of short-term renters during a 2012 meeting.
Milo's lawsuit indicates that Cinnamon Beach Way owns an 11-bedroom single-family house in the Ocean Hammock Resort, a house it bought for $835,000 specifically as a vacation rental property, to accommodate up to 24 guests. Vacation Rental Pros manages the rental of more than 70 single-family homes in Flagler, accommodating up to 24 guests each. The county's new ordinance, the lawsuit charges, "will apply to the properties managed by VRP and will destroy the viability of the rental of the homes managed by VRP to families and vacationers on a short-term basis and cause damages to VRP."
In late February the county passed a wide-ranging ordinance that limits the number of people who can stay in vacation rentals to 10 in a single-family home and to 16 in a two-family home while grandftahering in existing rentals over six years (after originally being set at 10): those who qualify may have up to 14 renters in a single-family home, though the provision is lost if the house is sold.
Meeker said he expects County Attorney Al Hadeed to "act as the quarterback" in the lawsuit, with outside, expert legal representation brought in to defend the action. "We've made a finding that we believe this is what's reasonable to allow short-term vacation rentals to exist in a single family neighborhood," Meeker said. "That's all we're doing. I'm sure Mr. Milo would have been happy if we'd set the upper limit to 30 people in a home."
Read the full lawsuit below.