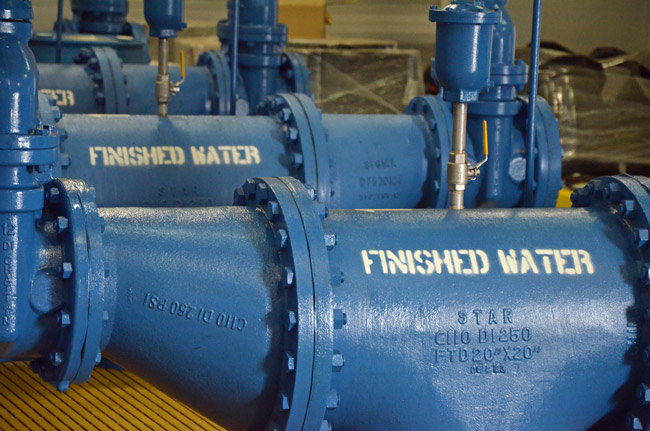 A decisive majority of the 140 blue-collar workers in Palm Coast's utilities department—the city's largest—voted last week to unionize, making them the second city department to do so. The city's 50-some firefighters unionized in 2010 but are currently at an impasse over contract negotiations.
The vote was 67-42, giving union supporters a 61 percent majority. Last year, a vote to unionize failed by four votes. The new union, Local 630 of the Jacksonville-based Northeast Florida Public Employees, covers workers in the city's public works, utilities, streets, stormwater and fleet divisions. The union does not become official until Aug. 6, and can be contested until then.
The union vote doesn't mean that all 140 blue-collar workers in the city must join: only those who wish to join are required to pay the monthly $40 dues (though there are no initiation fees or working assessments), but all workers will be covered by the negotiated contract, once it's in place. Non-dues paying workers may, like union members, file grievances, but the union is not required to represent them, as it is when a union member files a grievance. (See Florida's right-to-work law here.)
"Employees don't approach a union about organizing unless they feel there's issues with an employer," Andy Bemis, the business manager with Local 630, said. "Employees that are taken care of typically don't approach a union."
Richard Adams, who heads all public works departments in the city, said he could not explain the origin of the move toward unionization. "There really hasn't been a whole lot of discussion as to why, at least not to me," he said. "I guess some people feel there might be some benefit to it, to be organized as a group as opposed to individuals."
The move to unionize is the result of an accumulation of issues for workers over the years, Don Hess, who organized the effort, said. Hess, 65, just retired after seven years as a Utilities Tech II worker, and many years before that in heavy industry, though usually in management.
"We're concerned, we work here, we want the cit to be viable and successful, the same as a business," Hess said. But there are issues. Hess cited examples such as employees passed over for promotion, a reduction in benefits—such as the elimination of what were once $3,500 flex cards for employees who didn't have family health insurance coverage—the absence of raises several years on end (though that was the case across most local governments in the aftermath of the Great Recession), the arbitrary nature of small merit raises this year, and more attention paid to efficiency than safety. For example, instead of having two men on call duty—one for the sewer operation, one for the water operation, which Hess said require two different specialties and safety training—the city combined the two responsibilities into one, with an hour and a half worth of training for employees.
None of us felt comfortable with this," Hess said. "It's those kinds of things that added up to frustration by the men, no matter how many meetings we had with management, it just fell on deaf ears." Hess also cited a workplace culture where management does not welcome workers' questions, seeing them as a challenge, and that retribution for straying from the company line has been a problem. As an example, he cited Lenny Grocki, who four years ago countered a city order to change boots he'd painted pink to mark Breast Cancer Awareness Month, and drew media attention, putting the city on the defensive.
Hess said Grocki has paid the price since. "Lenny was overlooked and passed over," Hess said. "They deny it's the boots incident, but that poor guy, he's the hardest working man and the most sincere man in the workforce. We know what the problem was."
The union is not aiming for big changes, but for stability, Hess said, starting with a contract. "We want a three-year contract to work by, the same as Mr. Landon has," Hess said. "No matter how bad the economy goes, Mr. Landon's contract stays the same. It's the same thing the men want."
Hess and Adams had a 150-minute conversation after the vote, Hess said.
"We don't anticipate it will affect the operation," Adams said in an interview Thursday. "I really don't have any issue with it either way."
"That's all well and good," Hess said. "That's a starting point. We have no interest in changing operations. Give us a contract. Don't change things on us every October. Let us know and sit down and say this is what I know I have coming next year."
He said the city has set revenues that preclude a union from commanding such things as raises, notable changes in benefits or any added layer in job security. "It's interesting, but I'm not really sure what they hope to gain," Adams said. "We really don't anticipate a whole lot of changes as a result of it."
Bemis said the city will inevitably portray the unionization as bringing no changes, but the majority vote would not have taken place without some dissatisfaction in working conditions, which the contract negotiations, when they do take place, will seek to address, including a matter of favoritism that Bemis said workers speak of. "We just want across the board to treat everybody fairly, treat everybody equally," he said.
Hess describes annual visits by Landon, the city manager, to the various city departments to speak brightly of the city's achievements and the city's economy, such as new restaurants. "In the meantime, we're sitting there and thinking, yeah, but I can't afford to take my family to those restaurants, and I work for you, Mr. Landon."
"Last year when we tried to organize," Hess said, "Mr. Landon had satellite meetings we call them, where he talked to groups of 50, 60 men and women, he would talk about the fine things the city has done for the employees, and what a union won't do. 'Take a look at the firefighters. Where are they now with the union?'" Landon said, according to Hess. "Well," Hess said, "I'm sitting there knowing that you guys aren't bargaining in good faith with the firefighters' union."