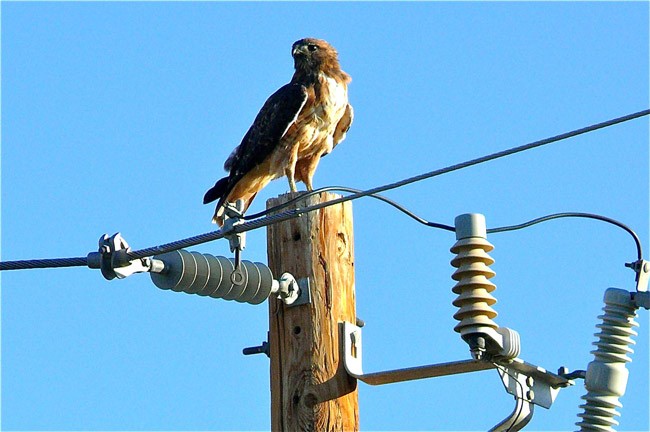 Take any significant public road in the city. It's usually paralleled by utility lines. When Palm Coast needs to make road improvements, the city asks Florida Power and Light to move its poles. FPL must pay the cost of some of that relocation. After all, FPL is using public right-of-ways for its utility lines in the first place, at no cost to FPL. City taxpayers are, in effect, subsidizing FPL. That's how it's been for a century, going back to a 1905 U.S. Supreme Court precedent.
Utility companies—power companies, cable companies, phone companies, gas companies, internet providers—want to change that arrangement. Last year, utility companies lobbied the Legislature and got bills introduced that would shift the cost of moving utility poles to local governments in certain circumstances. For example, FPL would be required to pay its own cost of relocation if the lines are cross a road, but not if it parallels it. It would also limit the state transportation department's regulatory authority over those lines.
It wouldn't matter of the transmission lines don't even benefit the customers in the given locality: that local government would have to pay for moving the lines anyway.
One such bill passed the House, 110-5. The bill was never heard by the full Senate so it died. But local governments expect the measure to be revived this year. They are vehemently opposing it through the Florida League of Cities.
"Amen," is how Palm Coast Mayor Jon Netts punctuated the beginning of the discussion on the matter earlier this week: Palm Coast is taking an affirmative position against the proposal as part of its legislative priorities, as Flagler County government did last week. Local governments think they have a shot at stopping the measure. But recent history shows otherwise.
Netts was at a Northeast Florida League of Cities' regional meeting two weeks ago. Three of the local legislators were there. "Two of the three legislators seemed very receptive to the city's point of view, one of them was—well, I need more data," Netts said. (The third, Cindy Stevenson, wanted the additional information.) "But be that as it may, this is something that affects every municipality, every 411 of us in the state of Florida."
---
Already heavily subsidized by taxpayers, utilities want to upend a century-long arrangement.
---
"So the ones that were supportive of us, are we talking about Travis Hutson and Paul Renner?" council member Bill McGuire asked.
"Yes," Netts said.
Not quite.
Renner, Flagler County's representative, voted with the majority earlier this year, against the cities. (He'd taken contributions from TECO Energy, Duke Energy, First Coast Energy and the Nextera Energy political action committee during his run for office).
"It's just amazing to me," is how City Manager Jim Landon presented the utilities' proposal. "They have lobbied state legislators and have gotten quite a bit of support with the idea that no, the taxpayers are going to pay for that, whether you use that part of the utility or not. And we're talking, for a community like us, we're talking major dollars. From a fairness standpoint, they use our right-of-ways free." (A legislative analysis of the proposal earlier this year cited a City of Cape Coral project showing the cost of moving two utilities as part of three road projects totaling over $4 million.)
"It's a mandated taxpayer subsidy of the utility companies," Palm Coast Attorney Bill Reischmann said.
"And the only ones who really, truly benefit are the bondholders, the shareholders in the utility," Netts said, "because they're not going to lower their utility rates because they're now relieved of these costs. It's just going to be more profits to the shareholders and more expense to the local taxpayers."
If the city doesn't pay the utility (assuming such a law passes), the utility could refuse to move their poles.
What makes it "more offensive sometimes," Landon said, is when local governments ask to use easements that utilities own. They don't provide those without requiring governments to follow their rules—and to pay.
The Florida League of Cities is hoping to gain support from all cities to build up enough collective muscle to counter the lobbying power of utilities.
"If this bill passes, then I want a companion bill that the city can now charge rent for the use of our right of way," Netts said.