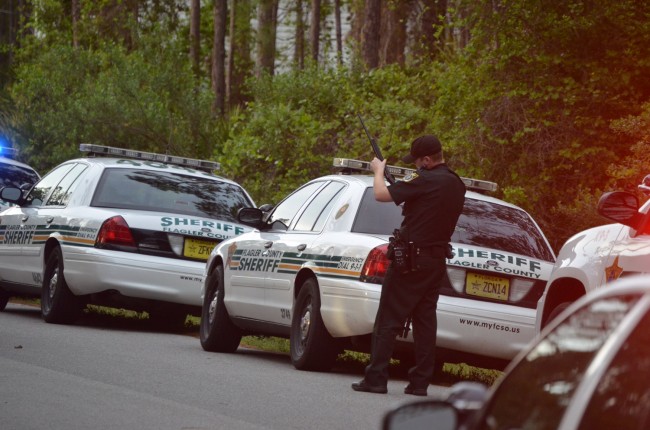 Last week the Flagler County Sheriff's Office mobilized its forces, including the SWAT team, to hunt down a man believed to be armed and mentally ill, and hiding somewhere in the northern F-Section's woods. The manhunt took almost three hours and left a neighborhood on edge. No weapon was found.
Thursday evening, members of the SWAT team were summoned again, this time to 44 Utah Place in Seminole Woods, after a woman at that address called 911 to report that her son had drawn one or more firearms. The man, in his early 20s, is also believed to have mental health issues. But the situation was diffused more swiftly, with no injuries.
By 7:30 p.m., after almost a dozen sheriff's units and even a unit of the Florida Fish and Wildlife Conservation Commission had responded to the cul de sac, an L-shaped distance from Seminole Woods Boulevard, members of the household were left filling out statements while the man was being held in a patrol unit, on his way to the psychiatric ward at Daytona Beach's Halifax hospital. It was a Baker Act, meaning that the individual, whose name was not released, was being taken to the ward not necessarily with his consent, for his and others' protection.
Sgt. Chris Ragazzo, who was in command at the scene, described the incident as a "mental health subject armed with two rifles. He had subjects inside the house. He was threatening to commit suicide. We were able to diffuse the issue," without injuries or other complications. There were six people in the two-level, 3,000 square-foot house, all adults, Ragazzo said. One of the rifles was a .22-caliber.
The situation worried many people in the neighborhood and a few who drove by, unable to get to their house nearer 44 Utah. The step-father of the individual being Baker Acted was upset about the show of force, saying, "the cops went in there with guns looking to shoot somebody." When a weapon is involved, however, the SWAT team doesn't take chances as it aims to prevent any weapon from going off, or to prevent anyone from getting hurt. Its drawn weapons look intimidating (and are), but the tactic is aggressively preventive.
The incident began with an argument. "He just told his mother I want this, I want that, and she said, no, she called the cops," the step-father said. "It was no big deal. No big deal. This guy is really cool. He's my step-son, I love him."
The man does not face charges at this time.