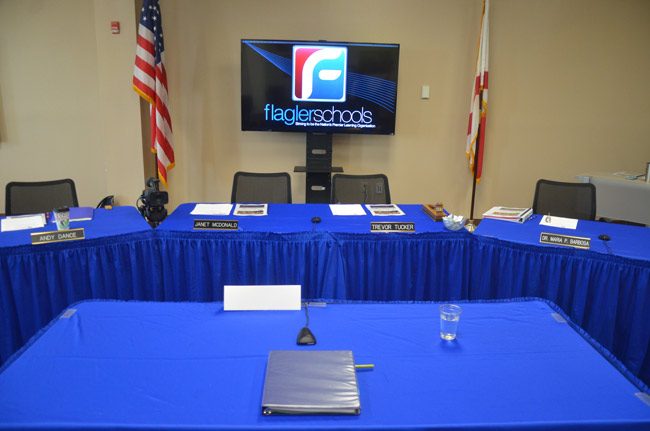 Flagler Palm Coast High School and Matanzas High School have again performed well enough to earn in the latest annual U.S. News & World Report rankings of Florida's and the nation's best high schools. The two high schools' rankings are good, but not quite stellar, with FPC earning a bronze medal and Matanzas taking silver.
In Florida, U.S. News, the online news organization, analyzed data from 894 high schools, 239 of which–about a quarter–made the list of Best High Schools in the state. Thirty-nine schools got gold medals, 137 got silver and 63 bronze, with Pine View School in Osprey ranked first thanks to its 98 percent graduation rate and a score of 100 on the college-readiness index. The public school is specifically for the gifted, however, which points to the rankings' limitation: the comparisons are not quite based on equivalent student bodies, and include other self-selection criteria that skew results with the inclusion of charter schools that choose what students to take, as traditional public schools may not. In Flagler, the choice of public schools is limited, so the two main high schools must serve the broadest student body possible.
To qualify for rankings, schools must have met performance standards in reading and math, they must have shown that minorities and poorer students performed better than the state average, they must have had a graduation rate of 75 percent or better (an increase from last year's required 68 percent, but still lower than the national average of 83 percent), and it must meet certain Advanced Placement benchmarks.
Another caveat: this year the rankings do not include schools' International Baccalaureate, or IB, data, because the IB organization did not provide the data for the benchmark year (2014-2015). That likely hurt Flagler Palm Coast High School's ranking, because it has a substantial IB program. "For the 2017 Best High Schools rankings, this means that high schools that only use IB exams weren't eligible for gold or silver medals," U.S. News explains in its methodology briefing–an unfair penalty by any calculation, as the IB program is superior to AP in rigors and student development.
The publication also acknowledged watering down its state rankings "to enable more highly qualified schools to be numerically ranked within their own states. This year for the first time in the Best High Schools rankings, some bronze medal winners were numerically ranked in their state." In other words, had that not been the case FPC may not have made the rankings.
That said, Matanzas High School came in at 160 in the state and 2,297 in the nation, with a college-readiness index of just 24.6 but math and English proficiency closer to 60 percent, and with 37 percent of students taking Advanced Placement tests (and 54 percent of those passing). Matanzas has an 81 percent graduation rate. Matanzas has slipped some over the years: in 2013, it was ranked 72nd in Florida and 1,523rd in the nation–keeping in mind that the rankings are based on aging data: in 2013, it was based on data from 2010, and this year it's based on data from 2014-15. Still, that was not the publication's fault.
Flagler Palm Coast High School was ranked 183 in the state and merely got "recognized" in the national rankings, without getting an actual placement. The school had a college-readiness index of 19, with 28 percent of its students testing for Advanced Placement (the figure would have been significantly higher if IB was included), and 56 percent passing those tests. Math proficiency was at 43 percent, English at 52 percent.
Both schools are led by leaders whose abilities have earned statewide recognition, though both took up their posts essentially after the data window of the current rankings closed: Dusty Sims was appointed principal at FPC in late 2015, after winning that year's state Assistant Principal of the Year award. Earl Johnson, the principal at Matanzas, has been named as a finalist for the State Principal of the Year. He's been leading Matanzas only since 2015, working in Volusia County for 26 years before that.
One other nearby school is of local interest, because its principal, James Tager, is one of three finalists who was just interviewed for school superintendent in Flagler. The school board makes its decision next week. Tager's Atlantic High School did not earn a ranking. (An earlversion of this story incorrectly reported better Atlantic High School numbers, but those were for Delray Beach's Atlantic, not Port Orange's.)
U.S. News says its ranking methodology, carried out by RTI International, a non-profit social science research firm, "is based on these key principles: that a great high school must serve all of its students well, not just those who are college bound, and that it must be able to produce measurable academic outcomes to show it is successfully educating its student body across a range of performance indicators."
The firm reviewed data from 28,496 public high schools in the 50 states and the District of Columbia. Smaller ones were eliminated, reducing the number to 20,487. Of those, 29.5 percent were awarded medals: 3,432 high schools (16.8 percent) got bronze, 2,109 (10.3 percent) got silver, and 500 (2.4 percent) got gold.
A press release from the Flagler County district issued today said "Once again, students, teachers, and staff at both high schools in Flagler County have yet another reason to celebrate," before summarizing some of the results and quoting Jacob Oliva, the superintendent, to this effect: "It validates the hard work that our schools are doing to commit to ensuring our students have personalized learning opportunities which will prepare them for success in college, careers and in life." Oliva became superintendent three years ago.
The U.S. News list and information about the rankings may be accessed here.