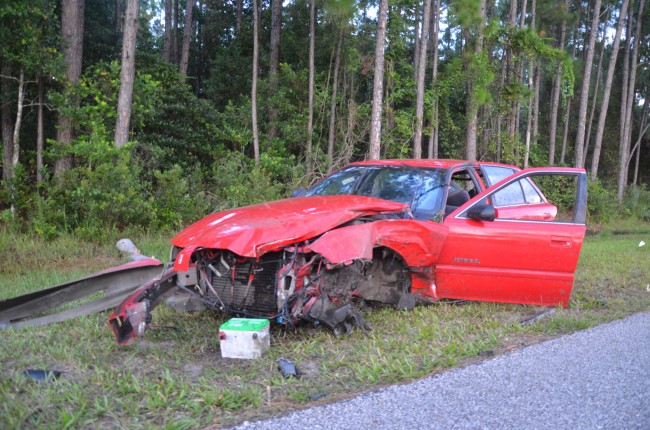 Not much was left of the 1996 Oldsmobile by the time it was done whipping pine trees.
A 29-year-old Palm Coast woman driving alone, at the wheel of the Oldsmobile, was heading north on U.S. 1 in Palm Coast, about half a mile south of White View Parkway, when something–authorities don't know what–caused her to lose control of the car early Sunday evening.
A Florida Highway Patrol investigator at the scene said the woman, whose identity is being witheld for now, swerved from the left lane toward the median, over-corrected, then swerved into the line of pine trees, smashing the car front and back: the front left and the rear left appear to have taken severe blows, with the blow to the front breaking off the entire wheel.
Long, straight skid marks from the road into the tree line suggest the driver locked her brakes after over-correcting. The car's trajectory toward the trees it struck was clearly marked.
The woman was transported by ground to Halifax Hospital in Daytona Beach, with severe injuries. It isn't yet known whether she was wearing a seat belt.
The rear windshield was shattered. A vacant child seat was ejected from within, and ended up in the grass, behind the car. The Oldsmobile itself came to a rest facing north, but two to four feet into the grassy shoulder.
The wreck took place around 6:30 p.m. The Palm Coast Fire Department, Flagler County Fire Rescue and the Palm Coast Fire Police responded. U.S. 1 northbound was reduced to one lane for half an hour.