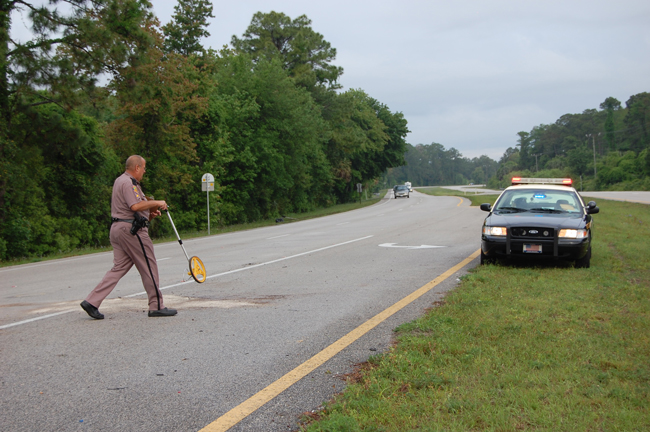 James Robert Nickerson was killed in a single-vehicle rollover accident south of Bunnell on U.S. Route 1 early this morning, according to the Florida Highway Patrol. Traffic was diverted from the southbound lanes to Seminole Woods Boulevard and County Road 325 for two hours, until about 8:30 a.m., when all lanes reopened.
Nickerson, 49, of Interlachen, in Putnam County, was traveling southbound at 6:15 a.m. on a damp road when he failed a passing maneuver with his his 2004 Toyota pick-up truck, swerved onto the shoulder, hit a signpost, over-corrected and flipped several times. No other vehicle was struck.
As FHP Cpl. C.G. Young described it, "while he was passing somebody, then he had another vehicle in front of him, so what he tried to do is squeeze between the two cars to get by–there was a car in the left-hand lane, there was a car in the right-hand lane. He got between them, and when he turned to the right, he kind of overshot, got onto the shoulder, hit a signpost, over-corrected to the left, then he started flipping. He probably flipped about four, five times. And then he came to rest right here. He was laying on his right side, right here, facing north. The driver was still in the vehicle with his seatbelt on. But he was deceased. Expired."
Nickerson was wearing a City of Daytona shirt and was likely on his way to work.