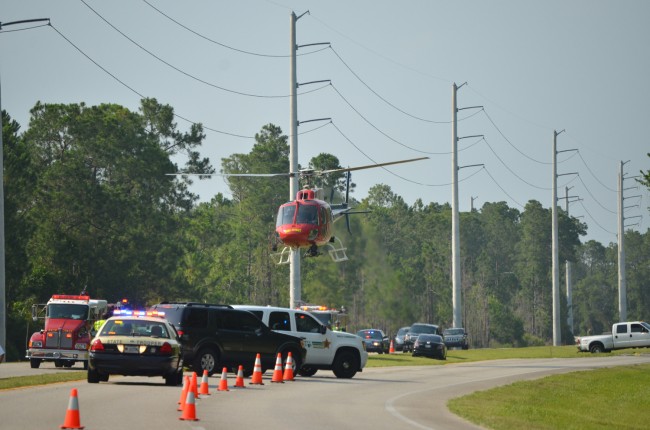 Two motorcyclists and were traveling north on U.S. 1 at 5 p.m., making the turn just past the telecommunication tower, when one of the two looked behind his shoulder and lost control. His Honda 1800 veered off the road onto the median in a relatively straight line, and according to a witness driving a minivan behind him, the biker flipped four times along a distance of some 50 yards before coming to a rest. The front of the bikle was especially damaged.
The biker is 42 and from Palatka. His identity has not yet been released. He is believed to have neck and head injuries, according to a Florida Highway Patrol investigator at the scene. He was not wearing a helmet.
The investigator said that the biker was experienced, and that speeding was not involved: he had been traveling at around 60 miles per hour, according to witnesses.
U.S. 1 northbound was shut down after 5:20 p.m. Flagler County Fire Flight, the emergency helicopter, was called in, landing in the northbound lanes north of the wreck (between the Whiteview and Palm Coast Parkway intersections, taking off with the victim 10 minutes later (and landing at Halifax hospital in Daytona Beach at 6 p.m.).
The rider of the second motorcycle, also a Honda, was not hurt. Both men are students at WyoTech, the motorcycle and marine mechanics school. The wreck took place about 15 minutes after a single-vehicle wreck on I-95, at the northbound Palm Coast Parkway exit, that resulted in serious but non-life-threatening injuries to a woman.
The Flagler County Sheriff's Office, Flagler County Fire Rescue, the Palm Coast Fire Department and the fire polices of both Palm Coast and Flagler Beach responded to the wrecks.
U.S. 1 was reduced to one lane in both directions past 6 p.m. as investigators worked the scene. Normal traffic was due to resume a little after 6:30 p.m. Aside from when the helicopter closed US1 northbound, traffic was not backed up.