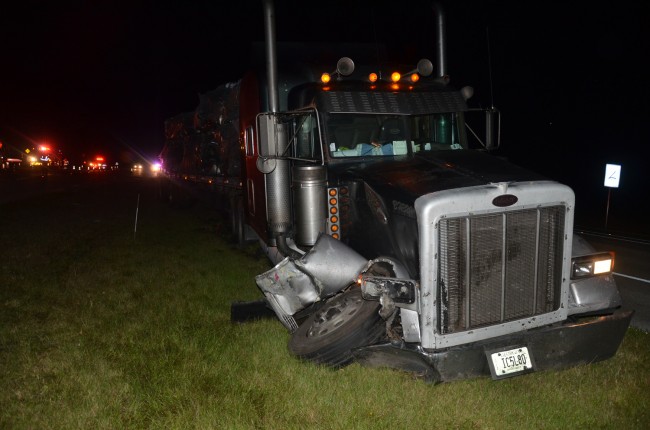 For the Matanzas Woods Parkway intersection with U.S. 1, it was just another wreck that followed the same narrative as countless wrecks before it: a motorist is driving north following all rules of the road, when suddenly a another motorist pulls out of Matanzas Woods Parkway to make a turn onto U.S. 1, claiming not to have seen oncoming traffic. A wreck follows, often with critical or fatal results.
Thursday evening's wreck involved a Ford F-150 and an 18-wheeler, the tractor pulling a 45-foot trailer. Most of the damage, while severe, was limited to the two trucks.
It was 6:15 p.m. Greg McFerran, 50, of Fitzgerald, Ga., was driving his 18-wheeler north, carrying scrap cars that he'd picked up in Fort Pierce for delivery in Savannah. John Gregory Dick, a 55-year-old resident of Palm Coast's F Section, was at the wheel of the red Ford F-150, which he uses for his business, To the Rescue Home Improvements and Repairs.
"I was coming down the road there, I wasn't going very fast," McFerran said. "I caught that last traffic light back there, I wasn't even doing high range, so if I was doing 55 I wasn't doing even that, and I think it's 60 here isn't it? I probably wasn't even doing 50. And all of a sudden I see this guy just easing out. I'm like—-but he was going slow, and I'm like, what's this guy doing? I was scared to go that way," meaning right, "because if he'd seen me and stopped, then I'd really hit him. I'd have hit him hard, then. So I eased over to this side," toward the median, "and just caught the front end of him, I mean I just barely hit him. I thought I almost missed him."
The front of the F-150 was demolished, and the front-left of the truck was severely damaged. Dick was transported to Florida Hospital Flagler with minor injuries, more for precautionary measures, a Florida Highway Patrol investigator at the scene said. The investigator said Dick violated McFerran's right of way, and was to be cited for it. McFerran said he was "just shook up a bit," and was only concerned about the other driver.
"He's OK. That's all I was worried about. I wasn't worried about anything else," McFerran said. "We can fix the truck, we can fix the car, but we can't fix life."
Still, even McFerran–an out-of-towner–was in disbelief about that stretch of road.
"He says he didn't even saw me. Will you explain something to me?" McFerran said. "When you get on down there at that end and you go to this end, count the crosses on the side of the road. On a completely straight road. I'm on a straight piece of road, my headlights are working, everything is working."
The Palm Coast Fire Department, Flagler County Fire Rescue, the Sheriff's Office and the highway patrol responded, as did the Palm Coast Fire Police, which reduced traffic in both directions to one lane at the intersection until Saxon's Wrecker cleared the F-150 and the roads reopened to normal traffic at 7:45 p.m.