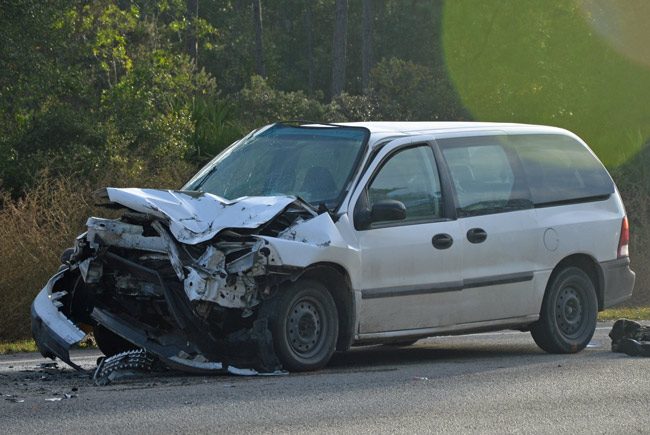 Last Updated: 5:03 p.m.
Paul Swarts, 60, of Bunnell, was killed and 12-year-old Pepper Rose Swarts was injured in an early-morning crash involving a minivan and a dump truck on U.S. 1 in Palm Coast, the fifth fatality of December on Flagler County roads, and more particularly on U.S. 1, which has claimed four of the five deaths.
All four deaths occurred in the stretch from U.S. 1's intersection with Old Dixie Highway to just north of Belle Terre Boulevard.
The crash took place at 6:22 a.m. in the northbound lanes of U.S. 1, between Belle Terre Boulevard and Kankakee Trail. Paul Swarts and Pepper Swarts were in a white Ford Windstar minivan, driving north, when the van rear-ended the dump truck owned by Antonio Diaz, a one-truck company based in Palm Coast's R Section, according to Department of Transportation records.
The dump truck was driving along on U.S. 1 when it was struck.
"It probably looks like speed was a factor. The dump truck was not at fault," a Florida Highway Patrol trooper said at the scene. An FHP release late this afternoon did not give a reason for the crash, though family members of the victim say health issues may have been the cause.
The crash took place on a long stretch of straight road just before sunup. It was a dry dawn. Both the van and the truck were in the right lane. The van's front end was smashed beyond recognition. The truck appeared to have sustained little visible damage as troopers interviewed the driver and tested the truck's equipment.
The driver was not responsive at the scene, according to 911 notes, as Flagler County Sheriff's deputies applied CPR until paramedics arrived at the scene.
Flagler County Fire Rescue transported the victims to local hospitals–the driver to Florida Hospital Flagler, where he was pronounced dead, and the girl to Halifax hospital in Daytona Beach, with non-life-threatening injuries.
The Palm Coast Fire Police and DBi Services shut down U.S. 1 northbound at Belle Terre Boulevard, to Kankakee Trail, as FHP's traffic homicide investigators did their work. The road was expected to reopen in late morning.
After a year of fewer road casualties, compared to 2017, December has proved to be a grim month on Flagler's roads, with a 62-year-old motorcyclist dying on U.S. 1, just south of today's crash, on Dec. 22, and a 62-year-old dying of his injuries a week earlier from a single-pick-up truck crash on U.S. 1, also just south of today's crash site. On Dec. 15, an 85-year-old woman was killed in a crash on U.S. 1 and Seminole Woods Boulevard. And on Dec. 7, a 38-year-old motorcyclist was killed when his motorcycle ran off the road in Palm Coast's R Section.
The scene at today's crash was cleared at about 10:30 a.m.