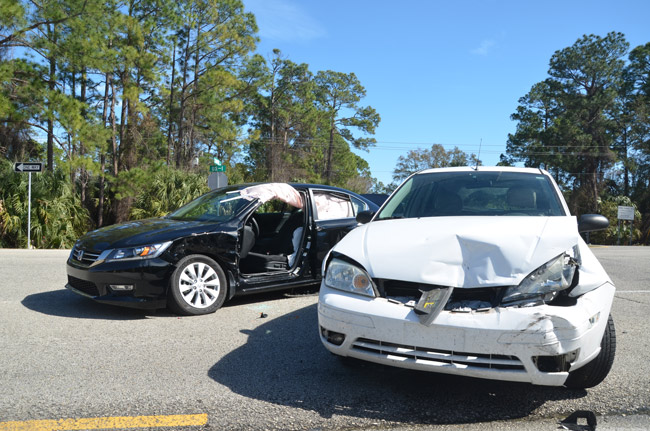 Two sedans collided in a T-bone crash at the intersection of U.S. 1 and Commerce Boulevard in Palm Coast just after noon Tuesday, sending a man and a woman to the hospital with non-life-threatening injuries.
A 59-year old Palm Coast woman was at the wheel of a Ford Focus driving north on U.S. 1. A 29-year-old man was at the wheel of a black Honda Accord. There were no passengers. The Accord driver was making a left turn from Commerce Boulevard onto U.S.1 Southbound. Authorities at the scene said the Accord violated the Ford's right-of-way, resulting in the T-boning.
The Focus's front was heavily damaged. The driver of the Honda had to be extricated, the driver's side door having to be removed.
U.S. 1 northbound was reduced to one lane, but traffic was light. There were no back-ups.
The Palm Coast Fire Department and two units of Flagler County Fire Rescue responded, as did the Palm Coast Fire Police. John's Towing responded to the scene and had it cleared by 1 p.m.
Both drivers, who are from Palm Coast, were sent to Florida Hospital Flagler. The woman had minor injuries. The man has somewhat more serious injuries. The Flagler County Sheriff's Office is investigating.