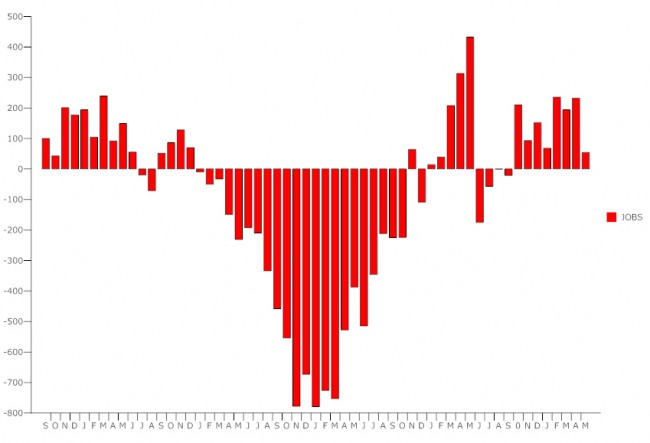 The national economy added just 54,000 jobs in May, the lowest number in eight months, and one-third the number expected by economists. The unemployment rate edged back up a decimal point to 9.1 percent in the latest sign of a faltering recovery. The previous two months' job-creation numbers were revised downward by 39,000. Manufacturing jobs, which were a big part of the recovery, are on the losing end again, with 5,000 such jobs lost last month, and manufacturing activity is at its lowest level since late 2009. The stock market has fallen nearly 3 percent in the last two days.
Earlier this week, housing prices hit a post-recession low in 20 major markets across the nation, bringing prices down to 2002 levels and darkening the outlook of any recovery soon in the housing sector. A large housing price drop alone, when broad enough, can trigger a recession.
Private-sector employers, who account for 70 percent of the workforce, added just 83,000 jobs in May, the smallest increase in a year. The gains were offset by a 29,000 drop in government jobs–the seventh monthly loss in a row–mostly at the state and local level.
Two indications of trouble ahead are in temporary jobs and the length of the workweek, neither of which grew in May, which means there's not much economic activity compelling employers to add work. The average workweek remained at 34.4 hours.
In all, 13.9 million Americans are officially unemployed. But that's an undercount: it represents only those who are actively looking for work. Another 2.2 million people are unemployed but not included in the official figure because they're considered "marginally attached" to the labor force (ion the Labor Department's words): they have not looked for work in the past four weeks.
Another reason why the unemployment rate masks deeper problems is that as unemployment benefits run out, people who still haven't found work are, perversely, are no longer counted as unemployed. Much of the decline in the jobless rate in recent months was attributed to that factor according research from the Chicago Federal Reserve Bank published this week.
And the number of people employed part-time through no choice of their own–that is, people who want or need full-time work but can't find it–is at 8.5 million. In essence, 25 million Americans are either unemployed or under-employed. That's 16 percent of the labor force.
Sector by sector, employment in professional and business services increased by 44,000 jobs in May. Health care added 17,000 jobs. Mining added 7,000 jobs. Construction jobs were unchanged. The loss of 5,000 jobs in manufacturing was driven by losses in transportation equipment, paper and paper products, and printing and related support activities. Local government lost 28,000 jobs, for a total of 446,000 jobs lost at that level since September 2008.
Employment in retail, transportation and warehousing, information, financial activities, and leisure and hospitality (i.e. tourism), was flat in May.
Average hourly earnings for all private-sector employees increased by 6 cents, or 0.3 percent, to $22.98. Average hourly earnings for production and nonsupervisory employees rose by 6 cents, or 0.3 percent, to $19.43.