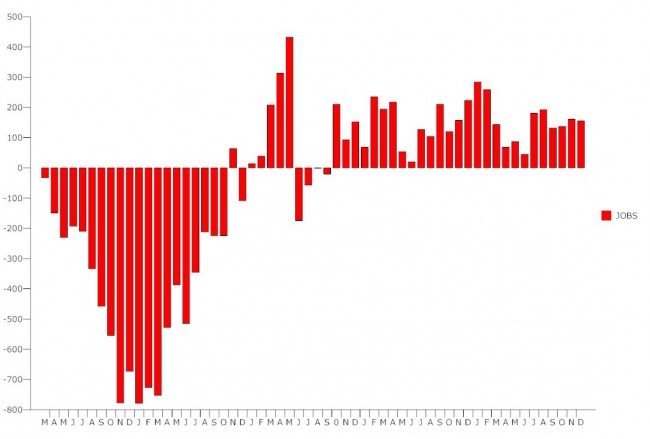 Last Updated: 9:06 a.m.
The American economy cannot shake its anemia, adding 155,000 jobs in December–barely good enough to keep up with normal growth in the labor force, as unemployment edged back up to 7.8 percent. (The December rate is officially unchanged, because the Labor Department revised November's rate to 7.8 percent, from 7.7 percent.)
Job-creation Numbers for October and November were revised upward, but not by much, adding 14,000 jobs to the tally, according to figures released by the U.S. Labor Department this morning.
None of the key indicators changed significantly: the civilian labor participation rate, an indication of people's willingness to work–or their optimism (or pessimism) about their ability to find work–was unchanged at 63.6 percent, barely down two decimal points over the year. The employment-to-population ratio, at 58.6 percent, is down a decimal point since the previous month, and 12.2 million people remain unemployed.
Nevertheless, the economy is maintaining the recovery, with December's job creation matching the average monthly job creation for 2012.
The so-called U-6 measure of unemployment, a more accurate way of measuring the employment climate because it accounts for those who have dropped out of the workforce and those who work part-time involuntarily so (because they can't find full time work or have had their hours cut back, though they need full time work), was unchanged at 14.4 percent. It is down from 15.2 percent a year ago. Almost 8 million people are employed part-time for economic reasons, as opposed to by choice.
Out of a civilian, adult population of 244 million, 89 million Americans are not working, though retirees, stay-at-home parents and people who choose not to work account for the greater majority of that number. Nevertheless, the 89 million, one way or another, must be supported by the 143 million who are working. The balance is in the unemployed column.
[This is a developing story. More soon.]