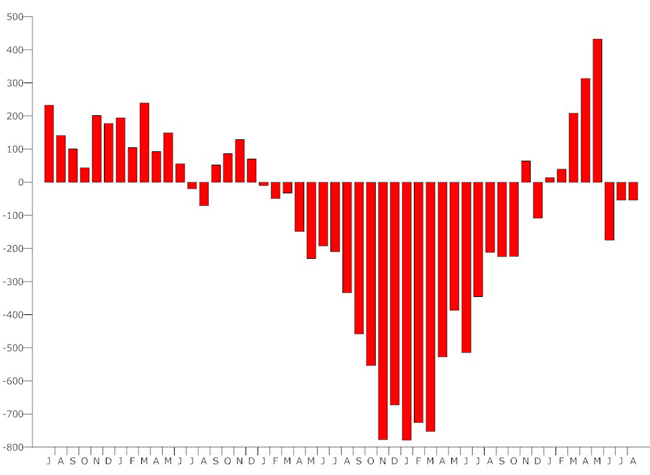 The August unemployment rate in the nation went up to 9.6 percent from 9.5 percent, where it had been for the previous two months, as a net 54,000 more people lost jobs. The job losses were driven by another loss of 114,000 temporary U.S. Census workers, and a total government job loss of 121,000. Private sector job growth of 67,000, while slightly better than expected, was not enough to overcome losses in the government sector.
Slightly better news: the job losses for June and July were revised significantly. June's initial job loss of 221,000 was revised to a loss of 175,000, and July's initial loss of 131,000 was revised to 54,000, for combined improvement of 123,000. Still, job losses in the past three months add up to 283,000.
The number of temporary Census workers peaked in May at 564,000 but declined to 82,000 in August.
Although the official number of unemployed persons stands at 14.9 million, the actual number is significantly higher. About 2.4 million workers were marginally attached to the labor force in August. These are people who want to work and are available to work, but were not counted among the unemployed because they hadn't looked for work in the past four weeks. Their inclusion in the number of unemployed would push the unemployment rate above 10 percent. Within that group, 1.1 million workers were classified as "discouraged": they had not looked for work at all in the past 12 months, believing there are no jobs for them. That number is up 352,000 from a year earlier.
The total number of those unemployed for 27 weeks or more–6.2 million–declined by 323,000 over the month, but the number of people employed part-time, involuntarily so, increased by 331,000, to a total of 8.9 million. That category refers to people who'd like to work full-time, but have seen their hours either cut back against their will or have been unable to find full-time work. Those 8.9 million people, while under-employed, are counted as employed on the same plane as full-time workers, thus further diminishing the overall unemployment rate.
Sector by Sector
Employment in health care increased by 28,000, for an average monthly job gain of 20,000 in the industry this year.
Mining employment rose by 8,000.
Manufacturing employment declined by 27,000, driven down mostly by a 22,000 job decline in auto parts manufacturing.
Temporary help services in professional and business jobs rose by 17,000, continuing solid growth since 2009. Temporary employment, however, is not an indicator of job stability.
Construction employment was up 19,000, driven in part by the return to work of 10,000 workers who had been on strike in July.
Employment in retail and wholesale trade, transportation and warehousing, information, financial activities, and leisure and hospitality ( that is, tourism), showed little change in August.