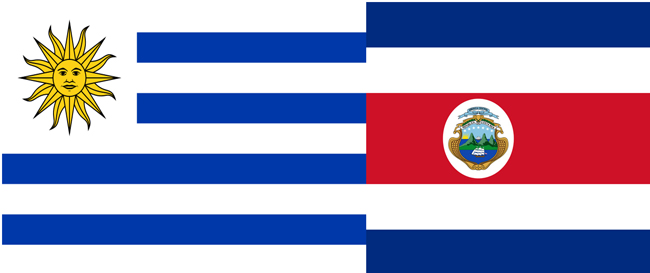 Estádio Castelão, Fortaleza, 3 p.m., ABC
Get ready for a crushing.
Uruguay, not Brazil, are South America's reigning champions. They won the Copa America in 2011 (for the 15th time). Brazil didn't even make the final four. This is not a simple tournament to win. Uruguay beat Argentina (in a penalty shoot-out) in the quarterfinal, Peru in the semis, and Paraguay, 3-0, in the final. Uruguay is also Brazil's bete noire. It was Uruguay who beat Brazil, in Brazil, in the 1950 World Cup final, taking its second world title. That's the curse Brazil have never lived down, the ghost of the Maracanazo. In 2010 World Cup, Uruguay went as far as the semifinal, losing only to the Netherlands, 3-2. Last year at the Confederation cup, same result: lost in the semis. So this is a team to be reckoned with. Exciting, rich in history, potential, surprises.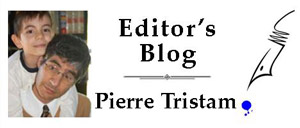 Their ace? Forgive me for saying so, but it is the despicable Luis Suarez, the Liverpool striker and one of the most repulsive human beings in world football, banned, for example, for right games this season for insulting Patrick Evra, who is black, in a game against Manchester United. When they next met on the pitch, Suarez refused to shake Evra's hand. He's also a major league cheater, winning a game for Liverpool the Maradona way, by handing the ball into goal, and since FIFA is in the dark ages on these matters, he was not caught. In 2013 in a game against Chelsea, the bastard actually bit Branislav Ivanović. This is not a pleasant specimen.
As a footballer on the other hand–or foot–he is superb. Thirty-nine goals in 71 matches for his country, this sonofabitch can score, and will score, at times with the sort of poetic skill undeserved for such a crass character. But then, Rousseau was a poet, too, and a shithead. It is one of those paradoxes we have to live with. Suarez is the reason Uruguay is a threat in this tournament–him and Edinson Cavani (who helped Paris Saint Germain remain in first place in the French league) and Diego Forlan, a national monument in Uruguay who played for Manchester United and Inter Milan and appeared in 107 international matches.
World Cup 2014
---
Goals So far: 150

Matches: 55

Average: 2.78 (2010: 2.27)
Brazil 1, Chile 1 (Brazil on PKs) | USA 0, Germany 1: Small Loss for a Big Win | USA 2, Portugal 2 | USA 2, Ghana 1 | France 3, Honduras 0 | England 1, Italy 2 | Costa Rica 3, Uruguay 1 | Colombia 3, Greece 0 | Chile 3, Australia 1 | Spain 1, Netherlands 5 | Mexico 1, Cameroon 0| Brazil 3, Croatia 1

All this should make for a very exciting exhibition match. Costa Rica is not expected to put up much of a challenge, though the Costa Ricans have heart. Uruguay is looking at this as a warm-up, as an exercise, as acclimatization. But Suarez is also looking at this as a way to make his mark: he wants to be the tournament's leading scorer. He can manage it, as long as he doesn't spit on, bite or insult anyone on the way.
Oddly, Suarez is not among the starting 11 against Costa Rica: a bit of gamesmanship from Tabarez, the Uruguayan skipper? Not exactly: This is the easiest game of their three for Uruguay, Tabarez thinks they can easily crush Costa Rica, he will likely give Suarez some playing time to limber him up, but he wants him well rested for the matches against Italy and England.

It was a crushing. I just got the team wrong. And how wonderfully wrong. This is what makes football at this level so absorbing. No one could have predicted this scoreline, no one could have predicted that Costa Rica would manage it so convincingly, even with style–and guile (that last goal by Marco Urena in the 84th minute–just one minute after being substituted in–taking a rapid pass down the right wing and flicking it at the very last moment, when he saw the keeper committed, was intelligence on grass. He smoked him. Watch:
Uruguay by then had fallen completely apart, had done so since about the 60th minute. I'm very surprised that despite his recovery from an operation, Suarez was not brought in for the last 20 minutes. His presence would have unnerved Costa Rica. That decision will rattle the side. What threw thye Uruguayans was Oscar Duarte's goal at the 57th minute, a perfectly targeted header into the far cornert of goal from a free kick from about 18-20 yards out in the middle of the pitch. The Uruguayan keeper was shocked. So were the stands, which were dominated by Uruguayan fans:
Not three minutes earlier, Joel Campbell had started the goalparade by Costa Rica with this gem:
This is the upset of the tournament so far, in the sense that the disparity between Spain and the Netherlands was nowhere that between Uruguay and Costa Rica. Spain and the Netherlands faced each other in the final four years ago. Costa Rica was supposed to have been Uruguay's welcome mat to a fun run. Not so. This makes it very difficult for Uruguay to make a case against either Italy or England, who'll want to shred apart Uruguay and Costa Rica. That fun begins shortly with England and Italy taking the field at 6 p.m.